Twigby Updates Plans, New Customers Get 10GB Data For $22.50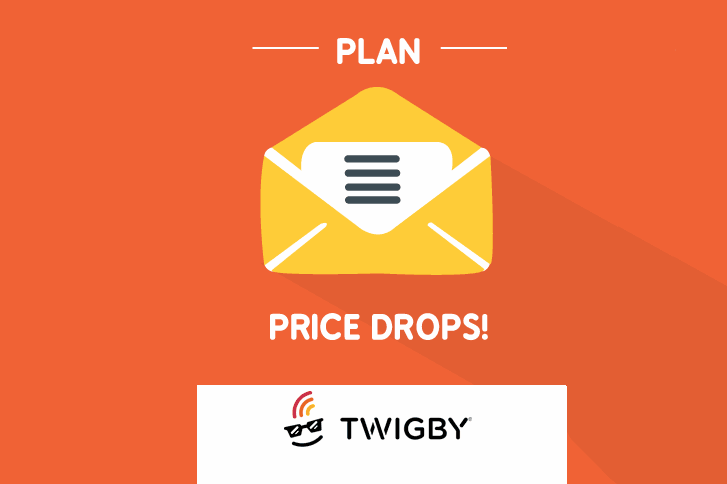 For the second time since June, Twigby has updated its cell phone plans.  The Sprint and Verizon powered MVNO has removed some plan options, added new ones and lowered prices on others.  The BestMVNO top pick includes 10GB of LTE data for $22.50 for a new customers first 6 months of service.  Subscribers can pick how many minutes they want their plan to have, adding unlimited will cost just $9.75 for the first 6 months.  That means an unlimited talk, text and data plan with the first 10GB at 4G LTE data speeds can be had by new customers for just $32.25/month.  That's the cheapest pay by the month plan on the market to include that much data for the price.  After the promotional 6 months pricing is up, customers will pay $43/month for the plan.  (Update 1/6/20: The promo is still running and seems to be doing so in perpetuity. )
Twigby's Updated Phone Plans Explained
The way that Twigby works is that customers pick an allotment of minutes that they want their plan to have, then, optionally pair that with an allotment of data.  All plans include unlimited global texting.  Unfortunately data only plans are not allowed at this time.
Twigby's Updated Voice Allotments
Here are Twigby's updated voice plans, with any changes described.  New customers get 25% off their first 6 months of service.  Prices shown do not includes taxes and fees which cost extra.
300 minutes  - $9/month, or $6.75 for new customers
500 minutes - $11/month or $8.25 for new customers
Unlimited - $13/month, or $9.75 for new customers (previously priced at $15/month)
Twigby removed a voice plan option that included 1000 minutes for $13/month and replaced that price point with the unlimited talk option.
Twigby's Updated Data Allotments
Here are Twigby's updated data plans with changes highlighted.  New customers also get 25% off the cost of a data plan for their first 6 months of service.
200MB 150MB - $3 or $2.25 for new customers
1GB 600MB - $6 or $4.5 for new customers
2GB - $10 or $7.5 for new customers
3GB - $15 or $11.25 for new customers
5GB  - $20 (previously $25)  or $18.75 for new customers
10GB - new data option, $30 or $22.50 for new customers.
All plans come with unlimited 2G data once the plans high speed data allotment gets used up.  Mobile hotspot/tethering is allowed with all data plan options.
Why You May Want To Consider Twigby
Twigby has positioned itself somewhat uniquely on the market.  It is one of just two Sprint MVNOs that offer talk and text roaming on the Verizon network.  Ting is the other.  Ting's pricing however, is astronomically higher than Twigby's.  For instance, the MVNO does't even include an unlimited talk option.  Subscribers who need over 1,000 minutes a month get charged $35 plus 1.9¢/minute beyond 2100 minutes.  Those who consume 2GB of data in a month get billed $20, and beyond that Ting charges $10 per additional GB of data consumed.  Ting subscribers however, don't necessarily pick a phone plan.  They get billed based on a per usage model, and subscribers could be paying a different price each month based on usage.
The closest competitors to Twigby by price might be UNREAL Mobile and Tello.  UNREAL Mobile offers an unlimited talk, text and data plan with the first 5GB of data at 4G LTE data speeds for $30/month.   The same plan on Twigby normally costs $33/month, although new customers get it for 6 months at $28.50.  UNREAL Mobile is significantly cheaper if you only need 1GB of data with unlimited talk and text.  You can get that for just $10/month, but on Twigby it is regularly priced at $19/month.  Of course you are getting covered by two networks with Twigby, but you are not with UNREAL Mobile.
Tello beats TWIGBY on price if you need 10GB of high speed data each month.  Tello charges $39/month while regular pricing on Twigby is $43/month.  New Twigby customers however get the plan for just $32.25/month.  That's quite the bargain.  You can't find a better price to get a Sprint based plan with more data anywhere else on a pay by the month plan.
---
---