In this guide, I will explain everything you need to know about Ting before you subscribe. I want you to learn the ins and outs of Ting so that you can make an informed decision on if this is the best place for you to spend your hard earned cash.
---
Ting At A Glance
Logo:
Year Founded:
2012
Networks Used:
AT&T, T-Mobile, Verizon
LTE Bands Used:
2
4
5
12
14
17
29
30
66
2
4
5
12
66
71
2
4
13
66
5G Bands Used:
n2 (1900MHz)
n5(850MHz)
n66(1700MHz/2100MHz)
n77(3.7GHz)
n261 (28GHz)
n260 (39GHz)
n41 (2500MHz)
n71 (600MHz)
n258 (24GHz)
n260 (39GHz)
n261 (28GHz)
n5 (850MHz)
n77 (3.7GHz)
n260 (39GHz)
Support For BYOD:
Yes
Sells Phones:
Yes
All Taxes And Fees Included In Price?
No
Online Payment Options:
Credit Cards, Debit Cards
---
A Summary Of Ting Phone Plans
Last Updated: Aug 17, 2023
Single Line Postpaid Plans
---
---
advertisement
---
Things To Know About Ting Before You Subscribe
Ting Mobile was founded in 2012. It is a wholly-owned subsidiary of publicly traded Tucows INC.  In 2020, DISH acquired the rights to use the Ting Mobile brand name for a period of two years. That agreement was later extended at least until the end of 2023.
At launch, service was provided exclusively on the Sprint network. Since 2015 it has partnered with T-Mobile.  In February 2020, the company officially added Verizon as a 3rd network partner, although service is no longer offered on that network to new customers obtaining service on Ting through DISH. However, customers who get Ting service through Tucows can still get service on the Verizon network. Those limited markets are only available where Ting Fiber internet is sold.
Plans
Just one year after launching, Ting Mobile got rid of monthly prepaid plans in favor of what it called "rates." However, the "rate model" was discontinued upon DISH obtaining the rights to use the brand.
Through the rate model, Ting effectively became a postpaid provider with a big twist. Customers didn't actually have to choose a phone plan. Customers basically paid for what they used during a monthly billing cycle based on certain rates, which are shown in the table below.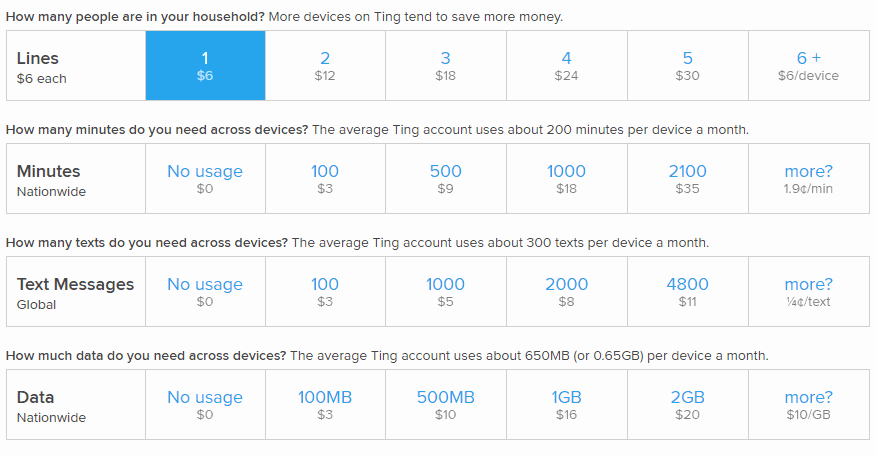 Another example of how Ting's rates work is like this:
If at the end of your billing cycle you only used 57 minutes, 700 texts, and 350 MB of data, your phone bill would cost you $3 for the minutes, $5 for the text messages and $10 for the data plus a $6 line charge.  The next month you may pay something different depending on how much of each service feature that you use.
Upon DISH's Ting brand name acquisition, Ting has for the most part gotten rid of its pay-per-use plans and now operates more like a traditional provider. However, they still offer one pay per GB of data use plan. In short, Ting's current DISH run plans are as follows:
Flex

 

– $10 per month per line for unlimited talk and text plus pay per use data billed at $5/GB of shared data
Set 5

 

– $25/month – 5GB of fast data, includes hotspot
Set 12

 

– $35/month – 12GB of fast data, 8GB can be used for hotspot
Unlimited Basic

 

– $45/month – 22GB of fast data, 12GB can be used for hotspot
Unlimited Pro

 

– $55/month – 35GB of fast data, 18GB can be used for hotspot.
---
Supported Phones And BYOD Devices
Any phone that is compatible with T-Mobile's network that is out of contract and paid off in full should work just fine with Ting.
Most AT&T branded devices are compatible as long as they have been unlocked.  Universally unlocked phones from manufacturers such as Motorola and Samsung are also suitable for use with Ting Mobile.
---
Where To Buy Service Plans And SIM Cards
Since Ting technically does not sell plans, there are no retail stores to purchase plans from. You can however pick up a SIM card either directly from Ting or online through Amazon among other places.
---
Ting Customer Service
Customer support is available over the phone, and through email.
Support is available over the phone during the following days and hours:
Monday – Friday : 8 AM to 1 AM EST
Saturday – Sunday : 8 AM to 11 PM EST
Email support is available:
Monday – Friday : 8 AM to 11 PM EST
Saturday – Sunday : 8 AM to 8 PM EST
---