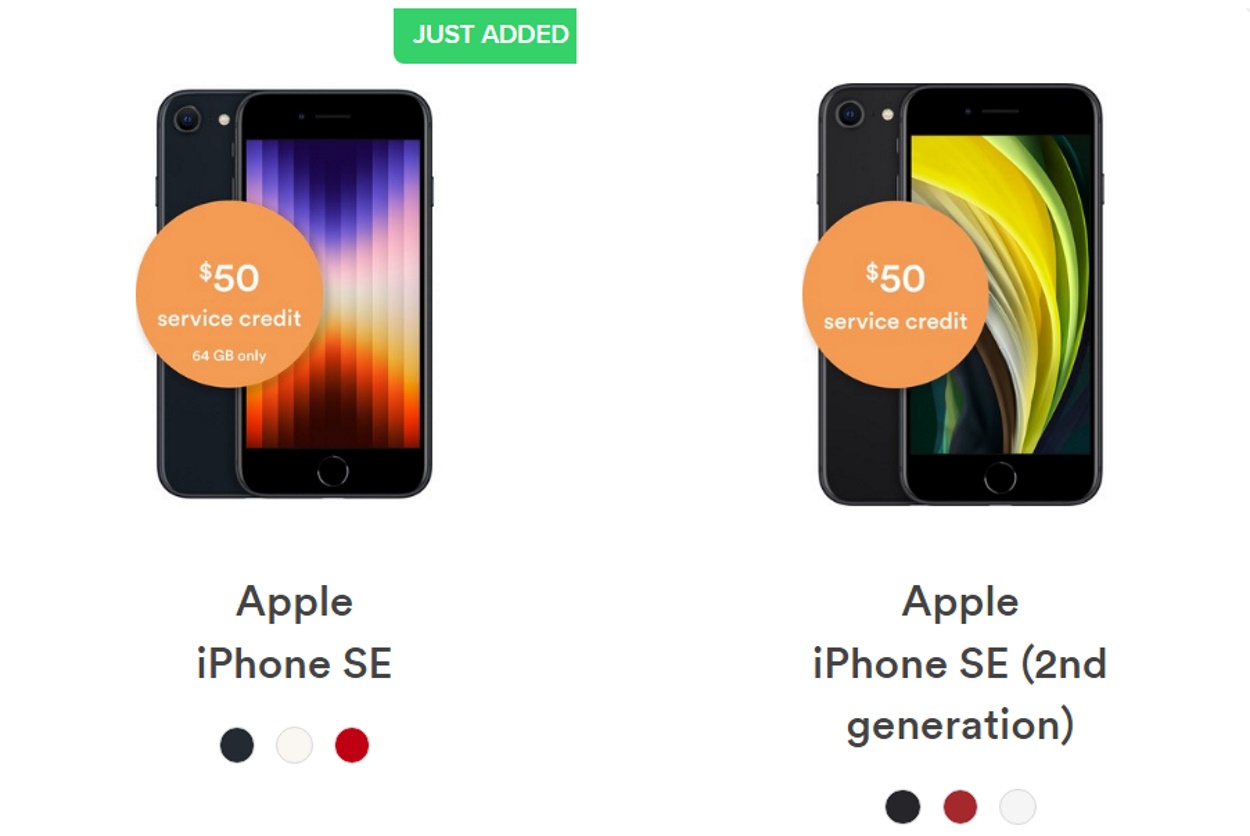 ---
Ting Mobile is currently running several phone deals. The DISH-owned MVNO's latest deal is for $50 in account credits with the purchase of an iPhone SE. The offer is valid on both the current generation iPhone SE 2022 and the previous generation iPhone SE 2020. Ting has other phones on sale as well, including an offer of $20 off a Samsung Galaxy A03s.
Ting Mobile's iPhone SE $50 Account Credit Offer Details And Fine Print
Ting is selling the 64GB 2022 iPhone SE for $429 or $21/mo with financing, and the 2020 model equivalent for $399 or $20/mo with financing. The $50 account credit offer is only available with the 64GB model of the iPhone SE 2022 but is available with both the 64GB and 128GB ($449/$20/mo) configurations of the iPhone SE 2020.
In order to claim the account credits, customers must purchase either phone from Ting's website and activate their service within 30-days of purchasing the device. Customers must then remain active with Ting for at least 90-days. Account credits will be applied within one to two months of activating the phone.
Eligible Phone Plans
All of Ting's phone plans are eligible for the offer. Ting's plans start at $10/month for unlimited talk and text with data billed at a rate of $5/GB. There are also unlimited everything plans with a finite amount of high-speed data before data speeds are throtted to 128Kbps. Ting's unlimited everything plan options include:
$25/month - 5GB high-speed data, 5GB can be used for hotspot
$35/month - 12GB high-speed data, 8GB can be used for hotspot
$45/month - 22GB high-speed data, 12GB can be used for hotspot
$55/month - 35GB high-speed data, 18GB can be used for hotspot
Ting uses the Verizon and T-Mobile networks for coverage.
Discounted Ting Mobile Phones
Ting is offering a few phones available at a discount. The following models are now on sale:
Apple iPhone 8 Renewed - $169 or $11/mo with financing, reg price $199
Samsung Galaxy A03 - $139 or $12/mo with financing, reg price $159
Samsung Galaxy A02s - $119 or $10/mo with financing, reg price $149
Motorola e 2020 - $99, reg price $199
Ting Phones are sold unlocked.
---
---