Red Pocket Mobile Announces FreedomPop To Offer Free Plans On All 4 Major Networks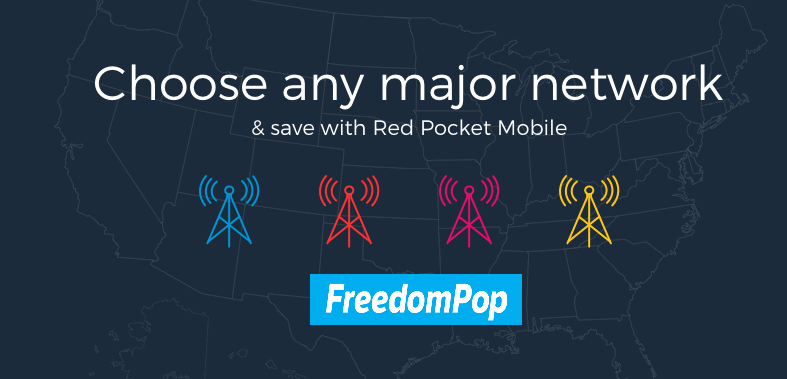 ---
Did you know BestMVNO is available to follow for free in Google News? Follow BestMVNO in your Google News app and keep up to date on wireless.
Follow BestMVNO In Google News
---
---
Red Pocket Mobile announced today that the FreedomPop and UNREAL Mobile brands that it recently acquired from STS Media will soon operate on all 4 major networks in the USA.  Prior to the acquisition, FreedomPop and UNREAL Mobile had both run on the AT&T and Sprint networks.  This is the first major change coming to the brands since Red Pocket Mobile purchased them earlier in the month.
FreedomPop gained popularity in the wireless community by offering a free starter plan that featured a limited number of minutes, texts, and data on the subscribers choice of either the AT&T or Sprint networks.  The press release that Red Pocket sent out today says that the change will allow consumers to be able to get a free plan on any major network in the USA.
"Free wireless service. On any phone. On any major network. For the first time ever." - Red Pocket Mobile PR
I reached out to Red Pocket Mobile to inquire if there is a time table in place as to when customers will be able to take advantage of the new network partners and plans being offered.  A reply had not yet been received at publication time.
"Red Pocket can connect virtually any mobile phone in America," said Joshua Gordon, Founder and CEO of Red Pocket Mobile. "In combining with FreedomPop's disruptive legacy, we're creating the next generation of wireless service - one that is hyper-innovative and passionately customer-focused."
Free service on the Verizon and T-Mobile networks will certainly be groundbreaking when implemented.  No provider on the market currently offers a free plan on either of those networks.  However, there are other MVNOs already offering free plans on the AT&T and Sprint networks including FreeUP Mobile and SurgePhone Wireless.
FreedomPop developed a reputation in the MVNO community for offering a poor customer support experience and subscribers at times complained of random charges showing up on their phone bills.  Red Pocket Mobile plans to change that experience.
Kaisha Barela, the company's Director of Customer Experience said that "We will deliver added transparency and service options to make FreedomPop not just 'freemium,' but premium!"
Besides adding new network partners, Red Pocket will make the FreedomPop and UNREAL Mobile brands more appealing to a broader set of users by offering native voice calling, live customer support, and enhanced billing controls.  The FreedomPop and UNREAL Mobile brands previously relied heavily on the use of VoIP calling for voice calls which often led to subscribers complaining of poor call quality, an experience I was able to replicate during my recent review of UNREAL Mobile.  Native voice calling should greatly improve call quality.
Red Pocket Mobile was founded in 2006 and has long focused on providing wireless plans that emphasized international calling and texting. It is one of a very limited number of wireless brands that also includes NET10 that operate on all 4 major networks in the USA.
---
Be sure to follow BestMVNO on Twitter for additional wireless coverage, deals, insights, and even debates!
Follow @BestMVNO Twitter
---
---