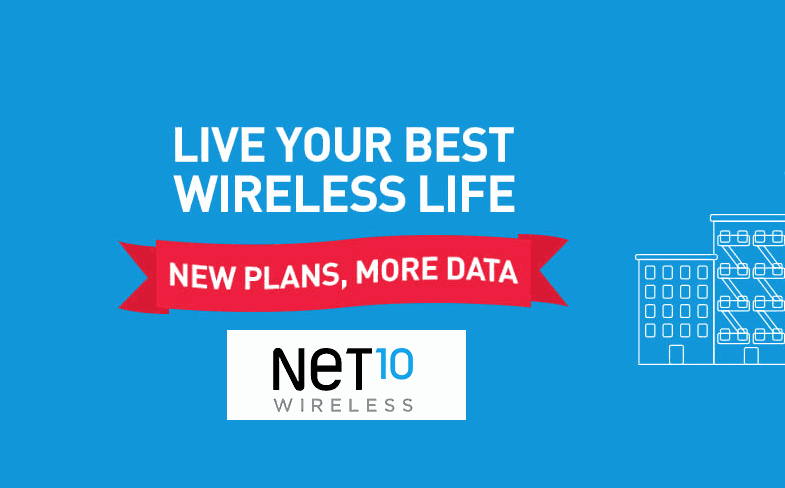 ---
Net10 Wireless started 2019 as promised.  The multi-carrier MVNO put an end to its double data for life promotion.  The promotion offered new customers on its $35 and $40 plans 4GB and 8GB of data respectively.  As it sometimes occurs with these types of promotions, the offers have been made permanent.  Net10 Wireless has now permanently doubled the data for all customers subscribed to those plans, not just new subscribers.  The other remaining plans also got small data bumps.
Net10 Wireless's Updated Plans Summarized
All of Net10 Wireless's phone plans include unlimited talk, text, and data with the specified amount of data at 4G LTE speeds before throttling to 2G.  Mobile hotspot is not allowed.  Here is what the updated plans look like with the changes highlighted.
Be informed of the latest deals, plans and promotions from Verizon and every one of its MVNO's when you subscribe to the Verizon weekly newsletter. No spam and you can unsubscribe at any time!
* AR denotes Auto-Refill discount
Budget Data User Plan - $35/month, $31.50 with AR, includes 4GB of high-speed data.  Previously included 2GB.
Essential Data User Plan - $40/month, $36 with AR, includes 8GB of high-speed data.  Previously included 4GB.
Preferred Data User Nationwide - $50/month, $45 with AR, includes 10GB of high-speed data.  Previously included 8GB.  Bonus, buy 3 months in advance save $20.
Mega Data User - $60/month, includes 12GB of high-speed data.  No AR discount.  Previously included 10GB.
Preferred Data User With International Calling - $65/month, $60 with AR, includes 10GB of high-speed data.  Previously included 8GB.
The prices shown do not include taxes and fees which cost extra.  The $50 plan comes with multi-line discounts.  When all subscribers in the same account are enrolled in the plan, lines 2-4 get $10 off.
Net10 Wireless has a few add-on cards available.  If you run out of high-speed data in a month you can add 500MB more for $5 or 1GB for $10.  As long as the customer keeps their line active, unused add-on data never expires and carries over until the customer consumes it.  There is also a $10 pay as you go international calling card available.
More About Net10 Wireless And Editor's Take
Net10 Wireless is owned and operated by Tracfone.  Subscribers can signup for service using on any one of the four major wireless networks in the USA which include AT&T, Sprint, T-Mobile and Verizon.  Customers can bring their own phone or buy one from Net10.
More data with each plan is great, but not every plan is competitively priced. At the two lower price points, the $31.50 and $36 plans do compare favorably in the marketplace, particularly if being used on the Verizon network.  Only Pix Wireless currently offers more data for less, with a price of $30 for 4GB of data.  Pix Wireless also allows mobile hotspot, which Net10 does not.
The $36 plan with 8GB of data is a pretty good deal regardless of which network it is used on.  It even tops Total Wireless's plan that costs $33.20/month with auto-refill and that one only has 5GB of LTE data.  I suspect that after Total Wireless's bonus data offer ends, the bonus data will get made permanent and subscribers will get 7.5GB of data for the same price.  Tracfone seems to be positioning Total Wireless to be one of its lead brands, along with Straight Talk so I'm not sure having Net10 offer a better deal is something that is going to last.
Net10's plans priced $45 or higher should probably not be bothered with.  Plenty of other providers offer more data for the same prices or less.  Many even offer unlimited LTE plans at those price points.
---
---