NET10 Wireless Offering Double Data For Life On Select Plans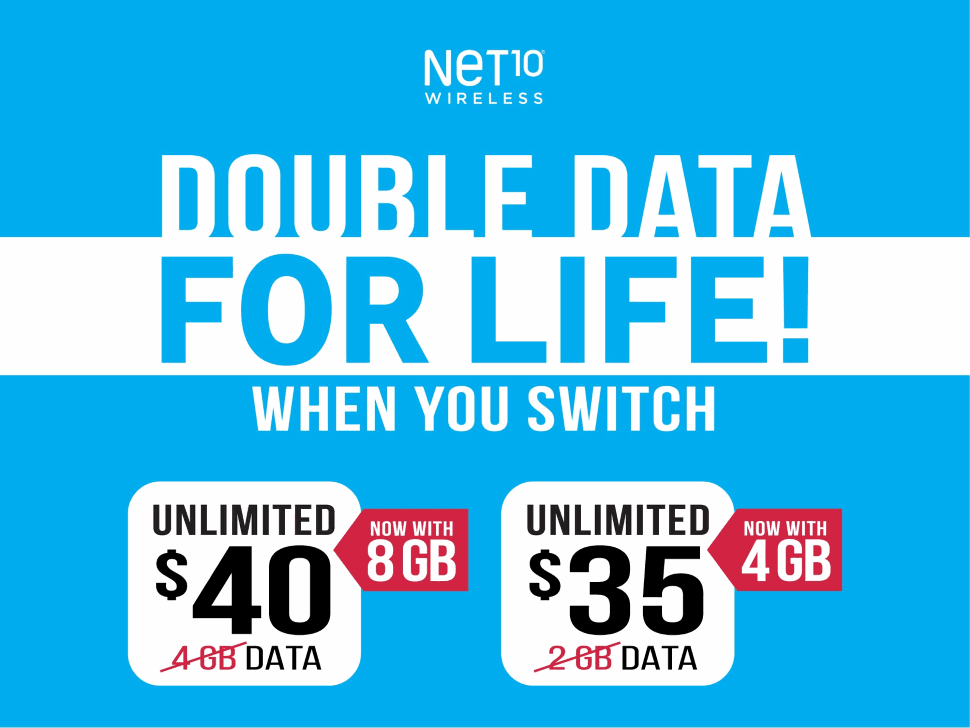 ---
Did you know BestMVNO is available to follow for free in Google News? Follow BestMVNO in your Google News app and keep up to date on wireless.
Follow BestMVNO In Google News
---
---
Net10 Wireless has brought back double data for life on select plans.  It is a similar promotion to what NET10 offered last year at this time.  Last year customers got double data for life on all plans.  This time it's only available on the $35 and $40 plans.
NET10 Wireless Double Data For Life Promo Details
This promo will be available to switchers.  It is scheduled to be available until 12/31/18.  The plans with double data for life are as follows:
$35/month ($31.50 with auto pay)- unlimited talk, text and data with the first 2 GB  4 GB at high speeds
$40/month ($36 with auto pay) - unlimited talk, text and data with the first 4 GB 8 GB at high speeds
Taxes and fees cost extra.
In order to maintain the double data for life deal, customers must keep their line active without an interruption to service or a phone number change.
Be informed of the latest deals, plans and promotions from Verizon and every one of its MVNO's when you subscribe to the Verizon weekly newsletter. No spam and you can unsubscribe at any time!
More About NET10 Wireless
NET10 Wireless is an MVNO that is owned by TracFone.  Service is available on all 4 major networks in the USA which include AT&T, T-Mobile, Sprint and Verizon.  When you subscribe to the double data for life promo, you'll be able to pick which network you want to use at signup.
Editor's Take
Last year when NET10 offered double data for life, the available plans were a real deal.  They were some of the best valued plans around.  Things have changed a bit since then.  More and more MVNOs have been able to offer more data at lower prices.  Several providers are now offering unlimited plans with 5GB of data for under $30/month.   There's now even an unlimited data plan on the market for under $40.  Most of the competing plans just described are either on the Sprint or T-Mobile network.  If you need a pay by the month plan on the Verizon or AT&T networks, there is still some pretty good value to be found here.  Red Pocket Mobile is still offering 5GB of data on the AT&T network for $30/month.  This just beats out NET10's $35 plan with double the data.  UNREAL Mobile also just launched a plan on the AT&T network with 5GB of data for $30/month, however that plan requires the use of VoIP for talk and text.  When it comes to Verizon network based plans, this pricing is hard to beat.
---
Be sure to follow BestMVNO on Twitter for additional wireless coverage, deals, insights, and even debates!
Follow @BestMVNO Twitter
---
---