UNREAL Mobile Adds AT&T As MVNO Partner, Featuring Unlimited Talk, Text And 1GB Data For $10/Month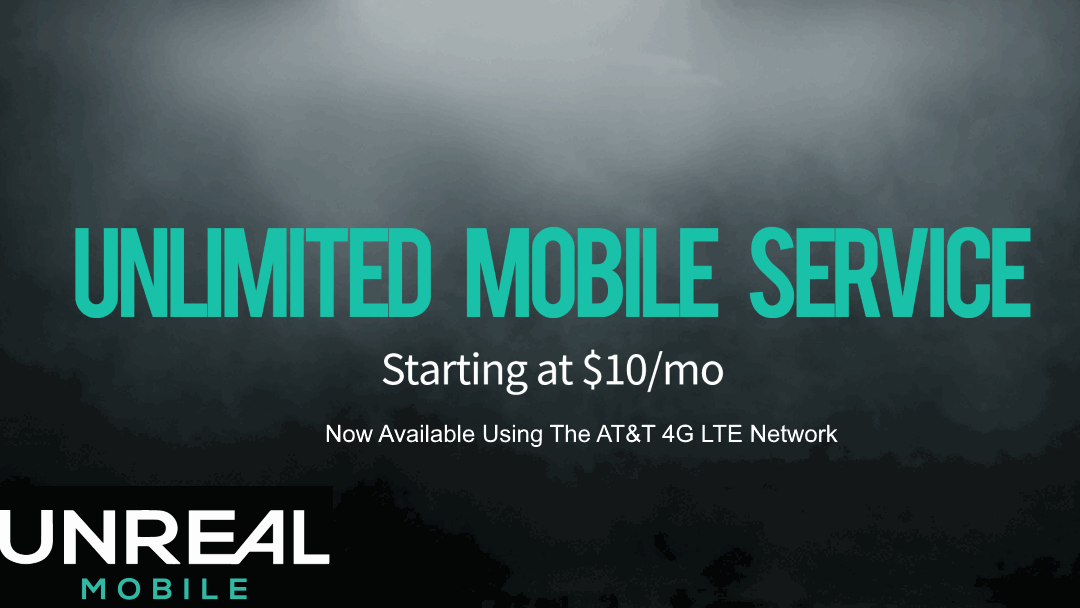 UNREAL Mobile launched just a few months ago as an MVNO on the Sprint network.  Plans started at $10/month for unlimited talk, text and data with the first 1GB at 4G LTE data speeds.
Today the FreedomPop owned brand announced that it can now offer the same plans with the same great pricing using AT&T's network.  However there is a small catch.  Talk and text will be by way of VoIP.
"We have had over 50,000 people bring their existing phone to UNREAL Mobile, but until today, only certain Sprint devices worked and most of those devices did not qualify. That put us in the unfortunate position of having to turn customers away," said Samantha Lewe, UNREAL Mobile GM. "With the addition of GSM SIMs from one of the top nationwide networks, mobile users across the U.S. can now access our lowest-cost service, and on the nation's best networks."
UNREAL Mobile's AT&T Network Plans Explained
UNREAL Mobile's new AT&T based plans are as follows:
$10/Month - 1GB 4G LTE data
$20/Month - 3GB 4G LTE data
$30/Month - 5G 4G LTE data
All plans include unlimited talk, text and data with the specified amounts at 4G LTE data speeds.  Talk and text require the use of UNREAL Mobile's VoIP app which is available on both Android and iOS.  For the time being, taxes and fees are included in the prices shown.
The plans also include a VPN for privacy and encryption, an ad blocker and data rollover.  A maximum of 500MB of unused data can be rolled over from one month to the next.
Editor's Take
It's great that UNREAL Mobile was able to add another network partner in AT&T and to be able to keep the same pricing.  At a price of $10/month for unlimited talk and text with 1GB of data the starter plan is a real bargain for service on AT&T's network.  Unfortunately, the bargain basement pricing does come with the caveat of needing to use a VoIP app for talk and text.  Traditionally, users of VoIP services have complained about voice lag and call quality issues.  Voice lag can result in one person talking over another during a phone call due to a slight delay in transmitting what one person says to the other party.  It's not experienced by everybody, and some folks can adapt to it while others cannot.   I've long been a user of Google Hangouts/Voice VoIP calling without complaints.
I have not gotten or seen much feedback as to how UNREAL Mobile's VoIP app is performing in the real world.  UNREAL Mobile's Sprint based plans do not require the use of the app for talk and text but it is available as an option.  In the Google Play store most reviews of the app are positive.
FreedomPop's GSM AT&T plans also require the use of a VoIP app.  If the reviews from Best Buy can be believed, the general consensus is that the VoIP service works well.  FreedomPop's GSM plan currently has a rating of 4.3 out of 5.0 at the store.  Since UNREAL Mobile is owned by FreedomPop, I would expect similar performance out of their new VoIP based plans.
---
---