Mint Mobile Steps On Consumer Cellular's Turf With 55+ Senior Plan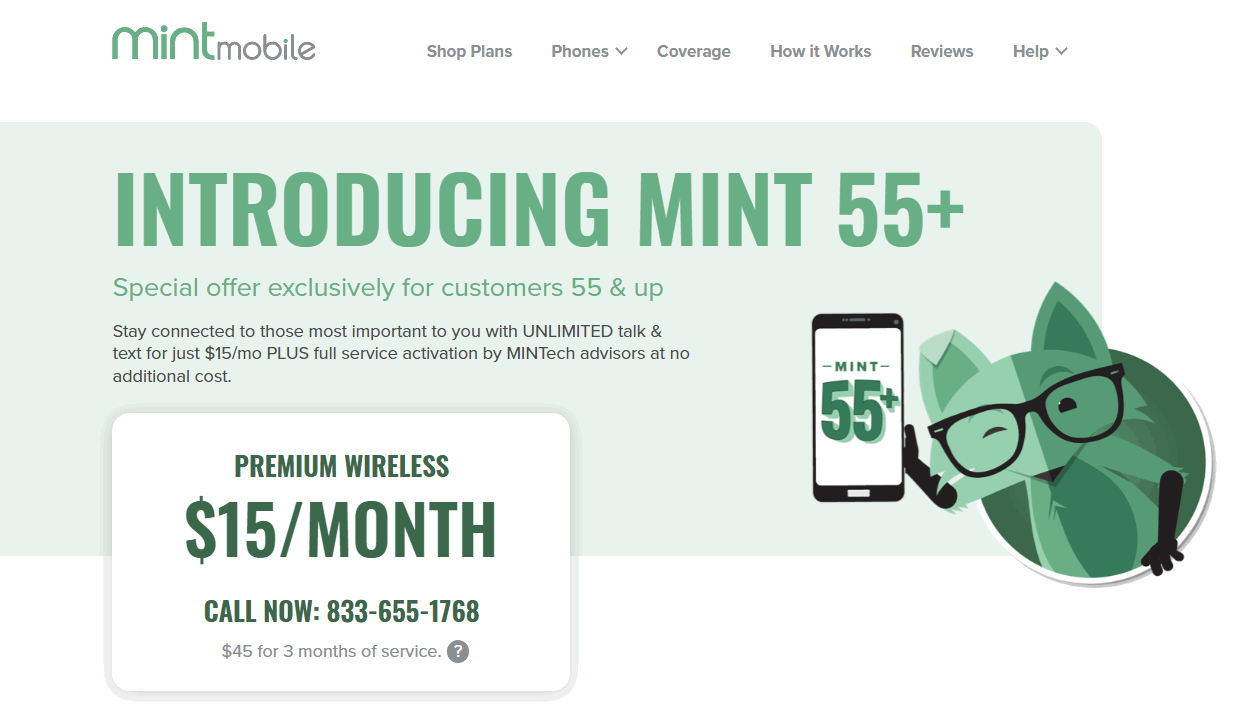 Mint Mobile has launched a new cell phone plan for seniors, the "MINT 55+" plan. Mint announced the plan in a blog post today.
Mint's new 55+ plan isn't really radically different from Mint's base starter plan. Mint's base starter plan includes unlimited everything with the first 4GB of data each month available at up to 5G data speeds. It's billed at a rate of $15/month when paid for annually or as a 3-month trial plan. It's also available to renew for 3-months at $25/month and 6-months at $20/month.
What Extra Features Does Mint's Senior Plan Include?
Mint has taken its base plan and added a few extras to it to make it a little more senior friendly. For starters, potential MINT 55+ subscribers are told that they can call the number 1-833-655-1768 to sign up for it. In fact, this is the only way that customers can sign up for the plan at this time. Mint has not historically advertised a phone number for subscribers to sign up with.
The plan is also being advertised as including "full service activation by MINTech advisors at no additional cost." Mint says this is a feature that is exclusive to their new MINT 55+ offering. Seniors can use a MINTech advisor to transfer their number to Mint and cancel their existing service. They'll also have access to the following:
Be informed of the latest deals, plans and promotions from T-Mobile and every one of its MVNO's when you subscribe to the T-Mobile weekly newsletter. No spam and you can unsubscribe at any time!
Personal wireless advisors to help you with all things MINT
Dedicated call-in line. You can skip the regular support line and get your questions answered right away
Wireless expert tech support 365 days a year
Proactive account monitoring after activation
$15 bonus referral credit on your first referral
Tips, troubleshooting and more
Mint Mobile has setup a new webpage to highlight its 55+ plan. They call out Consumer Cellular on the page by stating "our Mint 55+ offer costs 50% less than Consumer Cellular's 3GB plan and includes over 30% more data." They also point out that the "comparison (is) based on one line and compares Mint's 3-month new customer plan or 12-month plan, reflected as a monthly price." Mint's 3-month plan does renew at the same rate as Consumer Cellular's 3GB plan but Mint's plan comes with 4GB of high-speed data instead of 3GB. Mint's plan also includes unlimited 2G data once a subscriber goes over their high-speed data allotment, whereas Consumer Cellular's customers automatically get billed for the next highest priced plan for going over their allotment.
The senior market is certainly a lucrative one. Consumer Cellular is the leader in that segment with over 4 million subscribers.
Consumer Cellular was purchased late in 2020 by an investment firm from Chicago for $2.3 billion. A figure that was certainly eye opening for other MVNOs, and has given them a reason to also market to that demographic.
Earlier today, BestMVNO reported that Republic Wireless is set to tackle Consumer Cellular by rebranding to market to seniors. Tello Mobile has also recently launched new streaming video ads, like this one, that also target that demographic.
Last month, BestMVNO reported that Mint Mobile launched phones in Target stores. Consumer Cellular has long used Target as its primary retail outlet and its phones are also sold there. So perhaps in store competition for that market will soon heat up a bit more.
---
---