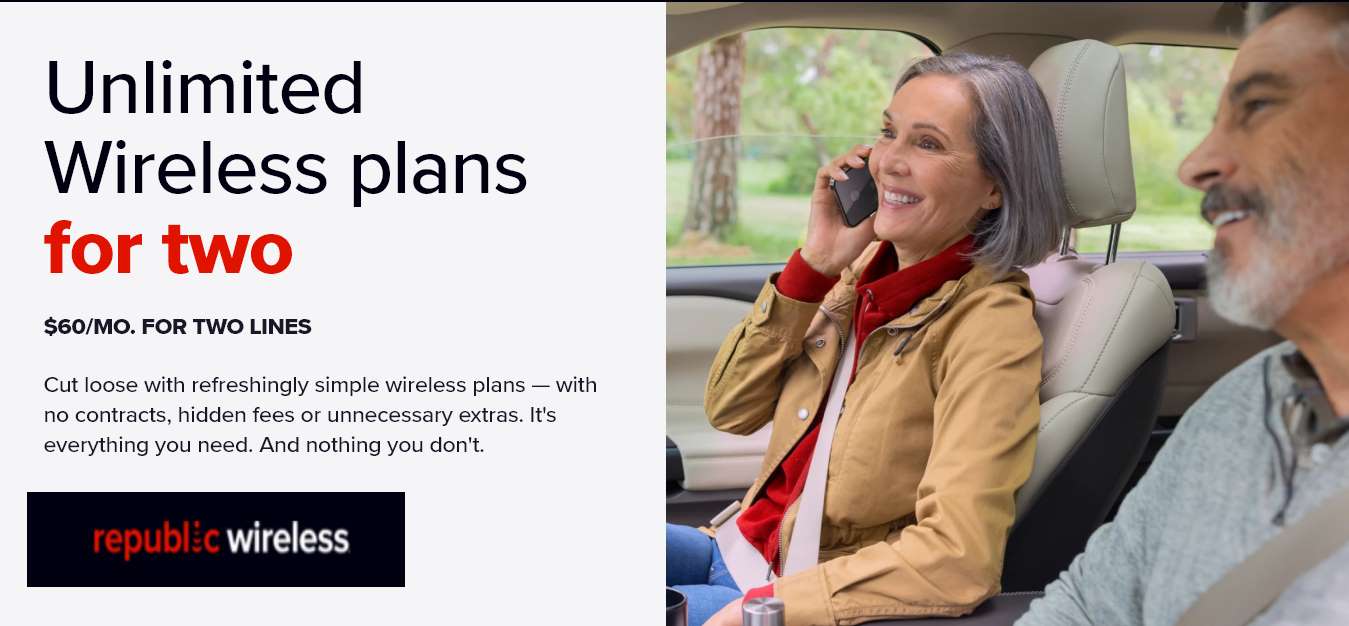 ---
BestMVNO has learned through a website leak that Republic Wireless's rebrand will take aim at Consumer Cellular. New plans will likely start at $20/month. The website leak was shared with BestMVNO by Stetson Doggett of bestphoneplans.net.
Last week, Republic Wireless temporarily closed its website and stopped accepting new customers to work on rebranding itself. The website is due to come back online on December 1st.
A previous article from BestMVNO criticized Republic Wireless for seemingly not having a staging site to work on for the rebrand. This take ended up not being entirely correct. The website leak of what are potentially new plans and the rebrand does in fact come from a staging website located at the URL https://qc.republicwireless.com/.
Update: 11/26/2021, Republic Wireless has pass protected their staging site and you can no longer preview the upcoming changes.
The staging site highlights a potential new plan from Republic Wireless with bolded lettering that reads "Unlimited Wireless plans for two. $60/mo for two lines." The website also features numerous images of seniors. There are also new video tutorials featuring seniors. This seems to indicate that under DISH's ownership, the Republic Wireless brand will be used to target the senior market demographic that is currently dominated by Consumer Cellular. Consumer Cellular has had great success with that market to the tune of obtaining more than 4 million customers. It's not entirely surprising that Republic Wireless is moving in that direction. For many months, Republic Wireless's Facebook page has also been filled with images and videos targeting that demographic.
New unlisted YouTube Republic Wireless tutorial video. Update: 11/26/2021 - Republic Wireless has pulled its new tutorial videos that feature the senior demographic.
What Might Republic Wireless's New Plans Look Like?
Republic Wireless's staging website does show what may be their brand new plans. Note the use of the word "may." BestMVNO has received many tips in the past of new carrier and MVNO plans and promo launches that end up getting changed by the time the offers actually go live. So keep that in mind as you review the plans described below.
From the looks of it, a total of three plans will be offered with discounts available to customers that have two lines of service. Here's what may be coming:
$20/month for single lines, $30 for two- unlimited talk and text with 1GB of high-speed data plus $5 per additional GB.
$40/month for single lines, $60 for two - unlimited everything with the first 20GB of data available at high-speeds. Includes 10GB of hotspot and unlimited international texting.
$60/month for single lines, $90 for two- unlimited everything with the first 35GB of data available at high-speeds before throttling. Includes 20GB of hotspot, plus unlimited international texting, unlimited talk and text to Canada, and unlimited talk, text, and 2GB of data in Mexico.
The plans will also come with a 30-day money-back guarantee. Republic Wireless plans may be offered at a discount to customers that bundle their service with DISH. A banner on the Republic Wireless staging site reads "save up to $10/mo on Republic Wireless when you bundle with DISH." Previously, Republic Wireless's plans started at $15/month for plans with no data, with data available at a rate of $5 per GB. There was also a 14-day money-back guarantee.
It is unclear what network the new Republic Wireless plans will use at relaunch. Currently, their coverage map zip code checker is disabled on the staging site. A blue map is however shown, which is often, but not always indicative of coverage being provided on the AT&T network.
The DISH Network acquired Republic Wireless and its 200,000 subscribers back in March of 2021. The upcoming changes will be the first major ones for the brand under DISH's ownership. Republic Wireless has long run on the Sprint and T-Mobile networks. However, DISH signed an agreement with AT&T earlier in the year allowing for DISH's MVNO brand customers to use their network. DISH still has an agreement with T-Mobile and access to that network for several years as well.
---
---