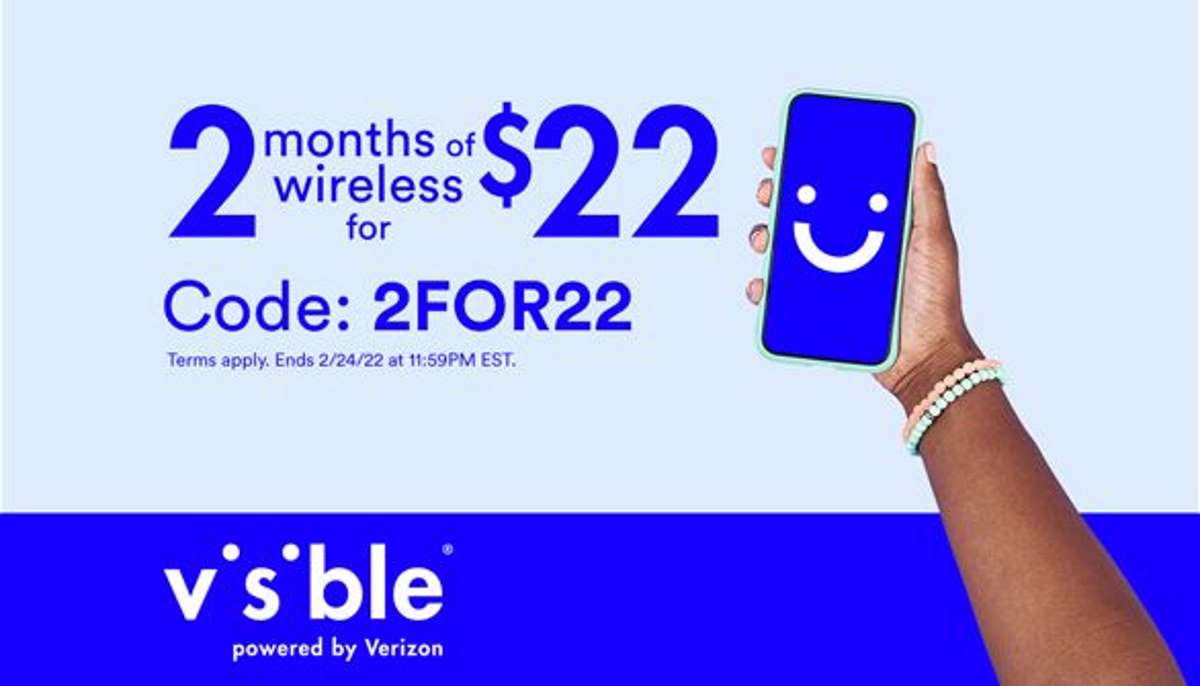 ---
Visible has just launched a promo. New subscribers can now get their first two months of wireless service for just $22, an average cost of $11/month. And for today only, 2/2/2022, new customers will also get a $200 gift card from the retailer of their choosing. After today, the gift card denomination will be reduced to $100. Update: Due to some technical difficulties causing outages, Visible's $200 gift card promo will be extended until 2/3/2021 at 11:59 PM EST. Visible's wireless plan which includes unlimited talk, text, and high-speed data is regularly priced at $40/month or $25/month for those that are in a Party Pay group. Update 2: It's back! For today only, 2/22/2022, until 11:59PM EST, you'll get a $200 prepaid gift card when you purchase a phone from Visible. Be advised, some Visible users who have taken advantage of the promo have had their accounts canceled. The reasons for the cancelations are not clear, but in some cases may be due to fraud while others could be a problem with Visible.
Christian Smith of Coverage Critic shared the new Visible promo launches with BestMVNO. The offers of course have some fine print to go over, so let's have a look.
Visible's 2-Months For $22 Offer Details And Fine Print
This offer is available to customers that bring their own devices as well as to customers that purchase a phone directly from Visible. The promo code 2FOR22 is needed at checkout to claim it. The deal is scheduled to end on 2/24/2022. Outside of those terms, there is no other real fine print associated with this portion of the deal.
If you need to purchase a phone, Visible does offer a fairly wide selection of options. A few are on sale, and two are even free with a trade-in. The Motorola Moto G Pure and Visible Midnight are both free to switchers with a trade-in as long as they are porting a number from an eligible carrier. Eligible carriers include the following only:
AT&T
AT&T Prepaid
Boost Mobile
Consumer Cellular
Cricket Wireless
Google Fi
MetroPCS
Mint Mobile
Net10 Wireless
Page Plus Cellular
Republic Wireless
Spectrum Mobile
Sprint
Straight Talk
T-Mobile
T-Mobile Prepaid
Ting
Total Wireless
TracFone
US Cellular
Verizon
Virgin Mobile USA
Walmart Family Mobile
Xfinity Mobile
Visible's eligible carrier list does look a bit outdated given that Virgin Mobile has been out of business for a few years now and Sprint is no longer a carrier. So it's possible that other carriers also now qualify for the promo. However, to be safe, it's best to stick with what's shown on the list.
Phones On Sale
Phones advertised as being available with a slight discount include the following:
iPhone 13 - $799 or $33.29/mo, reg price $816
iPhone 13 mini - $699 or $29.13/mo, reg price $720
iPhone 12 - $699 or $29.13/mo, reg price $840
iPhone 12 mini - $599 or $24.96/mo, reg price $744
iPhone SE - $384 or $16/mo, reg price $408
iPhone 11 - $600 or $25/mo, reg price $648
Motorola Edge - $408 or $17/mo, reg price $648
Samsung Galaxy S20 FE 5G - $408 or $17/mo, reg price $600
Blade X1 5G - $240 or $10/mo, reg price $384
Motorola One 5G UW Ace - $240 or $10/mo, reg price $288
Motorola Moto E - $100, reg price $149
Motorola Moto G Power - $192 or $8/mo, reg price $216
Samsung Galaxy A42 5G - $312 or $13/mo, reg price $408
Blade A7 Prime - $79, reg price $99
A3 Prime - $50, reg price $79
Visible phones are sold locked to the Visible network for a period of 60 days after activation. Once subscribers hit 60 days post-activation, their phones will automatically be unlocked for use on another network.
Visible's $200 Gift Card Offer Details
To get the $200 gift card from Visible you'll have to port in from one of the eligible carriers previously described above. You'll then have to maintain service and make payments for 3 full months before you'll receive instructions on how to claim a gift card. Visible is offering many different gift cards to choose from. Some options include gift cards from Amazon, Bed Bath & Beyond, Best Buy, Southwest Airlines, Target, and a Prepaid Mastercard among other options. For today, 2/2/2022 only, the gift card offer is for $200, after today, and for the remainder of Visible's 2 months for $22 promotion, the gift card offered with be for $100.
Visible has been on a mission as of late to improve its service and acquire customers. It's been doing so with aggressive new promotions and features. Last month, BestMVNO reported that Visible began offering free 15-day trials to eSIM customers with iPhones. What's particularly eye-catching about the offer is that no credit card is needed to get it. Last week, BestMVNO reported that Visible improved its service by adding Robocall spam protection. Visible has also recently expanded its online retail channel distribution and offers a special promo exclusively at Walmart. Customers can get 3-months of wireless service for $60 at Walmart.
Visible has also actively been promoting itself through TV advertising and online streaming video advertising. Visible currently has a couple of video ads in its YouTube channel that together have amassed 7.8 million views since first launching just three weeks ago. One of the ads appears to be now airing on TV.
Visible is owned by Verizon and thus is powered by the Verizon network.
---
---