Visible Is Offering A 3-Month Discount Plan Option Through Walmart.com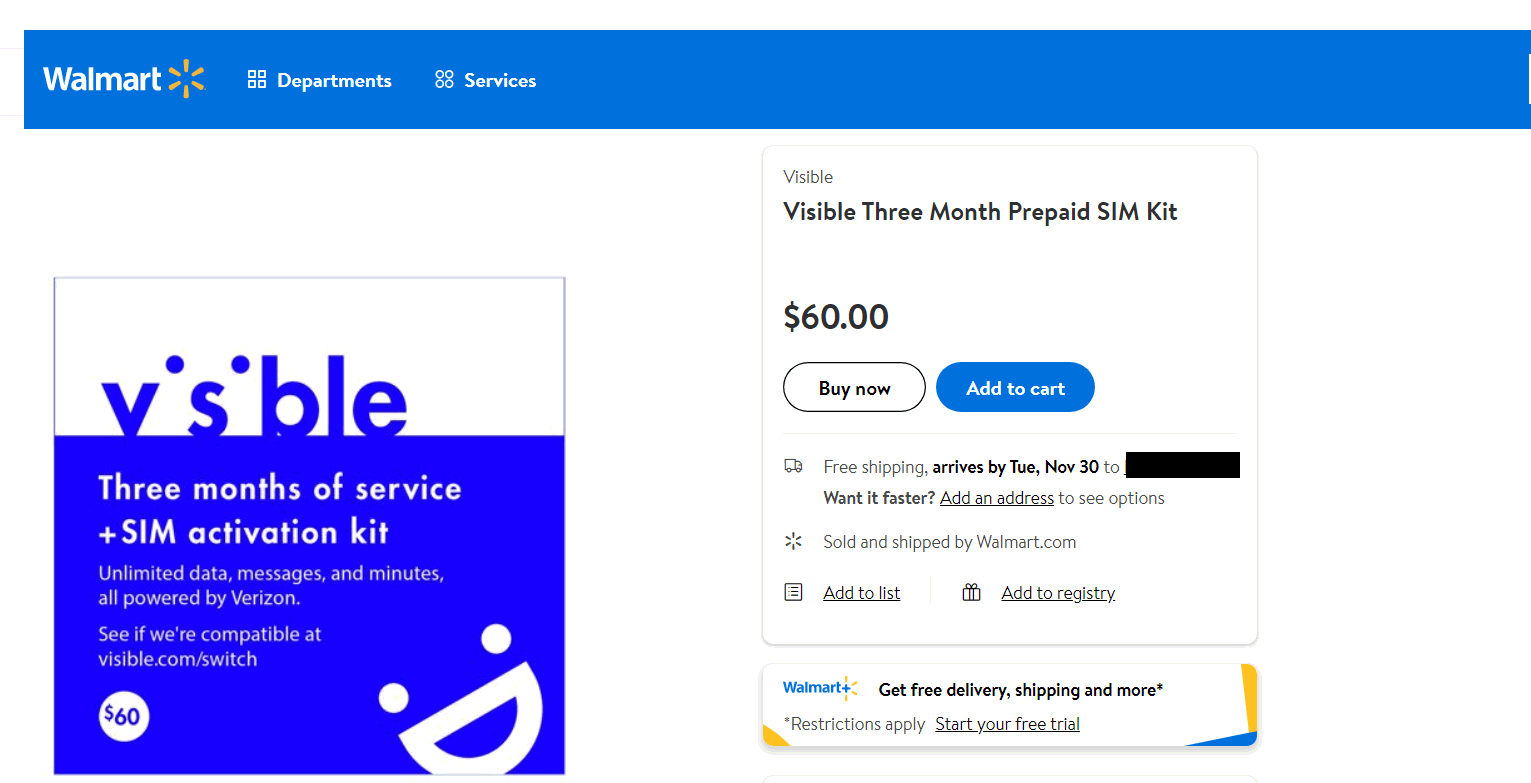 Add Verizon's Visible brand to the list of providers testing out the multi-month discount waters. Visible is selling a SIM Kit through Walmart.com that offers new customers 3-months of wireless service for $60 total. That's an average cost of $20/month.
Visible only offers one wireless plan. It includes unlimited everything, even hotspot and unlimited high-speed data. The provider normally charges $40 a month for the plan for subscribers that aren't a part of a Visible Party Pay group. Visible's Party Pay option makes it easy for unrelated people to join groups of other Visible users to get a discount on their wireless plan. Customers that join a Party Pay group, pay just $25/month for their service.
With the special Walmart Visible offer, after customers finish their three months of service, they'll revert to a monthly plan. Walmart advertises that customers can join their "Walmart Party" Pay group to continue their Visible service for $25/month.
Visible only offers one wireless plan but it is selling it at different price points and trial offers through different retail channels. They are not the first company to take this approach. And they are not the first company to try out multi-month discount plans through other channels outside of their mainstream outlet.
Boost Mobile began testing out multi-month discount plan options through Stack Social many months ago. The plans were not readily available on the Boost website. But last week, Boost formally announced it was taking its multi-month discount plans more mainstream by making them available through its website. Boost is also offering Best Buy and Target exclusive multi-month discount plan options that are expected to rollout to the Boost website at a later date.
Earlier this month, Ultra Mobile announced on Twitter that it was launching at Walmart. In select Walmart stores, you can now get a Walmart exclusive Ultra Mobile discounted unlimited plan for $39.88/month. The plan includes 40GB of high-speed data and 15GB of mobile hotspot before throttling. Ultra Mobile charges $49/month for the same plan through its website. And earlier this year, Ultra Mobile began to focus more on its multi-month discount plans.
EVERYTHING you want in wireless, and it's now available at select Walmart locations and online at https://t.co/l3JfLP90r0

Head to a local Walmart store and shop our Walmart exclusive Unlimited plan, for only $39.88! pic.twitter.com/6lkp2Ga79Z

— Ultra Mobile (@ultra_mobile) November 5, 2021

Tello Mobile is another provider using different price points for different channels and is also testing out the multi-month waters through those channels. Tello Mobile also offers multi-month discount plans that are not found on its own website but through the Stack Social network instead.
And there are many other providers taking the same approach as well. Red Pocket Mobile for instance also sells plans through Target and Best Buy that are not available directly through its website, redpocket.com.
Visible's multi-month discount trial plan is only available through Walmart.com but not in physical stores. Visible has long been maintained as an online only brand. But perhaps Verizon and Visible are looking to change that.
Verizon is finally serious about growing its prepaid market share. The company just completed its acquisition of Tracfone Wireless and its associated brands including Straight Talk Wireless among others. Straight Talk Wireless is sold in stores exclusively at Walmart. Might Visible soon be in the fold there as well? Selling phones and plans through retail outlets is a proven way to grow market share.
---
---