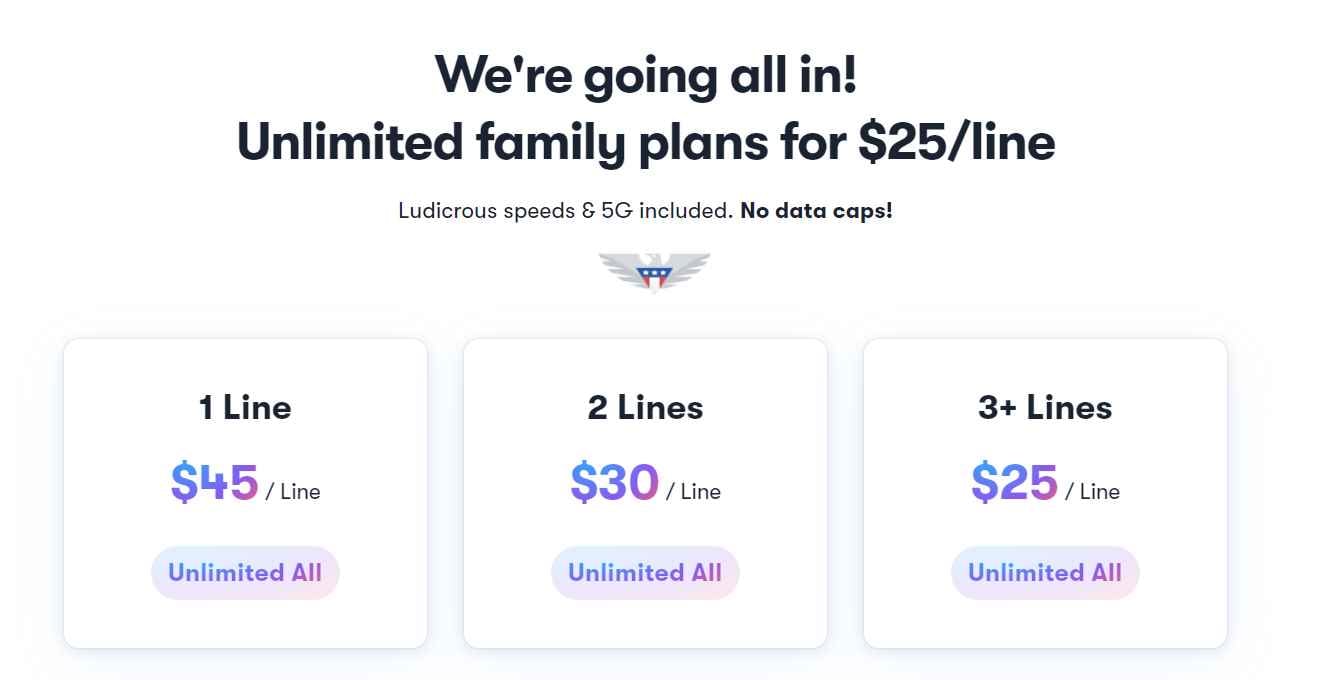 ---
US Mobile has launched truly unlimited data plans on its Super LTE network starting at $45/month. The announcement was made today in a blog post that was released by the provider. Its GSM network unlimited plans remain capped at 50GB before "a tiny fraction of heavier data users may notice reduced speeds." US Mobile throttles data speeds to 1Mbps on the GSM network. The Super LTE network is the name US Mobile uses to denote plans that use Verizon towers while GSM plans use T-Mobile towers for coverage.
Another big change announced is that US Mobile is now advertising its unlimited plans with "all-in" pricing. No more additional fees on top of its advertised prices. What you see is now what you pay. Previously US Mobile's unlimited plans were advertised as starting at $40 per single line with customers typically paying $5+ in taxes and additional fees.
There are very few providers on the market that offer truly unlimited data plans with taxes and fees included in the price. But US Mobile is now one of the select few. US Mobile is also the only independent MVNO brand that I'm aware of to include taxes and fees in its unlimited plans pricing model.
US Mobile's Updated Unlimited Plan Features Explained
US Mobile's unlimited plans come with exactly what you would expect. Unlimited talk, text, and data. Data speeds are up to 5G. Mobile hotspot is available as an add-on priced at an additional $10/month for 20GB. Previously hotspot was available for an additional $5/month for 10GB. Hotspot data on the GSM unlimited plan does draw from the plan's 50GB high-speed data soft-cap. Plans also include 10GB of free high-speed international LTE data for subscribers traveling internationally.
US Mobile has also gotten rid of its "Fast" unlimited plans. Prior to this update, US Mobile's base unlimited plan without hotspot included data speeds at up to 5Mbps, and subscribers had the option to upgrade to full-speed plus hotspot for an additional $10/month. Now all plans include full-speed data.
Multiple-Line Discounts Even Better
Customers with multiple lines on an unlimited plan will get discounts on their service. Here's what those multi-line discounts look like now.
2-lines - $60/month or $30/line
3-lines or more -  $25/line
From the pricing, we can see that 4-lines for $100 is also a possibility. That's a price point typically reserved for major carriers and their own prepaid brands. So this is certainly a big deal.
Additionally, plan perks continue to be available. Customers with at least 3-lines of service can get their various streaming service subscriptions paid for by US Mobile. The perks work like this:
Customers with 3-lines can choose to have one of the following subscriptions essentially paid for by US Mobile, while customers with 4-lines can choose to have two subscriptions paid for.
Music Options
Slacker Plus LiveXLive
Pandora Plus
Audible
Spotify Family
Apple Music Family
Video Options
Disney Plus - Hulu - ESPN Plus
Netflix Standard
Apple TV Plus
HBO MAX
Gaming Options
Stadio Pro
Apple Arcade
Playstation Plus
Xbox Live Gold
In order to receive an account credit equal to the subscription fee for each perk, US Mobile does require you to send an email showing proof of purchase for whichever subscription you are subscribed to. US Mobile reserves the right to ask subscribers to reverify their subscriptions at any time.
US Mobile Has More Changes Coming
A few weeks ago YouTuber/Podcaster Stetson Doggett conducted a podcast interview with US Mobile CEO Ahmed Khattak. In the interview, Khattak discussed the future direction of US Mobile. He mentioned his desire to release truly unlimited data plans which happened today, pooled data plans which were also announced today as an upcoming feature, and various other plans and ideas. You can watch the full interview below.
The US Mobile blog today also announced a continued focus on its Connectivity OS/account dashboard. The company plans to cater to connecting all the internet-of-things devices that are expected to hit the market in the coming years.
Editor's Take
The family plan discount space has been a hard space for MVNOs to compete in against the carriers and their prepaid brands. But these updates allow US Mobile is able to do just that. These are great updates from the company. What's particularly interesting is that the company is now offering truly unlimited data access on the Verizon network but not able to on T-Mobile. T-Mobile recently announced a new phone plan without throttling and made a big deal about its improved network bandwidth, yet it does not appear to be willing to offer this to its MVNO partners at this time. Verizon meanwhile is hoping to close its Tracfone acquisition in the coming months. Perhaps becoming more MVNO friendly by allowing its MVNO partners to offer truly unlimited data is the carrier's way of attempting to show regulators that its acquisition won't negatively impact the industry.
---
---