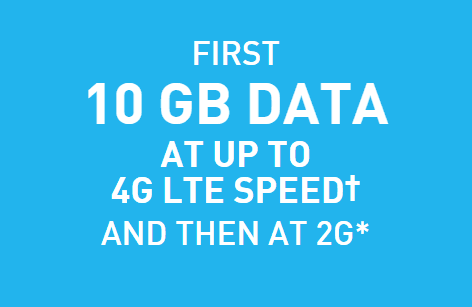 ---
Sister brands Straight Talk Wireless and NET10 have added some new cell phone plans to their arsenal.  Unlike some of their other plans, their new cell phone plans are priced a bit differently and the same plans are not offered for each brand.
NET10's New Cell Phone Plans
Both of NET10's new cell phone plans feature unlimited talk, text and data with varying amounts of 4G LTE.  The multi-carrier MVNO is now offering plans with 7 GB and 10 GB of 4G LTE data priced at $60 and $75 per month respectively.  The new plans do not currently offer any auto pay discounts like their other plans do.
Straight Talk's New 10GB LTE Plan
Straight Talk has also come out with a 10GB LTE data plan for $55/month.  The plan includes unlimited talk, text and data, with 2G data speeds offered once your high speed allotment gets used up.  Like with NET10, no auto pay discounts are available at this time.
Analysis
Ringplus recently came out with several new plans offering large amounts of data such as 40 GB for $110/month.  Walmart Family Mobile also added a plan with 10 GB of data priced at $49.88/month.
With Straight Talk and NET10 now offering plans with larger amounts of data at higher price points as well, I'm beginning to wonder if this could be the start of a new industry trend, or at least the MVNO industry trying to tap into a new market.  For a long time 5 GB has seemed like the sweet spot in terms of data offerings with not a lot of choice beyond that besides some unlimited data plans.  In fact only 15% off all plans in the BestMVNO wireless plans database contain more than 5 GB of data, and the plans that do are only available from a few select providers((Straight Talk and NET10 plans not included in database at press time)).  So this trend could be something to keep an eye on, and it could be something that works out well for Straight Talk and NET10.
So what do you think of these new offerings?  Do you think Straight Talk and Net10's new 10 GB plans should be considered their best offering in the BestMVNO lists?
---
---