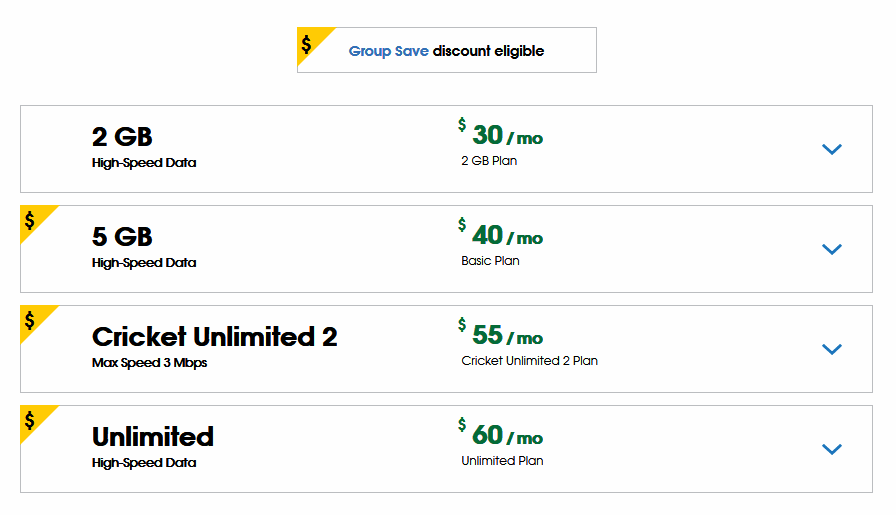 ---
Cricket Wireless may be about to has added more data to select plans.  The AT&T owned prepaid brand may also be bringing has also brought back the recently discontinued unlimited 2 plan.  New group save rates are also said to be in tow.  The changes will go into effect on November 5th.
Cricket Wireless Plans With More Data
Cricket's $30 plan looks like it's about to get a just got a data increase to 2 GB of high speed data, twice the amount that it currently has.  The increase will allow Cricket Wireless to compete better with T-Mobile's prepaid brand MetroPCS.  Both providers now offer unlimited talk, text and data with the first 2 GB at high speeds for $30/month with all taxes and fees included.
Be informed of the latest deals, plans and promotions from AT&T and every one of its MVNO's when you subscribe to the AT&T weekly newsletter. No spam and you can unsubscribe at any time!
Cricket Wireless's $40 plan will get  got a data bump up to 5 GB.  The plan previously came with 4 GB.  Once again, Cricket's plan will match what MetroPCS offers at that price point.  The MetroPCS plan however will have an advantage in that it includes music streaming from select providers that doesn't count against its customers high speed data cap.  The MetroPCS plan also includes Wi-Fi calling , mobile hotspot, and full speed LTE data, three other things that Cricket Wireless does not offer.  However, if Cricket retains it's $5 auto pay discount with the new plan structure, it will have an advantage on MetroPCS in price.
Cricket's $55 unlimited 2 plan mysteriously disappeared from the company's website last week a few weeks ago leading many to believe that it was being discontinued.  The unlimited 2 plan offered customers unlimited talk, text and data, with data speeds throttled to 3 Mbps.  According to a post on Howard Forums, it looks like the plan will be brought back.
Now Cricket Wireless has announced it's return.  Additionally, the ATT owned prepaid brand is offering a special multi-line discount to subscribers of the plan.  Customers with two lines of service will pay just $80/month.  Additional lines can be added priced at $25/month.  A maximum of 4 lines can be added at the special rate.  There is now a mobile hotspot add-on available for the plan priced at $10/month.
According to a previous rumor, the Unlimited 2 plan may be replacing Cricket Wireless's $45 plan which currently includes 8 GB of data.  If true, it would leave a little bit of a price gap in Cricket's lineup, so we'll have to wait until November 5th to see what happens here.
New Group Save Rates
Cricket has also been rumored to be ending its current group save rates.  Currently those who have multi-line accounts get $10 off of line 2, $20 off of line 3, $30 off of line 4, and $40 off of line 5.
With new group save rates, customers will get $10 off of line 2, and $20 off of lines 3-5.  This will make multi-line accounts up to $30/month more expensive for subscribers.   That is quite a jump and of course makes Cricket Wireless's phone plans a little less competitive in the market compared to other family plans.  Cricket Wireless hasn't formally announced this change, but it is expected to go into effect on November 5th as well.
---
---