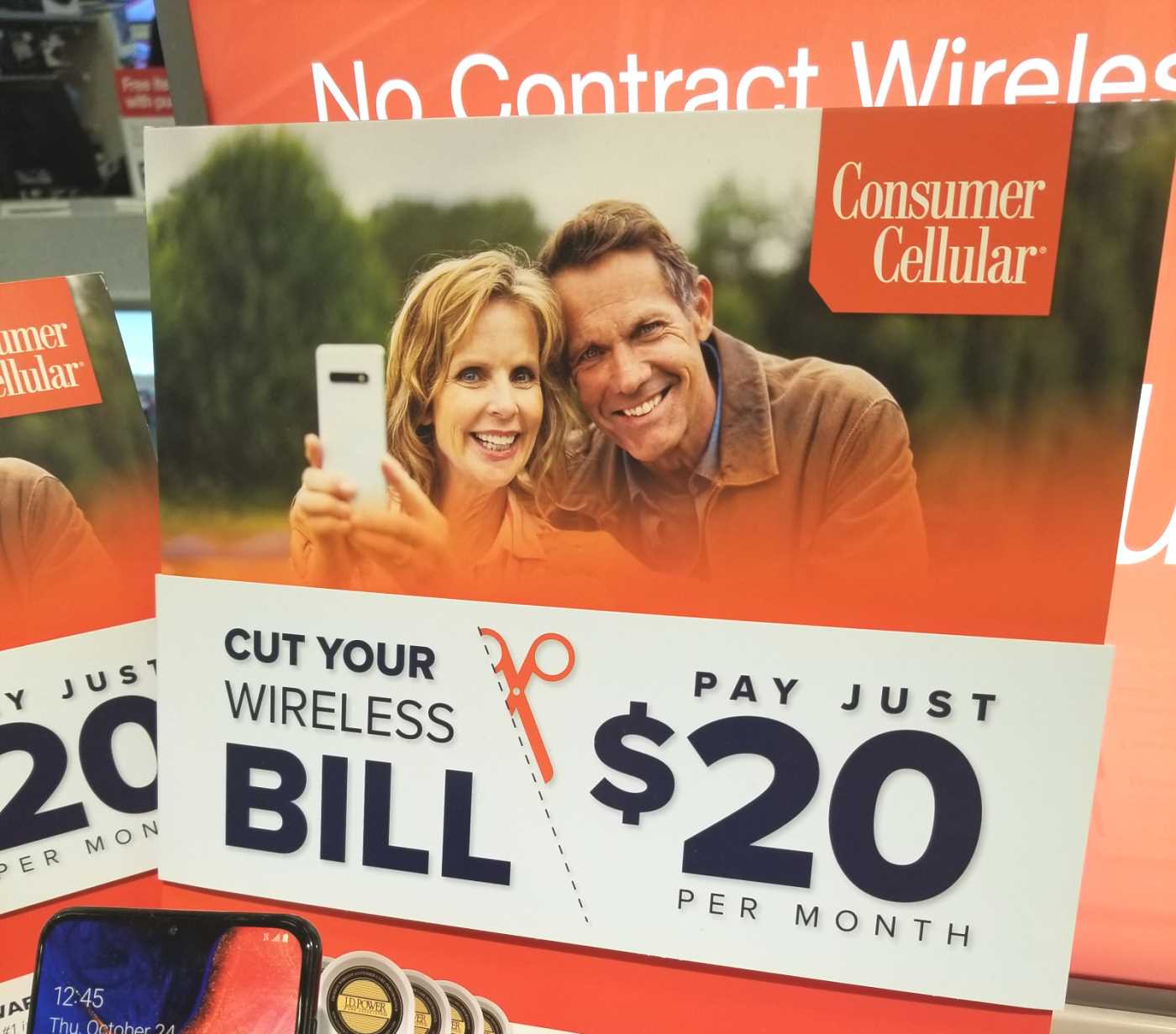 ---
Did you know BestMVNO is available to follow for free in Google News? Follow BestMVNO in your Google News app and keep up to date on wireless.
Follow BestMVNO In Google News
---
Consumer Cellular has been one of the greatest success stories in the MVNO space.  Founded in 1995 in Portland, Oregon, Consumer Cellular helped to pioneer providing cellular service to the 50-plus-year-old demographic and now boasts over 4 million customers! The company is known for providing a superb customer experience.  They have been ranked by J.D. Power as #1 in Customer Service among Wireless Value MVNOs, 13 Times in a Row!
Consumer Cellular has also been an AARP provider for over 14 years, offering members exclusive discounts on monthly service.  They have long-standing advertising agreements with popular game shows, including Jeopardy, The Price is Right, and Wheel of Fortune television programs.
Be informed of the latest deals, plans and promotions from AT&T and every one of its MVNO's when you subscribe to the AT&T weekly newsletter. No spam and you can unsubscribe at any time!
Consumer Cellular was purchased in October 2020 by Chicago private equity company GTCR for $2.3 billion.  As the second anniversary of this transaction is approaching, Joe from BestMVNO and I thought it would be a great time to check in with the MVNO and see how things are progressing.
I had the opportunity to sit down with Consumer Cellular's newly minted Chief Marketing Officer Craig Lister, who joined Consumer Cellular in June of 2022.  We covered a wide range of topics, including his vision for the growth of the company, its expansion into more sales channels, and the arrival of a new national spokesperson.  Here is that interview:
Jon Horovitz (JH):  We're starting to see other MVNOs and even carrier brands look towards the senior market.  T-Mobile, for instance, has launched a 55-plus offer.  DISH at least initially pivoted the Republic Wireless brand to gain share in this market and of course, Best Buy bought Great Call, now Lively, several years back.  How do you see this niche market evolving going forward?  And what can Consumer Cellular do to maintain leadership in the space and even continue to grow as others seek entry and look to potentially take away market share:
Craig Lister (CL): For starters, I wouldn't say the 55+ market is niche, it's a massive market. I'm thrilled to be a part of the Consumer Cellular story and proud of John Marick, Greg Pryor, and the team that began this journey, servicing what is an extremely important demographic.  We locked up our partnership with AARP back in 2008 and we're proud to be the wireless provider for their members. We put a lot of structure in place in order to service our senior customers.  Our customer support teams are 100% United States based, and we offer affordable and easy-to-understand plans and risk-free guarantees that allow people to try Consumer Cellular without any risks.  We actually get some of the highest ratings from AARP from their members with regard to customer satisfaction.  Plus, we've received the #1 ranking from JD Powers twelve (now 13) years in a row for being the "Best Value MVNO."
That is what we see as Consumer Cellular's main point of differentiation and why our customers are such loyal fans.  
JH:  So, how do you maintain this leadership position?
CL:   It goes without saying that partners like AARP, J.D. Power, Target, and Walmart are a big part of it, but there's much more. We'll be working closely with Apple and Samsung to support their new product launches later this year.  As we appeal to a broader audience, it's not just about competing with Big Cellular, Jitterbug, or Great Call (Lively); it's about providing value beyond what people are getting from their carrier.
JH:  You spoke a lot about AARP; let's switch gears and get some information about your media sponsorship with Jeopardy.
CL:  When you think about investing in media, it's always best to be where your customers are, and game shows across daytime, primetime, and syndication are places where a lot of our audience are spending their time.  This programming is often watched live without skipping commercials.  An added benefit has been our ability to integrate our branding into the program, reinforcing our message and amplifying our impact. 
JH:  I don't believe that Consumer Cellular had a celebrity spokesperson before Ted Danson.  How did that come to be?
CL:  People are bombarded with hundreds, if not thousands of messages a day.  Brands today are leveraging celebrity endorsements to create "stopping power," penetrating through all of the noise as you're flipping through the channels. When viewers see someone they're familiar with; it allows the message to get through in addition to adding a layer of credibility.  Ted is an amazing talent and collaborator with our brand, someone who transcends every generation.  Not only does he speak to our core Boomer market from his work on multiple hit movies and TV shows such as Cheers; he appeals to the younger generation who have seen him on Curb Your Enthusiasm and now on The Good Place.  He personally adds a lot to our brand and adds a lot to our "Reliably Yours'' message.  We couldn't be happier about working with Ted and building on that relationship.
JH:  Your product is now available at Walmart.  We understand that about ten percent of the Walmart's are carrying Consumer Cellular.  Is this a pilot for a larger rollout to complement what you're currently doing at Target?
CL:  We see retail as a very important part of our distribution strategy.  It's an important and critical part of the customer journey.  Walmart is an important partner of ours and we're committed to growing and developing the relationship.  Today we are in 474 Walmart stores and are doing everything we can to be the best possible partner.  The early read is that we're outperforming expectations.
JH:  When GCTR purchased Consumer Cellular in October of 2020, it was reported that you had 4 million subscribers.  Today on your website, it says you have 4 million subscribers.  What can you tell us about where the company is now coming up on almost two years post-acquisition?
CL:  Like any business during the last two years, there's been headwinds and tailwinds.  I could go on and on about dynamics from Covid, transitions to a remote workforce, competitive pressures, spiking media costs, and not to mention, a migration away from 3G service. Consumer Cellular is as well positioned as anyone to reap the benefits of people who are asking more from their cell phone provider and looking to get value out of their wireless plan.  I'm very excited about where we sit.  Our customer base is solid and extremely loyal. 
JH:  You've stayed away from the traditional dealer channel.  Any thoughts on entering this channel?
CL:  We have an incredibly talented leadership team with a clear strategy for how we'll build and grow the organization.  My focus is to develop a best-in-class marketing organization that can continue to help drive new customer acquisition, customer loyalty, and retention, and encourage a healthy, growing business in channels that make sense for us.
JH:  Craig, thank you very much for your time and insights into the tremendous accomplishments that Consumer Cellular has made, and congratulations on your appointment to Chief Marketing Officer.  All the best for continued success.
CL:  Thank you, Jon!
Without a doubt, Consumer Cellular has done a phenomenal job in the MVNO space and is a model that everyone in the wireless business should look to in clearly defining their differentiator and distribution strategies. Together with the new entrants like Charter, Comcast, Altice, Cox and others, Consumer Cellular is re-shaping the wireless landscape and will continue to do so for many years to come.
Good Selling!
Jon
---

Jon Horovitz
has been in the wireless industry as a senior executive for 32+ years. He headed up sales and operations in leadership roles for McCaw Communications, AT&T Wireless, Nextel, Boost Mobile, and Sprint. He has owned an MVNO as well as assisted in the start-up of many others. In 2022, Jon was named United States Ambassador to MVNO Nation (based in London and supporting 6000+ MVNOS). His consulting company,
Atrium Unlimited, LLC
, advises carriers, MVNOs, investment bankers, and venture capitalists interested in joining the wireless space. Jon would love to hear from you about any consultative needs you may have.
---
---