Consumer Cellular's "Spring Into Savings" Promo Gives New Lines $20 Account Credits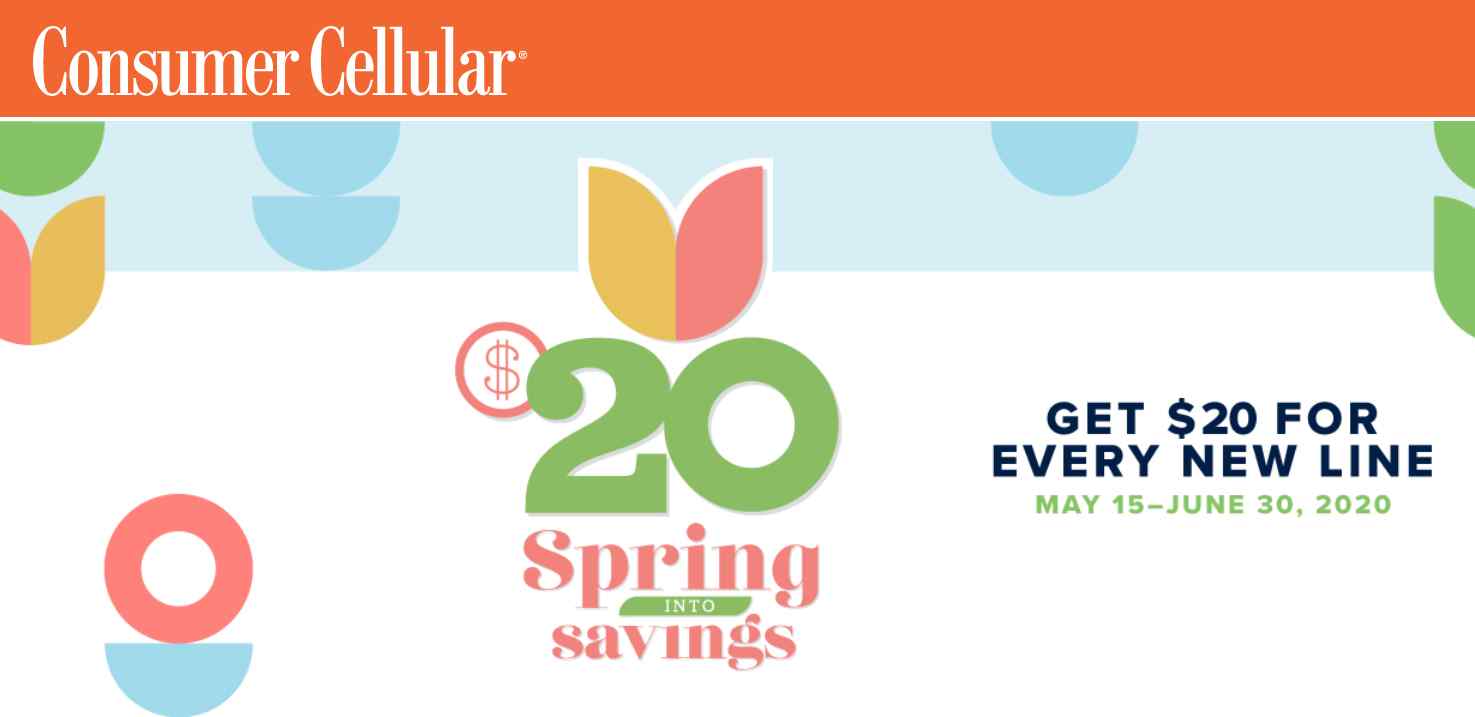 ---
Did you know BestMVNO is available to follow for free in Google News? Follow BestMVNO in your Google News app and keep up to date on wireless.
Follow BestMVNO In Google News
---
---
Thus far in 2020 Consumer Cellular has been running hot. The MVNO started the year off by placing in the top 100 in national TV ad spending. The money appeared to be well spent because when February rolled around, Consumer Cellular announced that it had amassed 3.75 million subscribers and was growing at a rate of 42,000 new subscribers a month. Just a few weeks ago the wireless provider updated its plan offerings to include a new unlimited data plan. And now the brand has launched a new offer to help further propel its growth with an eye on hitting 4 million subscribers.
"Spring Into Savings" With Consumer Cellular
Consumer Cellular's new promo was launched with the marketing slogan "Spring Into Savings." The promo gives new lines of service a $20 account credit. The credit is good for both new customers and current ones who add a line. The $20 will be applied to the customer's account on the first invoice following activation for lines that remain in service at the end of the billing period. The offer is scheduled to be available until June 30, 2020. It's available in stores at Target and also directly through the Consumer Cellular website.
Consumer Celluar is a no-contract postpaid provider that operates on both the T-Mobile and AT&T networks. If you are interested in taking advantage of their $20 account credit, you can choose from one of the following phone plans.
Plans With Unlimited Talk & Text
$25/month - 500MB shared data
$30/month - 3GB shared data
$40/month - 10GB shared data
$50/month - 15GB shared data
$60/month - unlimited* shared data
Plans With 250 Minutes & Unlimited Texting
$20/month - 500MB shared data
$30/month - 3GB shared data
$35/month - 10GB shared data
$45/month - 15GB shared data
$55/month - unlimited* shared data
*Consumer Cellular says customers on the unlimited plan may experience reduced data speeds for the remainder of their billing cycles after 35GB has been consumer during a billing cycle. Subscribers who aren't on the unlimited plan that exceed their plan's high-speed data allotment will automatically get upgraded to the next highest tiered plan.
Talk Only Plans
$15/month - 250 minutes
$20/month - unlimited minutes
Extra lines can be added to any Consumer Cellular plan for an additional $15/month. Taxes and fees cost extra.
---
Be sure to follow BestMVNO on Twitter for additional wireless coverage, deals, insights, and even debates!
Follow @BestMVNO Twitter
---
---