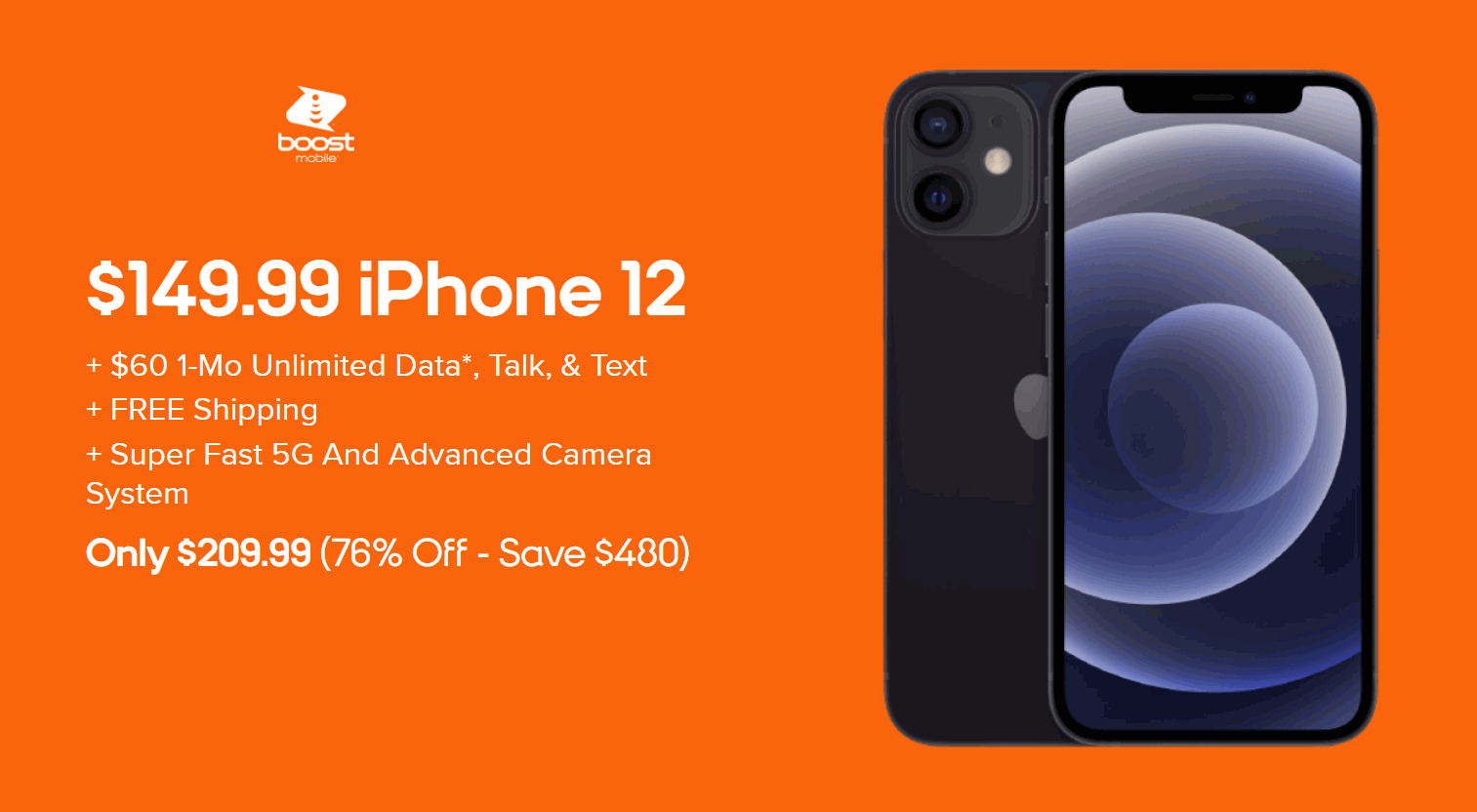 ---
Boost Mobile has a new offer online for the 64GB iPhone 12. New customers can pick it up for $149.99. Customers that head to their local Boost Mobile dealer can get it for as low as $99.99 with a number port in. Of course, each deal has its own requirements and restrictions.
iPhone 12 Online Offer Details
I'm going to call the $149.99 64GB iPhone 12 offer a low key online deal from Boost, because it's nowhere to be found on the main Boost Mobile website. Instead, it can be found through a hidden link on this Boost website subdomain.
The $149.99 iPhone 12 is a limited time offer that requires the purchase of Boost Mobile's most expensive plan, a $60/month "unlimited plan." It includes unlimited talk, text, and data with data speeds reduced to 512Kbps once a customer consumes more than 30GB of data in a billing cycle. The deals page for this offer states that it comes with 12GB of mobile hotspot. However, according to Boost's main website, the $60 plan is supposed to come with 30GB of hotspot. I have to imagine the deal's page is the one that's wrong here. But hard to tell with Boost. The $60 plan is also supposed to come with roaming in Mexico with 8GB of data to use their. It's also supposed to include unlimited global texting, and calling to Canada. However, this too is absent from the iPhone 12 deal's page.
There is a limit of one discounted phone allowed per customer. Taxes and fees are extra. Boost Mobile does not specify what plans you'll be able to switch to after the first month, if any, if you purchase this device. The iPhone 12 and SIM will ship for free.
iPhone 12 In Store offer Details
The $99.99 in store offer started last week and should remain in place at least until 11/6/23. The price is $99.99 with a number port, or $199.99 for new lines and upgrades. The store deal also requires the purchase of a $60 plan. However, Boost Mobile's store plans are different than their online plans. Currently, Boost's $60 store plan includes 50GB of high-speed data and 50GB of hotspot, significantly more data than what's offered online for the same price. Presumably customers will be able to at least change to either the $40 or $50 store plans after their first month of service.
It's worth noting that Boost Mobile is scheduled to refresh its plans and device subsidy policy in January 2024. Online and store plans will become unified then.
I expect the iPhone 12 to be somewhat of a featured deal from Boost Mobile throughout the holiday shopping season with various price changes occurring through the end of the year. I would expect most price fluctuations to happen in stores.
---
---