Verizon's Visible Prepaid Brand Removes Speed Cap, Get Unlimited LTE Data For $40/Month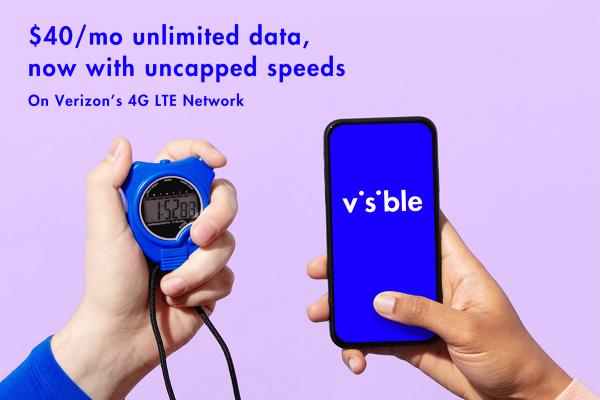 ---
Did you know BestMVNO is available to follow for free in Google News? Follow BestMVNO in your Google News app and keep up to date on wireless.
Follow BestMVNO In Google News
---
---
A couple of months ago, someone started a thread on Reddit wondering why Visible doesn't offer higher data speeds for a small fee.  A Visible employee responded to the thread stating "Oh, I think we can do better than that pretty shortly 😉 ... stay tuned."
Today, the prepaid brand owned by Verizon has "done better."  Visible announced in a press release that it has temporarily lifted the speed cap on the only wireless plan it sells.  For a limited time, all new and current customers can get unlimited talk, text, LTE data, and mobile hotspot for $40/month.  Taxes and fees included. Mobile hotspot speeds will still be limited to 5Mbps.
The announcement comes less than 24h after Visible had posted on its Facebook page that "a new feature is quickly approaching."
Visible hasn't specified how long "for a limited time" means.   The company says the limited time window will be determined as they learn more about member needs through the offer. Visible also says that those who get to experience uncapped data speeds will get to keep them for as long as they stay subscribed to the service. Current members who already have the service simply need to restart their phones to get the uncapped data speeds.
Besides the new plan structure, Visible will soon be selling the Motorola G7 Power. The company says that it will be available for purchase only.  However, soon thereafter, I suspect that it will become another phone that you can add to the list of devices that Visible offers bring your own device support for.  Just last month Visible began allowing subscribers to bring their own Google Pixel 3 and 3XL to the service.  Last week bring your own device support was announced for the Pixel 3a and Pixel 3a XL.
If you are looking to take advantage of this new offer from Visible, which might just be the best deal in wireless, there are a few other promotions from the company that you might be interested in.  Visible continues to offer up to a $200 Prepaid Mastercard Virtual Account to those customers who make the switch and buy a new device.  Those who bring their own device to Visible are eligible for a $100 Prepaid Mastercard Virtual Account.  New customers may also be eligible to receive half off their first month of service.
The following phones are currently available for purchase from Visible:
Apple iPhone Xs $984
Samsung Galaxy S9 $408
Apple iPhone Xs Max $1080
Samsung Galaxy S9+ $480
Apple iPhone XR $744
Visible R2 $99 or free with Android Device trade-in
Apple iPhone X $888, available used for $539
Apple iPhone 8 $576, available used for $310
Apple iPhone 8 Plus $696, available used for $364
Apple iPhone 7 $288
Apple iPhone 7 Plus $336
Apple iPhone 6 used $133
---
Be sure to follow BestMVNO on Twitter for additional wireless coverage, deals, insights, and even debates!
Follow @BestMVNO Twitter
---
---