Visible Now Has A Customer Referral Program That Offers Subscribers $20 Account Credits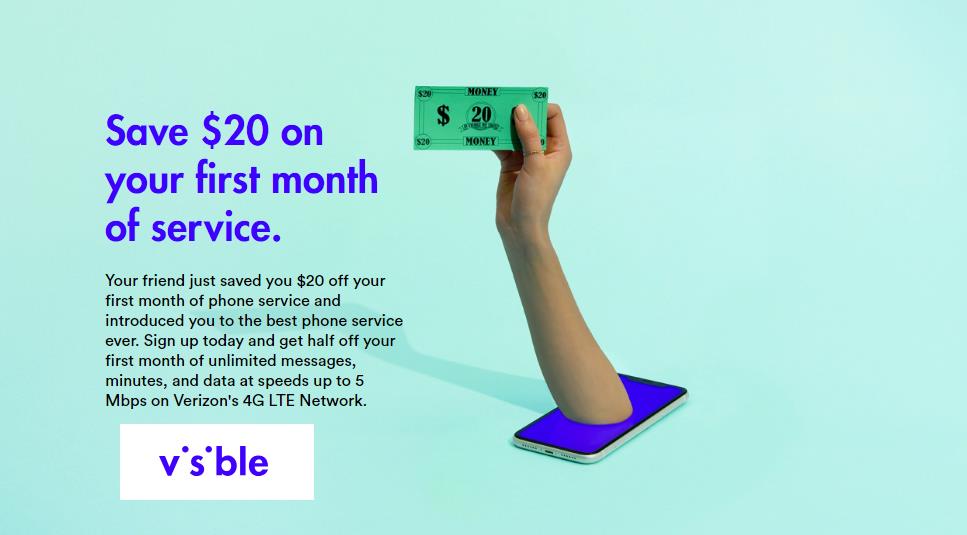 Visible, the prepaid wireless service that was launched by Verizon last May, has announced the availability of a customer referral program.  Those that refer a friend to Visible will receive $20 off their bill for that month.  New subscribers through the referral will also receive a $20 credit so that they can get their first month of service at 50% off.  Visible only offers one phone plan priced at $40/month for unlimited talk, text, and LTE data including mobile hotspot, with data speeds limited to a maximum of 5Mpbs.  Taxes and fees are included in the price.
Visible's Referral Program Details
Those that are currently subscribed to Visible will find their unique referral code located in their account dashboard.  The 5 digit referral code can be found on the home screen of the Visible app which is available for both iOS and Android.
Unfortunately, Visible is not allowing subscribers to earn enough referral credits to get free service.  Customers can only accrue up to 12 credits at a time, and only one $20 credit can be redeemed per month.  The credits never expire, but should the subscriber cancel their account, they will forfeit their credits. Unlike some other referral programs, the credits will automatically be applied to the customer's wireless bill every month.  Credits cannot be used towards the purchase of a phone.  Only active subscribers can earn referral credits.
New Visible subscribers who signup for service using someone's referral code will automatically get a $20 credit applied to their first month's bill unless they are taking advantage of Visible's Swap program. Visible's Swap program allows subscribers to trade in their old Android device for a brand new Visible R2, a phone designed by ZTE exclusively for Visible.  The R2 is valued at $99.00 and is powered by a 1.4GHz  Qualcomm Snapdragon 425 processor.  Those taking advantage of the Swap program won't get the $20 referral credit applied to their account until their second month of service.
New and current Visible customers are also still eligible to receive up to a $200 Prepaid Mastercard Virtual Account when they buy a phone from Visible and activate it on the network.
New subscribers who don't have a referral code to use at signup, should still be eligible to get half off their first month of service using the link provided in the button below.
---
---