Verizon Wireless Announces Just Kids, A Phone Plan For Kids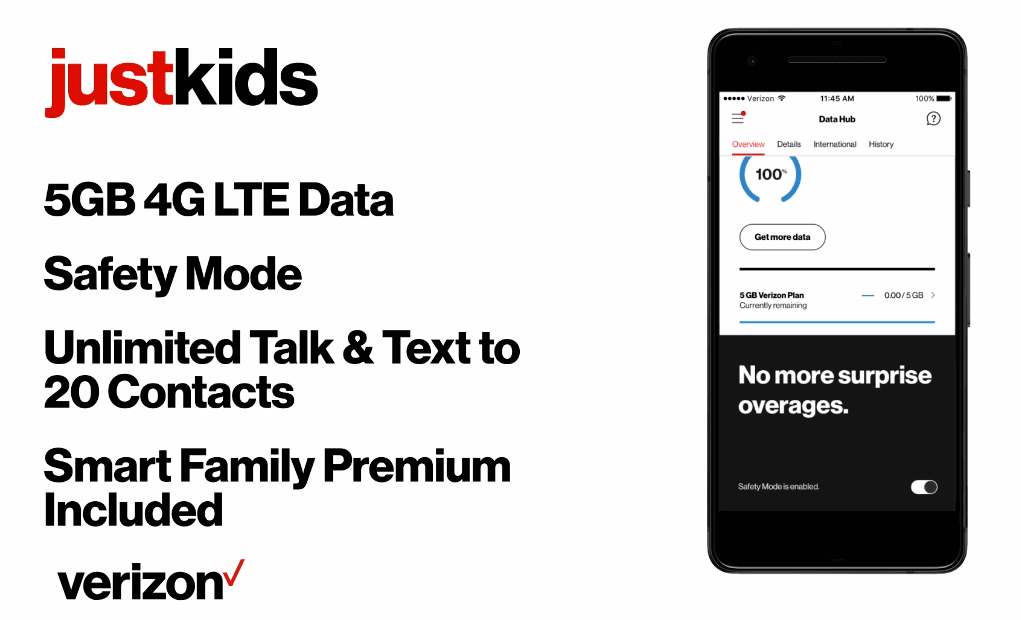 Verizon Wireless has announced a new phone plan designed for children, complete with strings attached.  The new plan is called "Just Kids" and pricing for the plan starts at $55/month with lower pricing available to those who have more lines in their account.  The plan will launch this Thursday, April 4, 2019.
The Just Kids plan includes unlimited talk and text to 20 contacts that are predefined by the parent.  It also includes 5GB of data at 4G LTE data speeds with unlimited 2G data thereafter, a feature that Verizon calls Safety Mode.  The plan comes with a suite of parental controls that are valued at $9.99/month and are part of Verizon's Smart Family Premium controls. The controls allow parents to know when their kids are using their phones. They also allow parents to limit what their children see on their phones, manage their screen-on times, track calls and texts, and to track their child's location.
What Strings Are Attached?
This plan is not available to all Verizon Wireless customers.  Subscribers who want to add the Just Kids plan to their account can only do so if they are already subscribed to one of Verizon's 3 unlimited LTE data plans.  Verizon's unlimited LTE data plans start at $75/month. Those with a shared data plan or a prepaid plan cannot add a Just Kids line to their account.
How Does Pricing Work?
Verizon has put together a little chart explaining the pricing and feature differences between its unlimited LTE data plans and its Just Kids plan. You can see the chart below.
Be informed of the latest deals, plans and promotions from Verizon and every one of its MVNO's when you subscribe to the Verizon weekly newsletter. No spam and you can unsubscribe at any time!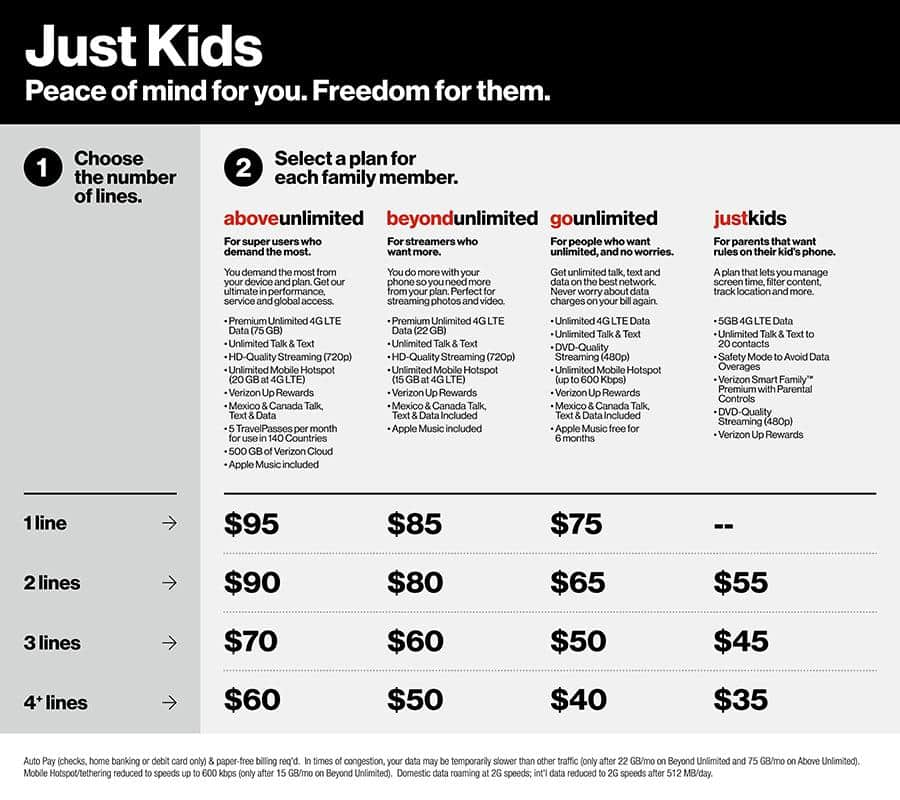 At first glance for me, the chart was a little bit hard to follow, particularly when also trying to follow Verizon's press release where Verizon noted that " If you have three of our latest unlimited lines on the account, adding one line on Just Kids can be as low as $5 more per month."  So for those of you out there like me, I will try to explain it a little more with words.
Verizon Wireless allows you to mix and match unlimited plans. So one line could theoretically be on the Above Unlimited plan, and another line could be on Go Unlimited.  If that was your setup, you'd pay $90/month for the Above Unlimited plan and $65/month for the Go Unlimited Plan.  If you wanted to add one Just Kids line to your account, your account would then have 3 lines and pricing for the lines would be as follows: Above Unlimited $70/month, Go Unlimited $50/month, and Just Kids $45/month.  Now if you have 3 Go Unlimited lines in your account, you pay $50/month per line or a total of $150/month.  If you want to add a Just Kids line to your account, you'll have 4 lines so the Go Unlimited lines will then drop down to $40/month each line or $120 total and the Just Kids line would cost $35/month.  So in this scenario, the total monthly bill for the 4 lines would be $155/month or $5 more per month compared to having just 3 Go Unlimited lines.
Verizon Promos
To entice signups, Verizon is offering the Samsung J3 for free to new lines.  The carrier says that this might be a good option for kids.  Verizon is also offering a $250 Prepaid Mastercard to those who make the switch and port into Verizon with a phone that they already own.
Verizon Wireless Isn't The Only Provider To Offer Parental Controls
Verizon says that this is the first phone plan on the market from a major wireless carrier aimed directly at children.  While technically this is true, parental controls have been around for quite some time.  AT&T, Sprint and T-Mobile all offer parental controls.  Furthermore, some MVNOs also offer the feature. Last year, Google gave Fi customers the ability to add children under 13 to their family plan using a Google Account managed by Family Link.  Family Link is Google's free suite of parental controls that offer a lot of the same features that Verizon is touting with the parental controls available on its new Just Kids plan. A major difference, however, is that Family Link is available to anyone with a Google Account and it is available for use with any carrier or MVNO wireless plan.  It is not just limited for use with Google Fi.
---
---