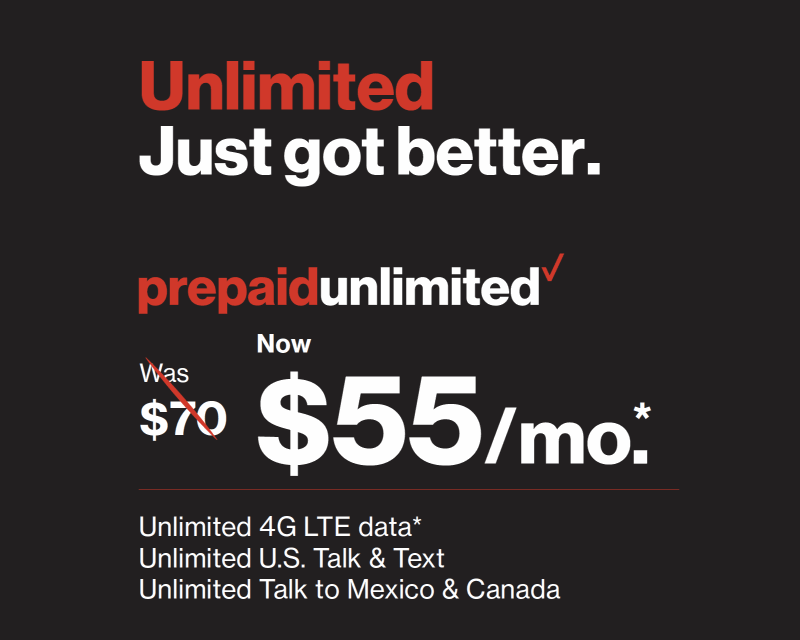 ---
Starting 3/18/2020, new Verizon Prepaid customers will be able to pick up an unlimited plan for $55/month or $50 when a $5/month autopay discount is applied.  This is a dealer exclusive offer and it is not available on the Verizon Wireless website or in a Verizon Wireless retail store.  The plan is normally available for $70/month or $65 with autopay billing applied.  Last year, dealers were offering the plan for $55/month with autopay, so this is an update to that offer.
Unlimited Plan Offer Details And Fine Print
The unlimited plan is available for both smartphones and data only devices, but plan features are a little different for data only devices.
If you've got a phone to use, your plan will include unlimited talk, text, and 4G LTE data. It will also include unlimited international texting to over 200 countries and unlimited talk to Mexico & Canada but no mobile hotspot.  Video streaming is limited to a resolution of 480p and during times of network congestion data speeds may be temporarily slowed compared to other customers.  Multi-line discounts are also available.  Additional lines can be added at a cost of $45/month.
Those with a data-only device will get a plan that includes unlimited data with the first 30GB at high-speeds before throttling to 600 Kbps.
There is no end date specified for the promo. Customers who activate on the plans will get to keep the special promotional rates for as long as they keep their lines active.
The $55 unlimited plan ($50 with autopay) offer is only available through Verizon Prepaid dealers that use either the EPAY WebPOS platform or the VIDAPAY platform.  Select independent Verizon Prepaid dealers may also have it.
EPAY Offers Multi-Month Service Discount
Alternatively, customers can save a little more when they purchase several months of service in advance through Verizon Prepaid dealers that use the EPAY WebPOS platform.  EPAY has launched an exclusive offer where customers can buy 3-months of service on the unlimited plan for $148.50.
The offer is stackable with Verizon's $60 port-in account credit promo. Customers that port-in to a Verizon Prepaid plan priced $50 or higher will receive a $60 account credit that can be used to purchase plan add-ons or a service plan.  EPAY is leveraging the offer to promote to dealers that their customers can take advantage of it to get their 4th month of service free of charge.  Customers taking advantage of the offer will then be able to get 4 months of service for just $148.50 or about $37.12/month plus tax.
Those interested in the offers described in the article can use EPAY's dealer locator to find the EPAY based Verizon Prepaid dealer that is closest to them.
---
---