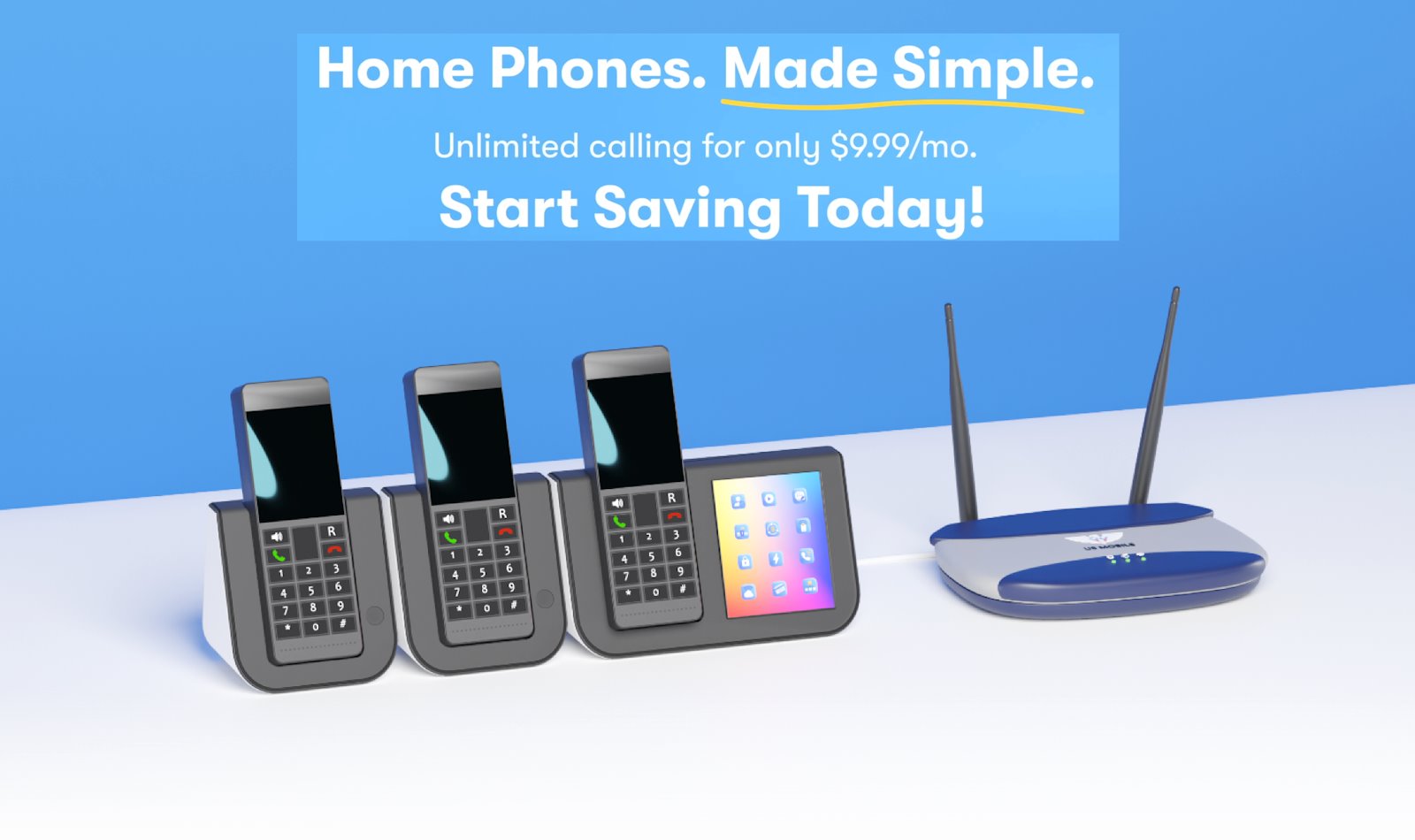 ---
In the latter half of September, BestMVNO reported an abundance of plan changes taking place at US Mobile. The company updated its phone plans with more data, hotspot,  international features, improved shared data plan rates and more. They also shared a roadmap of additional upcoming changes. One of those changes is now live. US Mobile has launched a home phone plan. It's billed at a rate of $9.99/month with taxes and fees included in the price. Subscribers can port to the plan and keep their current landline numbers. Service includes voicemail, caller ID, call forwarding and conference calling at no additional cost
US Mobile has multiple landing pages setup on its website targeting the offer to different audiences. One of those web pages targets businesses, stating that it's "for businesses with 1 to 100,000 employees." There are also web pages setup targeting general audiences and seniors. However, the differences between those two pages are extremely subtle.
Be informed of the latest deals, plans and promotions from T-Mobile and every one of its MVNO's when you subscribe to the T-Mobile weekly newsletter. No spam and you can unsubscribe at any time!
What Network Does It Use?
US Mobile does not specify what cellular network they are using to provide home phone service. However, I'd be surprised if it wasn't anything other than T-Mobile. And there is a hint about this on their website.
The home phone plan includes unlimited talk and international calling to over 200 destinations and spam blocking. US Mobile has an international calling countries webpage setup that explains to customers of its cell phone plans what countries they can call to at no additional charge. The page exclaims the feature is available on its GSM 5G network. GSM 5G is what US Mobile uses to signify the T-Mobile network is being used.
What Are The Requirements To Get It?
In order to sign up for the home phone plan, customers will need to purchase a "Home Phone Base" from US Mobile, which is essentially a router that connects to a 4G LTE cellular network. It does have a built in battery backup so that subscribers could still place phone calls in the event that they lose power. The Home Phone Base is priced at $49.99 and it ships free. It does support e911 with GPS. The base's GPS location is shared with 911 dispatchers if an emergency call is made.
Customers purchasing the device will get a free month of home phone service.
Subscribers will also need a cordless handset to use with the Home Phone Base. You can either use your own phone or purchase a cordless phone & Home Phone Base bundle from US Mobile. The bundle kit includes a Panasonic KX-TGD830M cordless phone and is priced at $99.99.
US Mobile has filmed a video explaining how it works which you can see on YouTube or watch below.
US Mobile Isn't The Only Cellular Provider Offering A Home Phone Plan
US Mobile isn't the first cellular phone plan provider to try and jump into the home phone landline market. The company also makes it clear on their product pages where they compare their pricing to their competitors.
Consumer Cellular sells an $89 home phone base on its website. It can also be found in Target stores. Their home phone plan costs $15/month when added as a second line on a Consumer Cellular Wireless plan.
Straight Talk Wireless has also long offered a home phone plan. It costs $15/month for the service and its home phone base is $49.99.
Those looking for a home phone line may find US Mobile's offering to be a good choice for value that saves money over other providers.
---
---