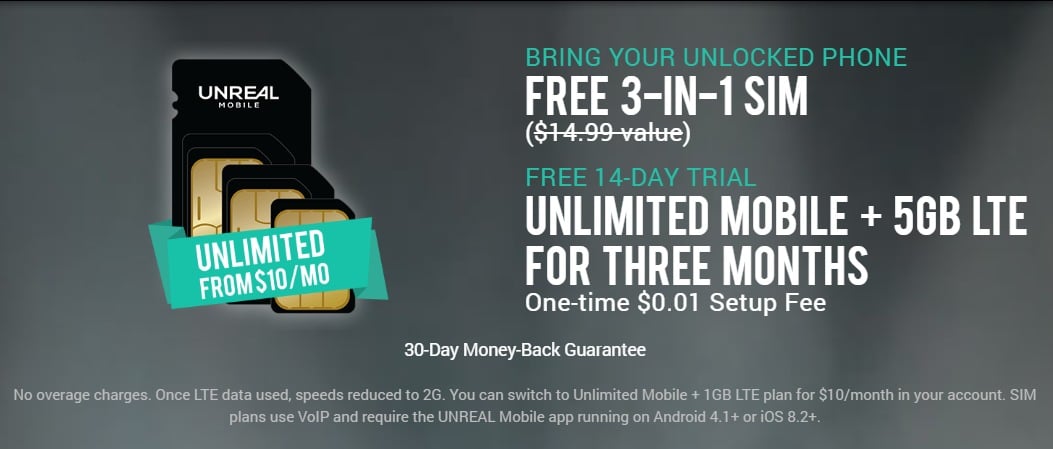 ---
UNREAL Mobile has launched a couple of new plans.  The new plans are multi-month plans available on the MVNO's GSM partner network, AT&T.  The BestMVNO featured plan includes unlimited talk, text and data with the first 5GB at 4G LTE data speeds for an average cost of $20/month.  An unlimited everything yearly plan is also available with 1GB of 4G LTE data for an average cost of $8.25/month.
Offer Details Explained
The plan with 1GB of monthly 4G LTE data requires an upfront annual payment of $99.  Spread out over the course of 12 months that works out to an average cost of $8.25/month.
The plan with 5GB of monthly 4G LTE data comes with a 14 day free trial.  The only upfront cost required is a 1¢ account setup fee.  After the trial is up the plan will cost $60 for 3 months of service.  That works out to an average cost of $20/month.  One BestMVNO reader reported that when they subscribed to a similar UNREAL Mobile free trial offer, the trial started before they received and activated their SIM.  I suggested they contact the company to see if they could get that fixed.  The company does state on the plan order page that service starts 7 days after the SIM ships.  So keep that in mind if you pickup this offer.
UNREAL Mobile's GSM based phone plans require the use of VoIP for phone calls and text messages, therefore an app is required for those services.  The app has a rating of 4.1 out of 5 in the Google Play Store.  Comments on the quality of service seem to be somewhat mixed.  Some said the app is much better than FreedomPop's and that the call quality was good.  FreedomPop owns UNREAL Mobile.  Others complained of the app crashing and were not happy with the voice quality.
Both plans come with a free 3-in-1 SIM card.  The SIM card is listed as having a regular retail value of $14.99.  A 30 day money back guarantee comes with either plan purchase.
Shipping is free with either purchase when the "Super Saver" shipping option is chosen.  Super Saver shipping says it takes 10-14 days, so that could possibly chew into the free 14 day trial offer that the 5GB plan comes with.
Neither plan allows for the use of mobile hotspot/tethering.
You can pick up the 5GB plan here.  The annual plan with 1GB of monthly LTE data is available for purchase here.
---
---