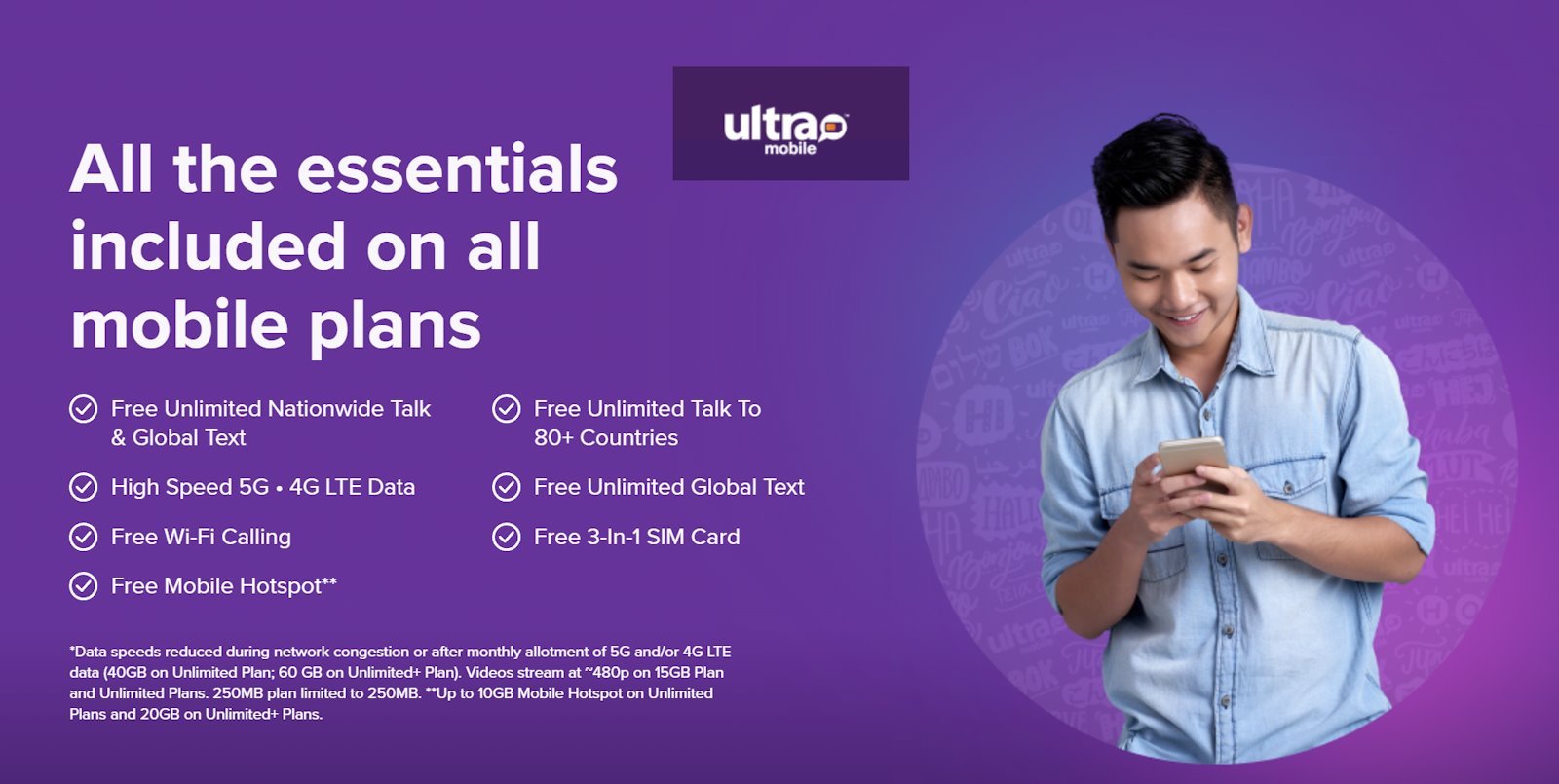 ---
Ultra Mobile has updated its wireless plans to include more data. Additionally, more countries to call and text to have been added. Ultra Mobile customers can now call or text to over 90+ destinations, up from 80+. Free talk and text roaming while traveling to both Mexico and Canada has also been added to every plan.
Ultra Mobile's Data Allotment Changes
Several of Ultra Mobile's plans have received data updates. Here's a list of what's changed.
$19/month plan - increased to 3GB, up from 2GB
$29/month plan - increased to 10GB, up from 6GB
In addition to those two plan changes, Ultra Mobile has also brought back a plan that it had been offering exclusively through dealers. It's $24/month plan, which previously included 3GB of data will now include 5GB and is again available online through the Ultra Mobile website. Ultra Mobile will continue to offer multi-month discount savings, just like its sister brand Mint Mobile, to anyone who purchases 3, 6, or 12 months of service in advance.
The provider's other wireless plans will remain unchanged. There's a $15/month plan with 250MB of high-speed data. A $39/month plan with 15GB of high-speed data, and a $49/month plan with 40GB of high-speed data available online and through dealers. A $59/month plan with 60GB of high-speed data remains a dealer only option.
It should be noted that Ultra Mobile offers Walmart exclusive plans that were of better value than what was sold through the Ultra Mobile website. Those plan options include a $19.88/month plan with 3GB of high-speed data, a 10GB $29.88/month plan, and 40GB $39.88/month plan. It's not clear if these store exclusive plans are also being updated.
All plans include unlimited talk and text with international calling and texting as well as calling and texting use while in Canada and Mexico. All plans except the 250MB plan include unlimited data with data speeds throttled after the plan's high-speed data allotment has been reached. The 250MB plan is hard capped. Customers that use up all the data on that plan will have no more to use for the remainder of their billing cycle unless they add a top-up.
Every Ultra Mobile plan allows you to use your data for mobile hotspot. However, the $49 and $59 unlimited plans have hotspot usage caps of 10GB and 20GB respectively.
These are all positive changes from the brand but you may still find better value from other T-Mobile MVNOs depending on what features you need from your plan. For instance, US Mobile offers a plan on T-Mobile with unlimited talk and text and 6GB of data for $18/month with taxes and fees included in the price. Ultra Mobile charges extra for taxes and fees. US Mobile also offers a $25/month unlimited plan with 30GB of high-speed data and allows 5GB to be used for mobile hotspot.
Ultra Mobile is currently a brand somewhat in limbo. In March 2023, T-Mobile agreed to acquire Ultra and Mint Mobile and their parent company Ka'ena Corporation, pending regulatory approval, in a deal valued at up to $1.35 billion. The deal is supposed to close by the end of 2023. T-Mobile has claimed that it will use its scale and owners' economics to help supercharge and grow both wireless brands.
---
---