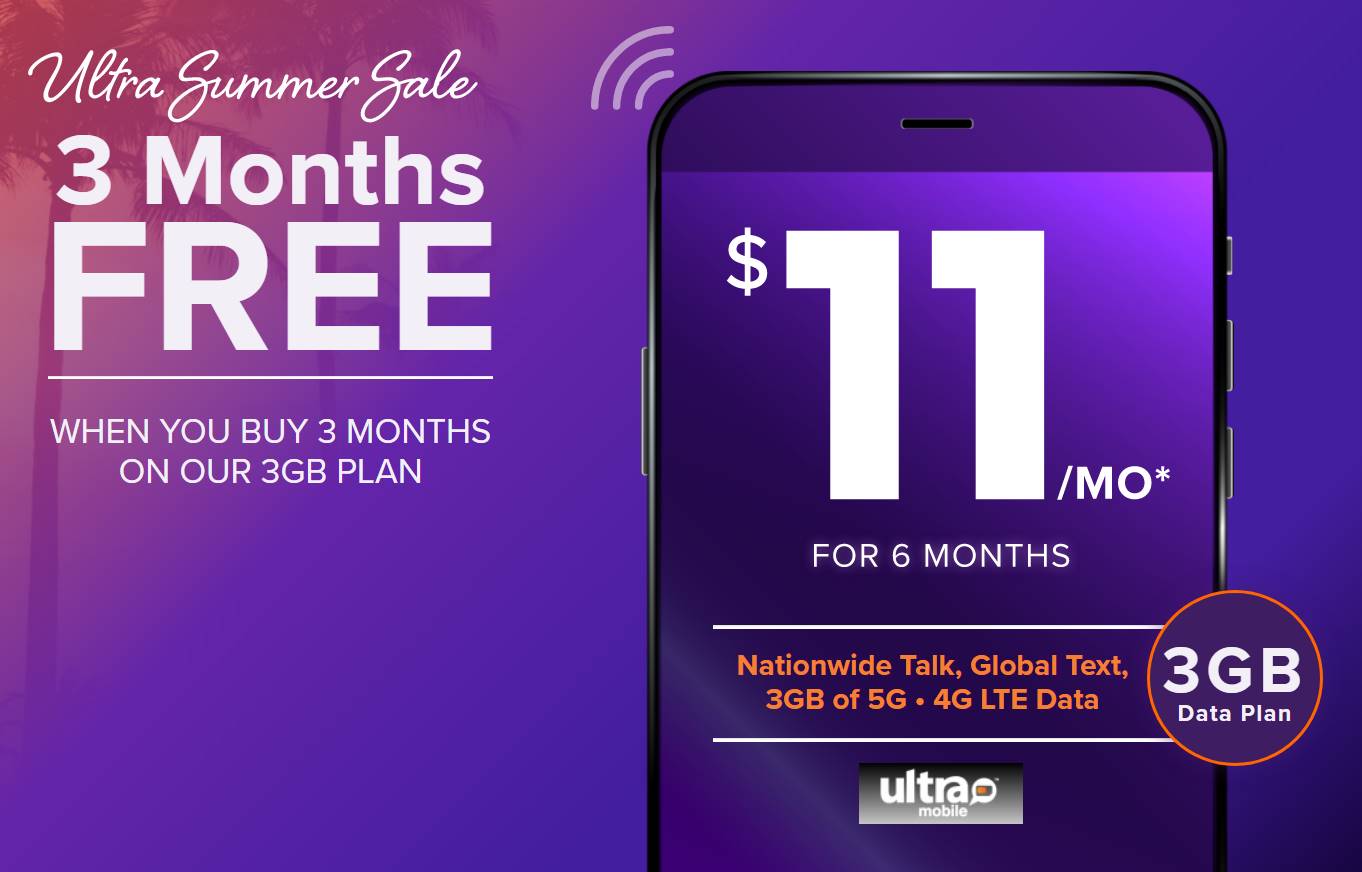 ---
Ultra Mobile recently launched a new "Ultra Summer Sale" deal. New Ultra Mobile customers who purchase the company's 3GB plan have the option to buy 3-months and get 3-months free. This is a move straight out of its sister brand, Mint Mobile's playbook. Mint Mobile has run the same type of deal annually over the last few years.
BOGO Offer Details And Plan Fine Print
Ultra Mobile's 3GB plan is regularly priced at $24/month as a monthly option or $22/month when paid for 3-months in advance. It's also available as a 6-month prepaid monthly plan for an average cost of $21/month and 12-months for an average cost of $20/month. Through this limited time promotional offering, new customers who buy the 3-month plan can get 6-months of wireless service for just $66 or an average cost of $11/month. This is an online only offer.
The offer cannot be combined with other offers and is limited to one per customer. Ultra Mobile trial customers do not qualify for the deal. Ultra Mobile sells a trial kit on Amazon for $5. It's a 7-day plan that includes 100MB of data, 100 text messages and 100 global minutes. Customers happy with the service can upgrade to a full plan and get a $5 credit applied to the plan but cannot get this BOGO deal.
Besides including an allotment of 3GB of monthly high-speed 4G LTE/5G data, the plan also includes the following features:
unlimited 2G data after the plan's high-speed allotment gets used up
unlimited domestic and global talk and text to over 80 locations
$5 one time international roaming credit
$1.50 international long distance credit to call countries not included in the 80+ that are free
all the plan's allotted high-speed data can be used for mobile hotspot
Ultra Mobile is an MVNO of T-Mobile.
Dealer Exclusive Promo
Ultra Mobile also continues to run a dealer exclusive promo. Any new customer who purchases a 3-month discount plan, and any current customer who upgrades to a 3-month discount plan from their dealer will receive one month free as a credit applied towards their first renewal. As an example, a customer who subscribes to the 3GB plan for 3-months will receive a $22 credit applied to their account. Of course, the online only BOGO deal is a better offer in this instance. But other available 3-month plan options to take advantage of the free month include the following:
$13/month - 250MB hard-capped data receive $13 credit upon renewal
$16/month - 2GB high-speed data, receive $16 credit upon renewal
$28/month - 6GB high-speed data, receive $28 credit upon renewal
$36/month - 15GB high-speed data, receive $36 credit upon renewal
$46/month - 40GB high-speed data, receive $46 credit upon renewal
All plans include unlimited domestic and global talk and text. Unless stated otherwise, all plans also include unlimited 2G data once the plan's monthly high-speed data allotment gets consumed.
Several weeks ago, Ultra Mobile launched a new Unlimited+ plan that includes 60GB of high-speed data before throttling. It's monthly cost is $59 and the prepay for 3-months discount rate is $56/month. So customers who buy this plan should also receive a $56 account credit upon renewal.
Both the online only BOGO deal and the dealer exclusive promo are scheduled to be available until 8/31/2021.
According to the most recent quarterly dealer survey conducted by Wave7 Research, Ultra Mobile was the top-selling prepaid brand in 4 out of 30 independent multi-carrier prepaid dealers surveyed by the research firm. It was sold at 12 out of the 30 stores.
---
---