New Ultra Mobile Multi-Month Promo Will Get You Unlimited Talk And Text With 3GB Data For $11/Month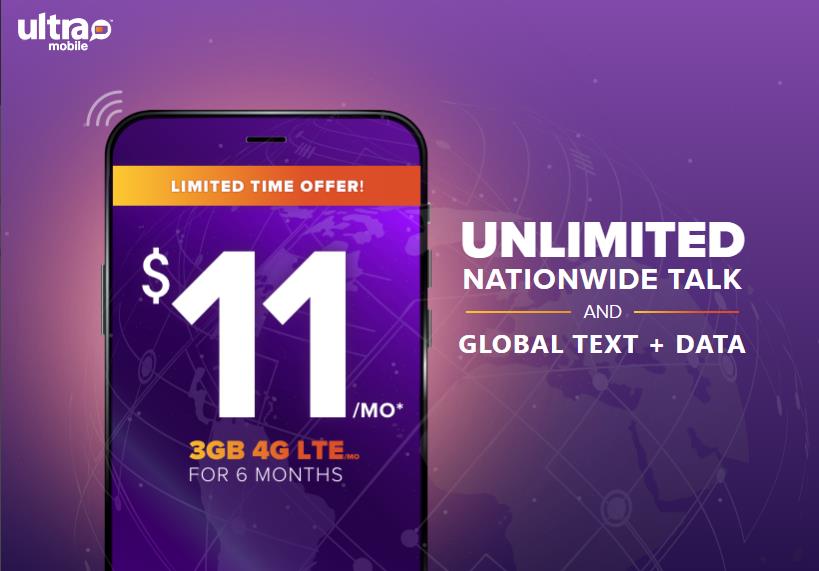 ---
Did you know BestMVNO is available to follow for free in Google News? Follow BestMVNO in your Google News app and keep up to date on wireless.
Follow BestMVNO In Google News
---
---
Ultra Mobile has launched a promotion revolving around one of the new and updated multi-month plans that the company launched back in August. Customers can now buy a 3-month plan with 3GB of data and get an additional 3-months of service for free.  Alternatively, customers can purchase 6-months of service and get an additional 6-months for free.  The buy three get three promo will cost subscribers $66 or an average cost of $11/month.  The buy 6 get 6 months free promo costs $126 and averages to a monthly cost of $10.50/month.  Alternatively, customers may also buy a promo plan with 6GB of data for 6 months at an average cost of $14/month.
Ultra Mobile's BOGO Offer Fine Print
This offer is scheduled to be available from October 1 to October 31.  (Update: 11/4/19 - The promotion is still running and is scheduled to last at least until the end of the year. Update: 1/6/20 - the promotion is still ongoing with no end date known. ) It is for new subscribers only who purchase online or through select dealers and port-in within 45 days of purchasing.  New subscribers are defined as those who have not had service with Ultra Mobile within the past 60 days.  Those porting in from T-Mobile or a T-Mobile related provider are not eligible for the offer.  Ultra Mobile runs on the T-Mobile network.
Taxes and fees will cost extra.  Ultra Mobile considers one month to be equal to 30 days.  Besides 3GB of monthly 4G LTE data, the plan also includes unlimited talk and text and international talk and text to over 80 countries.  Mobile hotspot is also included.  Customers who consume more than 3GB of data during their 30-day billing cycle will have their data speeds throttled to 128kbps.
Get $200 Off Select Samsung Galaxy Device Purchases
The multi-month plan discount offer is stackable with an offer on select Samsung Galaxy devices.  Those who purchase a Samsung Galaxy S10E (starting $749), S10 (starting $899), or S10+ (starting $999) from Ultra Mobile with a multi-month plan will receive $200 off the purchase of the device.  The phones do appear to be sold locked to the network for a minimum of 12 months. I have reached out to Ultra Mobile for clarification.
Editor's Take
Ultra Mobile also operates the wireless brand Mint Mobile.  Mint Mobile only sells multi-month plans.  The multi-month plan business model must be working extremely well for Mint Mobile considering that it is showing up more and more through the Ultra Mobile brand.  The two brands seem like they should continue to be able to co-exist even though their business models are starting to overlap somewhat, the target audience for each brand is still different.  Ultra Mobile targets those who need international calling and texting. Those features are lacking with Mint Mobile, although Mint Mobile does offer free calling to Canada and Mexico.
Multi-month plans continue to provide good value to consumers, although they do potentially carry opportunity costs.  Customers willing to lock into a plan for an extended period of time typically, but not always, get great rates compared to pay by the month rate plans.  However, committing to such a plan may prohibit consumers from being able to take advantage of a better deal that may pop-up from another provider at a later date.
---
Be sure to follow BestMVNO on Twitter for additional wireless coverage, deals, insights, and even debates!
Follow @BestMVNO Twitter
---
---