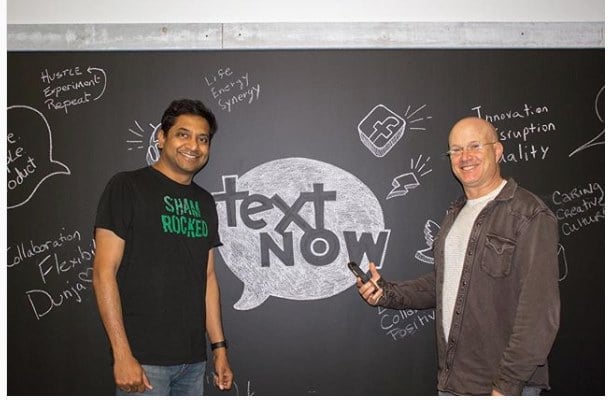 ---
TextNow plans just got a whole lot cheaper with a new phone plan lineup. The head turner of the bunch is a new "unlimited" LTE data plan priced at $39.99/month.
So is there a catch with that unlimited LTE data plan?
You bet.
TextNow's Updated Phone Plans Explained
Before I break down and summarize all the new plans, let's take a closer look at that unlimited LTE data plan.  By unlimited LTE data, TextNow means you can use up to 23GB of data in a month before data throttling to 2G data speeds takes place.  That's not exactly what I would call unlimited data, still, for $39.99/month it is a great bargain. It's also a big improvement over the 5GB of data that the company previously offered at that price point.
Now for the rest of those plans.
All of TextNow's phone plans include unlimited talk and text both domestically and to Canada.  All data containing plans include unlimited 2G data. A summary of the new plans and what they replaced is below:
VoIP Free Plan - unchanged, just includes talk and text and is supported by in-app ads. Available over WiFi only, but can be used over data on other carrier networks
$2.99/month Premium Plan - same as the free plan, but includes caller ID, voicemail transcription, call forwarding and is ad free.
Starter Plan $9.99/month  - includes everything the Premium Plan offers with the addition of access to TextNow's cellular network.  This plan is unchanged from before, and does not include any data.
$19.99/month - includes everything the Starter Plan has plus 2GB of high speed data.  Previously, only 1.5GB of data was offered at this price point.
$29.99/month -

BestMVNO Top Pick

- includes 5GB of high speed data.  Bonus Group Offer- $22.99/month for each additional line.  Previously the company offered 3GB of high speed data for $27.99/month.
$39.99/month - unlimited data with a maximum of 23GB of LTE data available per billing cycle.  Bonus Group Offer- $29.99/month for each additional line.
A $59.99/month plan with 10GB of data has been eliminated.
Taxes and fees are included in the prices shown.  Mobile hotspot is not officially supported by TextNow.  However, according to a TextNow support specialist "although it (mobile hotspot) may work with your device, if it does not we cannot guarantee that feature will be available for you."
Editor's Take
TextNow has greatly improved its pricing.   I think they did a great job in offering more value to subscribers.  The 5GB plan is now the cheapest on the market to include that much data with unlimited talk and text and no requirement to purchase several months of service in advance.  Of course if you are interested in a multi-month plan you can find better value in Red Pocket Mobile and Mint Mobile.
The $39.99/month "unlimited" data plan is also a good deal, although true unlimited data plans start right around that price point as well.
More About TextNow
TextNow is a company headquartered in Waterloo, Ontario with a satellite location in San Francisco, California.  The company provides talk and text service over Wi-Fi with an automatic fallback to either the Sprint network or T-Mobile network when Wi-Fi is unavailable.  Since the service is cloud based, TextNow subscribers can also answer texts and phone calls on their iPad's, tablets, PC's and MAC's. TextNow's cellular service supports both Androids and iPhones.
---
---