Tello Mobile Discounts Phones And Offers Free Month Of Service For Black Friday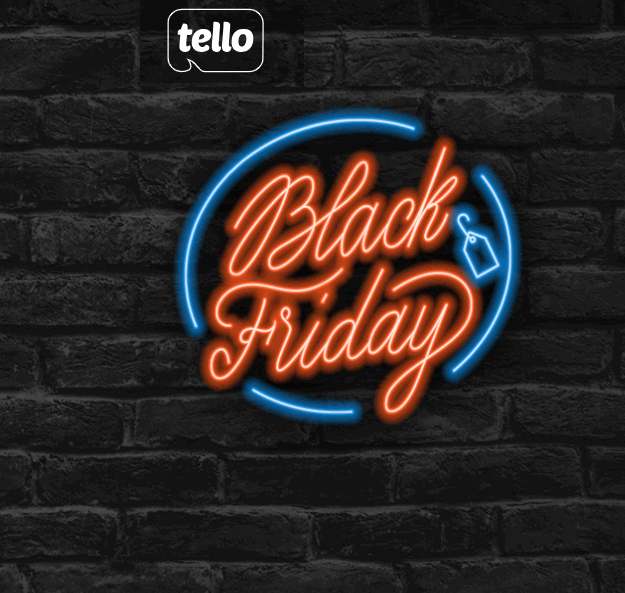 ---
Did you know BestMVNO is available to follow for free in Google News? Follow BestMVNO in your Google News app and keep up to date on wireless.
Follow BestMVNO In Google News
---
---
Tello Mobile is the latest wireless provider to serve up deals for Black Friday.  The Sprint MVNO is offering unlimited talk, text and data with the first 2GB of data at 4G LTE speeds free for a month to new subscribers.  Additionally both new and old customers are eligible to get a discount on a phone.  Tello is offering up to $100 off on select devices.  Sale pricing is generally not as good as what can be found elsewhere.  However, unlike other service provider phones, Tello phones are sold unlocked.  One such deal is for a refurbished 128GB iPhone 7 for $440.  The same refurbished phone if bought directly from Apple comes with a price tag of $469.
Tello Mobile Free Phone Plan Offer
The free phone plan offer is available starting today and will last until 11/28/18.  The deal is for new customers only.  Subscribers who previously had an account with Tello are not eligible for the deal.  After the first month, subscribers who wish to maintain service on the plan will pay $19/month plus taxes and fees.  When I reviewed Tello, taxes and fees on a $24 plan in my area amounted to $2.26.   So for the $19 plan you could probably expect them to be a little cheaper.
Besides the unlimited talk, text and 2GB of LTE data, Tello's $19 plan also includes mobile hotspot and free calling to Mexico, Canada and China.
Tello offers many other plans that you can switch to after the free month is up.  The company lets you custom build your own phone plan.  A few other popular Tello plans include the following:
Economy Plan - $10/month - 200 minutes, 500MB of LTE data
Smart Plan - $24/month - unlimited talk, 3GB LTE data
Data Heavy Plan - $39/month - unlimited talk, 10GB LTE data
All plans include unlimited texting and mobile hotspot.
Tello Phone Offers
Tello is offering discounts on a mix of new and refurbished devices.  The devices on sale are the following:
Sold As New
Samsung Galaxy J7 16GB -$159, regular price $209
LG Tribute HD 16GB - $94, regular price $119
Samsung Galaxy J3 Emerge 16GB - $130, regular price $149
Motorola Moto G6 Play 16GB -$149, regular price $199
Sold As Refurbished
iPhone SE 16GB - $175, regular price $270
iPhone 6 32GB - $199, regular price $289
iPhone 7 128GB - $440, regular price $499
LG Tribute Dynasty 16GB - $65, regular price $99
---
Be sure to follow BestMVNO on Twitter for additional wireless coverage, deals, insights, and even debates!
Follow @BestMVNO Twitter
---
---