Fact Checking T-Mobile's Claims That 4 Unlimited Lines For $100 Is Unheard Of In Postpaid
On July 23, 2020, T-Mobile unveiled a couple of new offers that will officially go live on July 24, 2020. As usual with T-Mobile, the announcement came with a whole lot of pomp and circumstance and some truth-bending claims. You can read the full and official press release detailing the new offers here. You can also watch the video shown below that Mike Sievert, T-Mobile's CEO and President, put out explaining the offers. I'll also further explain and break down the new promos after the video to help T-Mobile and anyone else interested separate fact from fiction. So let's get to it!
The official press release starts off by making the following claim:
"The Un-carrier's supercharging competition for customers with their best deals ever for a limited time: four lines for just $25/month each, an unheard of price point for unlimited postpaid — or get 5G phones included for $5/month more each. All with included 5G access on the nation's biggest 5G network."
Following up in the video, Mike Sievert starts off by claiming that thanks to the Sprint-T-Mobile merger they now have a supercharged carrier that can supercharge the competition. He continues by announcing "new unheard of price points for unlimited access to 5G." Sievert says that subscribers can get 4 lines for $25/line including 5G access. He also says that for just $5 more per line subscribers can pick up a Samsung Galaxy A71 5G smartphone. The actual press release states that taxes and fees will cost extra with the phone plan, and customers who want the phone will have to pay $5 per month per line. Additional lines can be added to the $100 plan for $20/month for up to 6 lines.
T-Mobile's 4 lines for $100 offer is centered around their "Essentials Plan" which is their base plan that is regularly priced at $60 plus taxes and fees for a single line or $120 for 4 lines. It does include unlimited talk, text, data, and mobile hotspot, although hotspot speeds are limited to 3G data speeds or about 600Kbps. Talk, text, and data roaming in Mexico and Canada are included at no extra charge but data speeds in those countries are limited to 2G or about 128Kbps. During times of congestion customers on the plan that use more than 50GB of high-speed data in a month may experience slower data speeds compared to other T-Mobile customers due to T-Mobile's data prioritization policy.
Further into the press release, it is mentioned that the phone and plan offers are for a limited time. The release also states "This price point with unlimited data has not been offered for everyone in postpaid wireless in, well, ever." It also stated, "T-Mobile today delivered on another merger commitment, amping up competition like never before..."
And now it's time to separate fact from fiction.
This price point and an even better offer have previously been available in postpaid elsewhere. T-Mobile's claim in the press release is 100% false.
In December of 2018, Sprint announced a promo offering 5 unlimited lines for $100. That's 1 line better than T-Mobile's current offer. Customers taking advantage of the Sprint offer also had the option to get 4 lines for $100 if they needed it. The plan offer was pretty much better than what T-Mobile is now offering in nearly every way. Sprint's plan included a free subscription to Hulu's limited commercials plan. It also came with unlimited talk, text, high-speed data, and mobile hotspot. Customers actually got their first 500MB of mobile hotspot at high-speeds before data speeds were reduced to 3G. Mexico and Canada usage were included at no extra charge with 5GB of high-speed data available for use in either country. The plan came with always-on data prioritization where speeds could be temporarily slowed at any time the network became congested.
Sprint also at one point offered up to 5 lines for $90.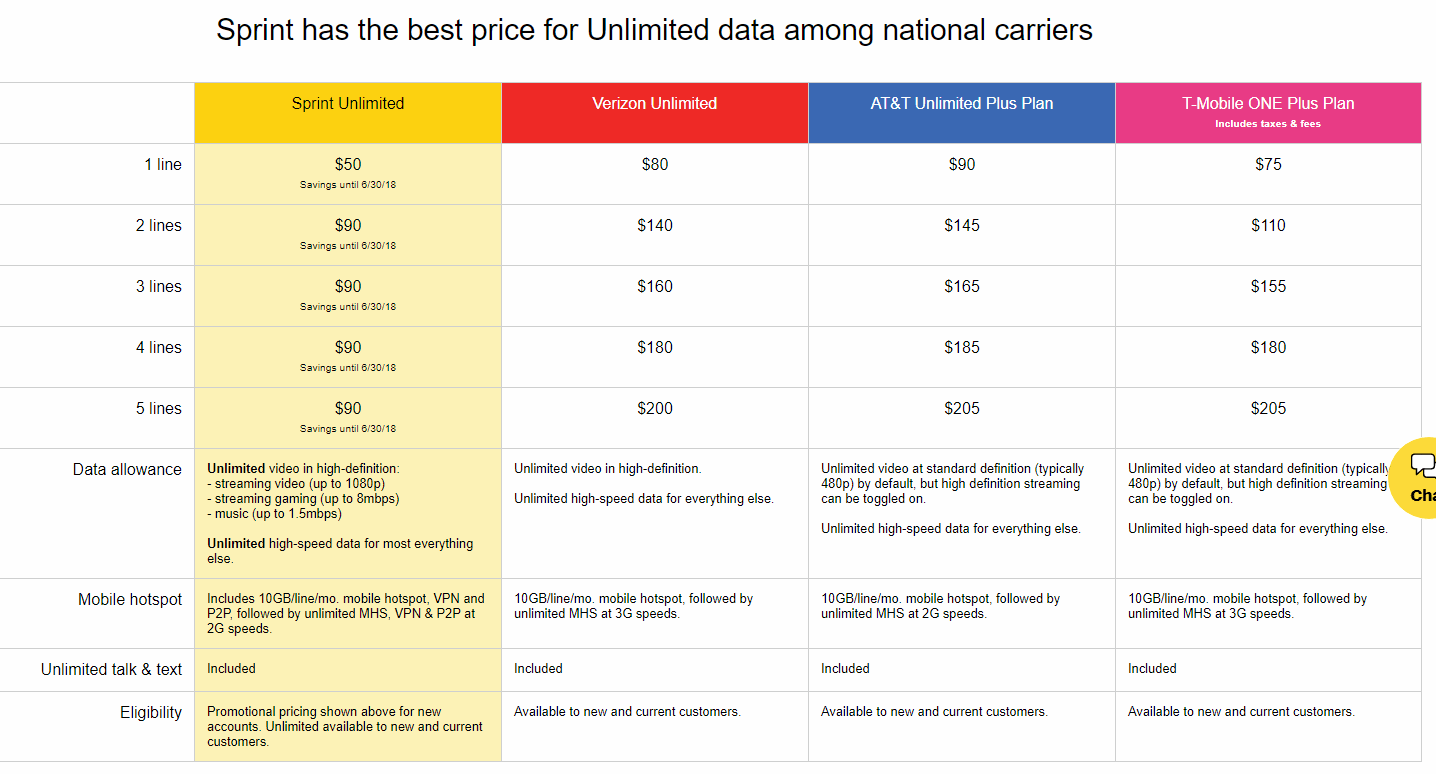 Prior to the first Sprint offer described above, Sprint actually had an arguably better offer for some. Sprint twice before offered customers who switched from another postpaid provider with an eligible device one full year of free service on an unlimited high-speed data plan. Eligible customers could get up to 5 lines for free and only had to pay taxes and fees for their plan.
Those offers from Sprint clearly put T-Mobile's claims in its press release to shame. Sprint as a standalone company is the one that amped up the competition like never before, not the new T-Mobile, at least not thus far. Even now, as the Sprint brand prepares to fade into the sunset, the Sprint website still advertises 4 unlimited lines for $100. And the plan did come with 5G data access prior to T-Mobile shutting off Sprint's 5G network post-merger.
T-Mobile's new $5/month phone offer isn't exactly groundbreaking either. Sprint previously offered the LG V50 ThinQ for $0/month with a Sprint Flex lease.
So I don't know whose legs T-Mobile is trying to pull with their new claims, but they certainly aren't mine.
The new "Un-carrier" really needs to do better here if it wants to supercharge the competition. I'm not seeing anything innovative with the new offers. And still, there are more claims to address with that press and video release.
T-Mobile's Job And 5G Speed Claims
In his video, Mike Sievert claims that Verizon's 5G network can only be found less than 1% of the time. He says, by comparison, T-Mobile has the broadest 5G coverage in the country and that T-Mobile customers get a 5G signal nearly 23% of the time. Sievert states that T-Mobile's footprint is more than 10,000 times bigger than Verizon's and it's faster than Verizon's for 5G phones. And that brings us to the next false claim.
While it is true that T-Mobile has the largest 5G network at this point in time, it is largely a low-band 5G network that at the moment has a speed problem. T-Mobile's 5G network in many places is actually no faster than 4G LTE. And in the limited places that Verizon does have 5G coverage T-Mobile's 5G network is significantly slower, so I don't think T-Mobile should be bragging about speeds or claiming to be faster than Verizon just yet.  (Sources: Rootmetrics, Houston Chronicle, Opensignal.)
The last thing I want to touch upon here is Sievert's claim of jobs. In his video, he states that T-Mobile previously said that after the merger it would be a job creator and that the company is now following through with that by hiring 5,000 more people right now. Well, I don't doubt the new hirings, however, absent from Sieverts statement was the mention of the loss of thousands of jobs that occurred over the past few months. So it's hard to really say, what on the job front that T-Mobile is actually delivering right now in terms of post-merger promises.
---
---