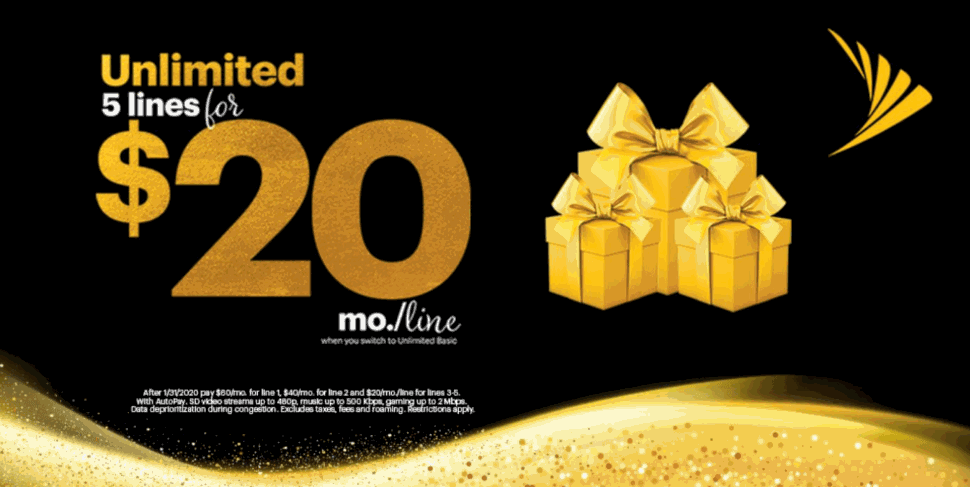 ---
Sprint today announced a new multi-line promo.  Customers who sign up for Sprint's unlimited basic plan can add up to 4 additional lines to it for a total cost of $100.  That means subscribers can now get 5 lines for $100.  Sprint is charging $60 for line 1, $40 for line 2 and is making lines 3-5 free.
Offer Fine Print
This offer will be available for a limited time.  Sprint hasn't specified how long it will be available for, but they did say that promotional pricing will end after 1/31/2020.  That means if you take advantage of the offer now, you'll get up to 5 lines for $100 until that date.  After that date, pricing will go up such that line 1 pays $60, line 2 pays $40 and lines 3-5 pay $20/line.  So pricing ultimately changes to 5 lines for $160.
Sprint's unlimited basic plan includes unlimited talk, text and LTE data.  Subscribers also get a subscription to Hulu's limited commercials plan.  There is only one subscription to Hulu being offered per account.
The plan also includes mobile hotspot, however only 500MB at 4G LTE data speeds is allowed per line. After that, hotspot data speeds get reduced to 3G.
Unlimited talk and text with 5GB of LTE data is available for use while traveling in Mexico and Canada.  Global roaming is included in more than 200 worldwide destinations.
Video streaming is limited to a maximum resolution of 480p.  Gaming streams are limited to maximum speeds of 2Mbps and music streaming is limited to 500Kbps.  The plan comes with always on data prioritization.  That means at any time the network becomes busy with traffic, data speeds may be temporarily slowed down until the network becomes less busy.  This is a policy similar to many other unlimited LTE data plans on the market.
Customers can choose to add 1080p HD video streaming to any line at a cost of $10/line.  The Unlimited Plus add-on also ups data speeds for gaming to 8Mbps and music to 1.5Mbps.   It should also give each line 50GB of mobile hotspot data to use, and an additional 5GB of data to use while traveling in Mexico or Canada.
Those that don't have multiple lines to bring over to Sprint can still get the Unlimited Basic plan free for a year provided that they have an eligible phone to port in with.
---
---