Sprint Offering Free Year Of Unlimited LTE Data For Up To 5 Lines To Those Who Make The Switch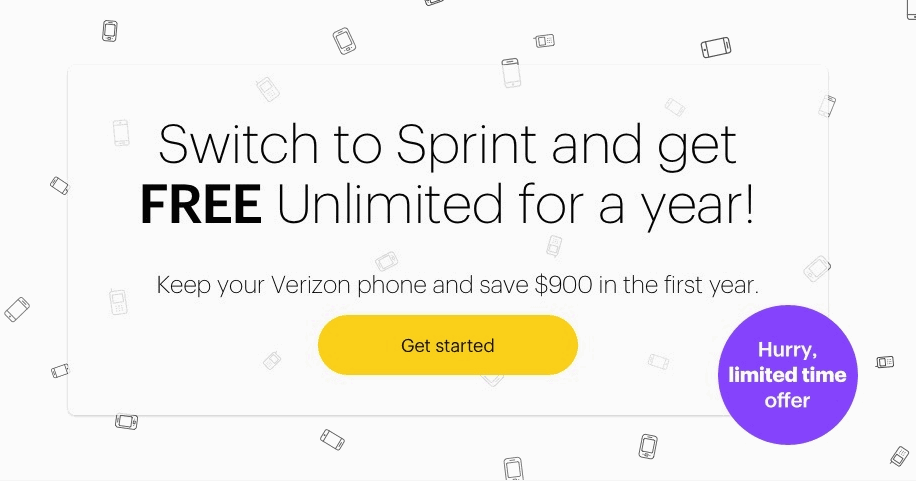 Last summer Sprint offered free unlimited LTE data to those who made the switch over from another carrier.  The deal expired at the end of June. Today, that deal is back.
Deal Features And Requirements
Those that switch from either AT&T, T-Mobile, or Verizon and own a compatible phone will get one free year of unlimited talk, text, and LTE data.  The offer is good for up to 5 lines.
From what I've seen around the web, in the past, those that switched from an MVNO that operated on any of the qualifying networks were also able to get this promotion. However, the fine print on Sprint's website does say that you must port in from a postpaid carrier.  Of course it won't hurt to try porting from a prepaid MVNO if you are interested in the offer.
Eligible Phones
If you own any of the following phones, have it paid off in full and unlocked, you are good to go for this deal.
Alcatel IDOL5
Apple iPhone 5c (Verizon only)
Apple iPhone 5s (Verizon only)
Apple iPhone 6
Apple iPhone 6 Plus
Apple iPhone 6s
Apple iPhone 6s Plus
Apple iPhone 7 (Verizon only)
Apple iPhone 7 Plus (Verizon only)
Apple iPhone 8 (Verizon only)
Apple iPhone 8 Plus (Verizon only)
Apple iPhone SE
Apple iPhone X (Verizon only)
BLU S1/VIVO S
Essential Phone
Google Nexus 5 (16 & 32 GB – black/white/red) (Verizon only)
Google Nexus 5X (all versions)
Google Nexus 6 (32 & 64 GB – black/white)
Google Nexus 6P (all versions)
Google Pixel
Google Pixel XL
Google Pixel 2
Google Pixel XL 2
HTC One A9 (Sprint Version only)
LG X Charge
moto e4
moto e4 plus
moto g4
moto g4 play
moto g4 plus
moto g5 plus
moto g5s plus special edition
moto x pure edition
moto x4
moto z2 play
Orbic Wonder
Samsung Galaxy Note8 Special Edition
Samsung Galaxy S7 edge Special Edition
Samsung Galaxy S7 Special Edition
Samsung Galaxy S8 (Verizon, AT&T and T-Mobile)
Samsung Galaxy S8+ (Verizon, AT&T and T-Mobile)
Samsung Galaxy S8 Special Edition
Samsung Galaxy S8+ Special Edition
Once ported in, you will not be allowed to upgrade your device during your first 4 months of service.  If you do upgrade, you will lose the free plan.
Free Plan Fine Print And Details
Speed Limitations
Although the free plan includes unlimited LTE data, like all unlimited data plans, there is a data prioritization policy in place.  During times of heavy traffic on the Sprint network, Sprint may temporarily reduce your data speeds once you have consumed more than 23 GB of data in a month.  When the network congestion gets relieved, data speeds will return back to normal.
The plan also comes with some other speed limitations and they are:
Video streams limited to 1080p
Music streams limited to 1.5 Mbps
Gaming streams limited to 8 Mbps
Mobile hotspot, P2P and VPN limited to 10 GB of high speed 4G LTE data before throttling to 2G speeds or roughly 64 Kbps
Roaming
The plan does come with free domestic roaming.  Domestic roaming is however limited to a maximum of 800 minutes or 100 MB of use each month.  Regardless of those limitations, Sprint also says that if the majority of your use is off network roaming, Sprint may terminate your service.
Payment
Although the plan is advertised as being free, customers will be responsible for any taxes and fees.  Taxes and fees include the Universal Service Fund which may be as high as 19.5% and varies by the quarter, up to $2.50 in administration fees, 40¢ in regulatory fees, and local fees which are approximated between 5-20%.
You must have and keep auto payment active on the account.
What Constitutes As A Free Year, And What Happens After The Free Year Is up?
The free year of service will end on 1/31/19.  After that date, customers will have to pay for their plan in full.  Full rates are $60/month for 1 line, $100/month for 2 lines, and $30/month for each additional line up to 5.
Promotion End Date
Sprint has not said how long this promotion will last other than it's a limited time offer.  Since those that subscribe to the plan will only get a free year of service that ends on 1/31/19, it is likely that this limited time promotional offer will only be available at a maximum until the end of January 2018.
There are no contracts, or activation fees required to get this plan.  So if you're are interested in saving some money this year, make the switch before it's to late.
---
---