Straight Talk Wireless Is Offering Free Phone At Walmart, Perhaps For The First Time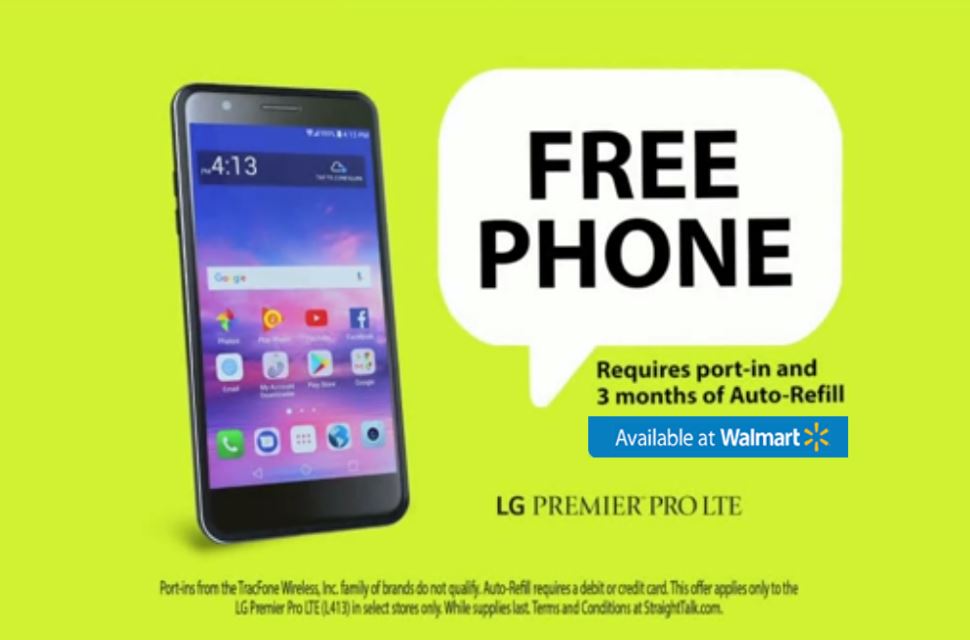 A little over a month ago Straight Talk Wireless began offering the LG Premier Pro for free online through the Straight Talk Wireless website.  Now, Wave7 Research has noted that Straight Talk Wireless is offering the device for free through Walmart in some markets.  What's interesting here is the firm says that it is the first time on record since it started tracking data that Straight Talk has made a phone available for free through Walmart.
Wave7 Research is a firm that has been competitively tracking and analyzing wireless offerings in the store and elsewhere for over 10 years.  The company has noted that in recent weeks an ad for this in-store deal has been aired on radio across the country with airings specifically heavy in Detroit and Atlanta.  BestMVNO has also noted that an online ad has been airing depicting the deal as well, which you can view below.
How To Get This Offer In Store
You likely will not see this offering being promoted at your local Walmart.  It is not advertised at any of my local stores, and Wave7 Research has noted no signage in stores in the markets that it has recently checked.
Directions on how to get the offer are spelled out pretty clear in the ad shown above. Still, a few details are missing.  What is in the ad though is that to claim the free device you'll have to port-in from a non-Tracfone related brand, and activate auto-pay with 3 months of auto-refill.  Subscribers must also activate on a Straight Talk Wireless plan priced $35 or higher.  Eligible plans are described below.
Be informed of the latest deals, plans and promotions from Verizon and every one of its MVNO's when you subscribe to the Verizon weekly newsletter. No spam and you can unsubscribe at any time!
$35/month ($34 with auto-refill) - 3GB of LTE data
$45/month ($44 with auto-refill) - 25GB of LTE data
$55/month - "unlimited" LTE data.  The plan is $50/month for the first 3 months with auto-refill enabled.  Keep in mind Straight Talk Wireless considers 60GB of LTE data to be unlimited.
$60/month ($59 with auto-refill) - 25GB of LTE data, includes international calling
All plans depicted include unlimited talk, text, and data with the specified amount of data at 4G LTE data speeds before throttling to 2G.  Taxes and fees cost extra.
To see if you qualify for the deal, Straight Talk Wireless asks you to text STFREE to 611611.  Even though I am not a subscriber, I texted into the number to see what else I could find out.  To claim the offer in-store, Straight Talk Wireless told me I would first have to confirm my number for eligibility. For some reason, my T-Mobile prepaid number failed their eligibility checker, but my Google Voice number did not.  With a qualifying number, Straight Talk Wireless asks you to complete the following 3 steps to claim your free phone.
Fill out an application with Straight Talk SmartPay to provide your contact information.
Go to a participating store so an associate can retrieve your approved application for the phone.
With the help of an associate, activate service in store, choose a qualifying 30-day service plan, and give a credit or debit card number to enable auto-refill.
Unfortunately for me, I was told there isn't a Walmart within 50 miles of my location that is participating in the offer, however, I could still claim the deal online.  It is not known how many markets this is available in.  If interested in checking if the offer is available in store in your area, you'll have to text the shortcode provided above to Straight Talk and follow the steps outlined.
The LG Premier Pro being offered for free is a budget device that has the following specifications:
LG Premier Pro Specifications
5.3" 720p x 1280p screen
2880 mAh battery
1.4 Ghz Qualcomm Snapdragon 425 processor
8MP rear camera, 5MP selfie camera
16GB internal memory expandable with a microSD card
2GB RAM
Android 7.1 Nougat
Support for the following LTE bands
2/4/5/12/13/66
Keep in mind that once you purchase a phone from Straight Talk Wireless, it will be locked to the network for 12 months.  You'll have to keep the phone active on a Straight Talk plan for that long before you can have it unlocked for use on another network.
Walmart currently sells the LG Premier Pro for $59.99.  So that's basically your savings if you are interested in this phone and offer.
---
---