Straight Talk Wireless Set To Launch Multi-Line Plan, Get 2 Unlimited Data Lines For $90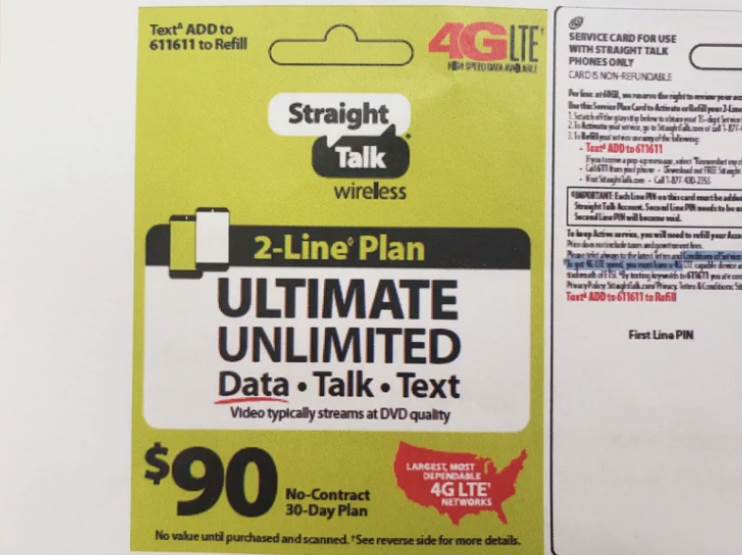 Straight Talk Wireless has been very busy lately.  The MVNO has made a lot of changes to its phone plans over the past few weeks.  Namely, the Tracfone owned provider added more data to its wireless plans.  In fact, one of the plans got a data boost twice in a matter of a couple of weeks.  Now, Tracfone wireless dealer Mil Hustles has released details on an upcoming multi-line plan from Straight Talk that features unlimited LTE data.
Plan Details
This plan is built upon Straight Talk Wireless's single line unlimited LTE data plan which is normally priced at $55/month or $54 with auto-refill enabled. The new multi-line option will give subscribers the ability to pick up two lines for just $90/month.  That's a savings of $18-$20/month vs buying the two lines separately.
Since it's based on the single line plan, it will come with the same set of limitations that plan has.  Those limitations include that video streaming tops out at a maximum resolution of 480p.  Also, unlimited doesn't really mean unlimited.  Straight Talk Wireless has a data cap of 60GB for the plan.  Customers who approach or exceed that threshold could have their accounts suspended.
The plan comes with unlimited talk and text.  Mobile hotspot is not supported although some customers have been able to enable it on other Straight Talk Wireless plans.  Keep in mind, using hotspot is against their terms of service.  Taxes and fees cost extra and are not included in the price.
Be informed of the latest deals, plans and promotions from Verizon and every one of its MVNO's when you subscribe to the Verizon weekly newsletter. No spam and you can unsubscribe at any time!
There is no word yet as to when the plan will be released, but it should be relatively soon given that the plan specifics are already in some dealers hands.
Update: 2/21/2019, the plan is now official and available at select Walmart locations.
Free Phone Offer
In addition to the new wireless plan, Straight Talk Wireless also has a free phone offer. Customers who port-in and enable auto-pay on their accounts for at least 3 months will get an LG Premier Pro for free.  They'll also have to activate on a wireless plan priced $35 or higher.  The LG Premier Pro features the following:
5.3" 720p x 1280p screen
2880 mAh battery
1.4 Ghz Qualcomm Snapdragon 425 processor
8MP rear camera, 5MP selfie camera
16GB internal memory expandable with a microSD card
2GB RAM
Android 7.1 Nougat
Support for the following LTE bands
2/4/5/12/13/66
Keep in mind that once you purchase a phone from Straight Talk Wireless, it will be locked to the network for 12 months.  You'll have to keep the phone active on a Straight Talk plan for that long before you can have it unlocked for use on another network.
Straight Talk Wireless phone plans and phones are sold online directly through Straight Talk Wireless and in stores exclusively at Walmart.
---
---