Straight Talk Wireless Thinks Unlimited Data Means 60 GB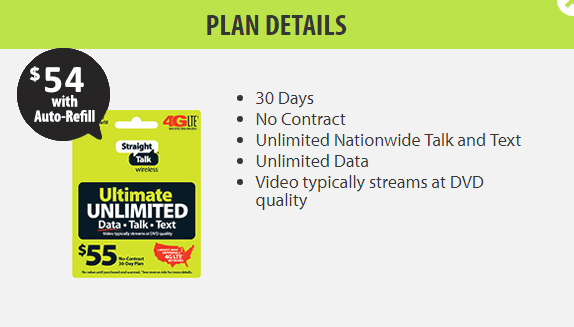 Some folks never learn.
More than three years after settling a $40 million lawsuit over the improper use of the phrase "unlimited data," Straight Talk Wireless is at it again.
Straight Talk Wireless says its $55 "ultimate unlimited plan" comes with unlimited talk, text and data. However, a couple of Reddit users found out the hard way that the plan does not in fact come with unlimited data.  They found this out when Straight Talk decided to completely block the users from accessing their data network. When the subscribers inquired why, customer support directed them to their website's terms and conditions which now state:
"We further reserve the right to limit, deny, or terminate Service to anyone we believe is using their Service in an unauthorized manner or whose usage, in our sole discretion, adversely impacts a Carrier's network or customer service levels. We will presume you are engaging in an unauthorized use in violation of these Terms and Conditions, if in our sole discretion, you are using more than 60 GB of data in a 30-day period....."

Be informed of the latest deals, plans and promotions from Verizon and every one of its MVNO's when you subscribe to the Verizon weekly newsletter. No spam and you can unsubscribe at any time!
I say "now state," because previously these terms were not listed on the Straight Talk Wireless website.  In fact, the only sort of data limit I ever noticed on their website was something shown in part of a promotion that they ran several months ago. At that time, they advertised a data prioritization policy which said that if a subscriber goes over more than 32GB of data consumed in a month, they may see their data speeds reduced.  This is a practice employed by virtually all unlimited data providers.
Straight Talk's new policy seems to deviate from the industry norm. Will that get them in trouble again?
It just may.
TracFone's FTC Settlement Requirements
While I'm no lawyer, when TracFone (the brand behind Straight Talk) settled the lawsuit with the FTC, it did so under the following conditions:
TracFone must clearly and conspicuously disclose any limits on the speed or quantity of its data service. According to the settlement "clearly and conspicuously" means the following:
In print communications, the disclosure must be presented in a manner that stands out from the accompanying text so that it is sufficiently prominent, because of its type size, contrast, location, or other characteristics, for an ordinary consumer to notice, read, and comprehend it.
Do you think hiding the limit in small print satisfies this requirement? I certainly don't!
Furthermore:
"Close Proximity" means on the same print page, webpage, online service page, or other electronic page, and proximate to the triggering representation, and not accessed or displayed through hyperlinks, pop-ups, interstitials, or other means.
Is the limit being shown in close proximity to the plan? Certainly not!
They are many other requirements that TracFone and its brands are required to follow in order to remain in compliance with their settlement with the FTC. While I'm not going to list all of them, if you are interested you can view a copy of the settlement here.
So what do you think of this latest gaffe by Straight Talk Wireless.  Will there be a price to pay, or is this just going to slide on by?
Update:
---
---