Straight Talk Wireless Offering Unlimited LTE Data For $55/Month To Those Who Purchase A Samsung Phone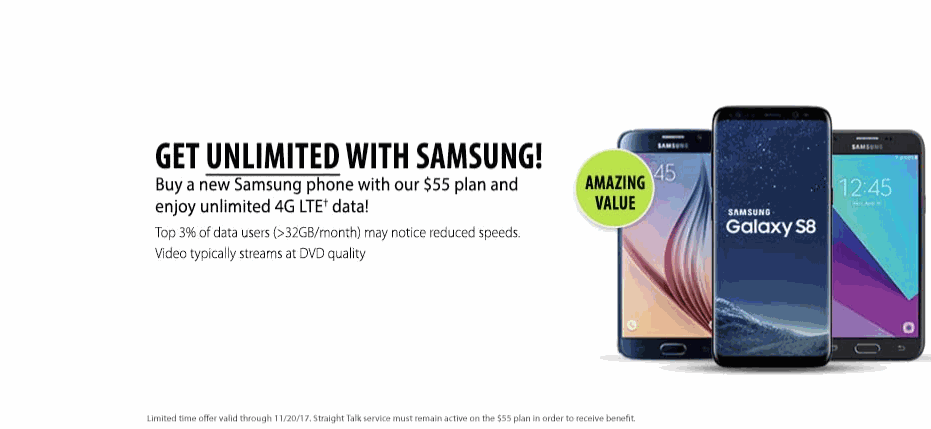 Straight Talk Wireless has just launched a new promotion.  Those who purchase a Samsung device in conjunction with Straight Talk's $55/month plan will get unlimited LTE data with the plan.  The plan normally includes 12 GB of data, although there is a simultaneous promotion going on where those who purchase the plan from Walmart get 15 GB with it (updated 9/29 - the plan now includes 15 GB of data everywhere and going through Walmart to get it is no longer necessary).
The Samsung unlimited LTE data plan promotion is valid today, September 27th, 2017 and it will last until November 20th, 2017.
Get Unlimited With Straight Talk
It appears that the limited time plan is being offered with service on the T-Mobile network.  I say this because on the Straight Talk homepage, it says that those who consume more than 32 GB of data in a month, may see their speeds temporarily reduced during times of heavy network traffic.  This is exactly what T-Mobile's data deprioritization policy used to be.
When I tried to add the plan and a Samsung phone to my cart, I was not able to see the unlimited LTE data offer.  I'm not sure if this is due to Straight Talk not updating that part of their website yet to show the new offer, or for some other unknown reason.
Get Unlimited With Straight Talk
The fact that Straight Talk is even offering a promotional unlimited LTE data plan may signify bigger things to come from the TracFone owned MVNO.  It's quite possible that Straight Talk is just testing the waters right now by offering select customers a 15 GB plan (updated, the $55 plan now permanently contains 15 GB of data) and an unlimited LTE data plan at the exact same price to see if they are profitable for the company.  Down the road this means, depending on which is more profitable, that we can likely expect the $55 plan to include either 15 GB of data or unlimited LTE data as a permanent offering that is available to everyone.  An unlimited LTE data plan likely makes the most sense at that price point, as more and more MVNO's have been offering unlimited data plans at that price and lower.
Updated 9/29/17 - Although Straight Talk is now offering 15 GB of data for $55 to everyone, it's still worth keeping an eye on that price point.  I still expect an offering of unlimited LTE data at that price down the road.
---
---