Simple Mobile Now Offering 50GB Of "Cloud Storage" On $60 Wireless Plan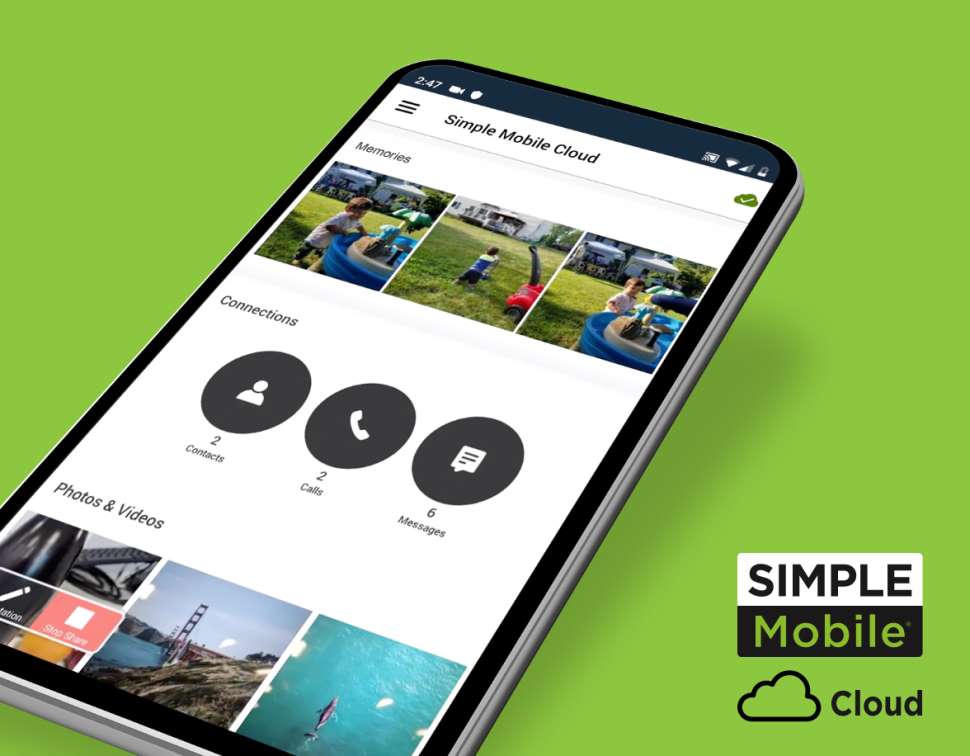 Simple Mobile went over a year without differentiating several plans from one another.  One example of this is how the T-Mobile powered provider handled its $50 and $60 unlimited LTE data plans.  In late 2018 the company added 10GB of mobile hotspot to the $50 plan as a "limited time bonus" offer to new customers.  Before the bonus offer, the plan had no hotspot data.  The bonus offer got extended repeatedly and ran continuously for over a year.  That essentially made the $60 plan pointless as both plans offered the exact same features to subscribers.
The same problem existed with Simple Mobile's $25 and $30 plans.  For the longest time, the $25 plan came with bonus data (3GB total data) for new customers that resulted in more data being offered with that plan than on the $30 plan (2GB).  New customers got the bonus data with each successive plan refill making the $30 plan pointless.
Just recently, Simple Mobile finally began to rectify these problems.  A "limited time" bonus data offer on the $30 plan which raised the high-speed data allotment to 5GB was launched last month.  Simple Mobile's two unlimited LTE data plans were also refreshed.  The $50 plan now includes 5GB of mobile hotspot as a permanent feature, while the $60 plan has 15GB of mobile hotspot.
Now there's been another change to the $60 plan to help to differentiate it even further from the $50 plan.  Simple Mobile has added 50GB of cloud storage to the plan.
Simple Mobile's "Cloud Storage" Explained
The idea of cloud storage coming with a phone plan is relatively new.  Offhand, the only other provider I know to offer such a feature is Metro By T-Mobile.  Metro's two unlimited plans come with 100GB of cloud storage provided by Google.  Simple Mobile's cloud storage implementation will differ from Metro's in that Simple Mobile appears to be using its own in house cloud storage system instead of relying on a third-party system such as Google's.
Simple Mobile says that subscribers can use their cloud storage to back up contacts, photos, and videos.  Content can be organized with folders, managed, searched and synced across devices at no extra charge.  Subscribers will also be able to print photos and "gifts" from the cloud for an additional fee.  Simple Mobile has not specified what that fee will be, I have reached out to the company for clarification but had not received a response at article publication time.  A brief chat with an online support specialist did not help either, as the agent I spoke to was unaware of this new product.
There also appears to be a couple of apps in development, one available for iOS and the other for Android.  There is a Simple Mobile Cloud iOS app that can be downloaded now and there is also an app available in the Google Play Store.  Both were published within the past few weeks.  The one in the Google Play Store only has 100+ installs at this time.
A total of 50GB of cloud storage will be available for subscribers to use with the $60 ($57 with Auto Reup) unlimited LTE data plan.
Editor's Take
I'm not really sure what the adoption rate will be for Simple Mobile's new cloud storage feature.  There are already a lot of free and competing products on the market including those offered by Google Drive, and Dropbox.  Simple Mobile is, however, offering more storage than Google (includes 15GB for free) and Dropbox (includes 2GB for free).
The fact that Simple Mobile will charge a small fee to print photos and gifts suggests that the company is looking at cloud storage as a possible way to generate incremental revenue outside of the traditional phone and plan model.  Simple Mobile is one of many brands owned by Tracfone, so it's quite possible this feature will soon be offered by those other brands which include Straight Talk Wireless and Total Wireless.
Simple Mobile does have a page set up on its website which describes the new cloud storage feature, and interested persons can check it out here.
---
---