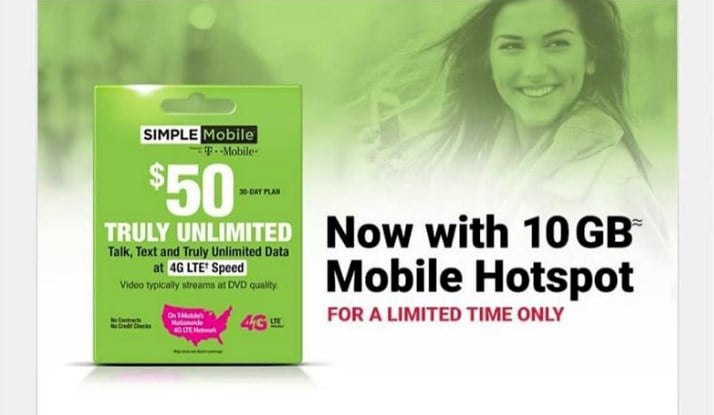 ---
Simple Mobile has made some changes to its phone plans.  The T-Mobile powered MVNO has increased the amount of data included with one of its plans and added mobile hotspot to another.  The $37.50 plan now includes 12GB of 4G LTE data instead of 6GB.  As noted by Wave7 Research, the $45 unlimited plan will for a limited time include 10GB of mobile hotspot data instead of having zero GB.
Plan Changes And Promotional Details
The $50 unlimited data plan, $45 with auto-pay, now comes with 10GB of mobile hotspot data.  The bonus hotspot data is available to new and current customers that refill their plan by 12/31/2018.  According to some dealers on Facebook this promo officially started on 11/1/2018.  However, a Google Cached page of Simple Mobile's service plans show that the offer has been available at least since 10/30/18.
The extra data now included with Simple Mobile's $40 plan, or $37.50 with auto-pay, may or may not also be for a limited time.  Some dealers on Facebook such as Kemo Wireless and Cell City Solutions say that the bonus data will come with all refills until 1/31/19.  After that, the plan will go back to its previous allotment of 6GB.  On the Simple Mobile website, there is no mention of an end date for the bonus data like there is for the bonus hotspot data on the $50 plan.  The dealers note that the promotion started on 10/15/18.  BestMVNO is working to confirm if this is a limited time promotion or not.
Simple Mobile's Phone Plans Summarized
All of Simple Mobile's wireless plans, including the ones just described come with unlimited talk, text, data, and international talk and text.  Plans that don't include unlimited LTE data have data speeds throttled to 2G after the plans high speed data allotment has been consumed.  The plans also include talk, text and data roaming in 16 Latin American countries.
With the promotions in place, here is what Simple Mobile's phone plan lineup now looks like:
$20/month ($25 w/o auto-pay (AP)) - 3GB of data at 4G LTE data speeds instead of 1GB.  After 12/31/18 it is supposed to drop back down to 1GB.
$28.50/month ($30 w/o AP) -  2GB of data at 4G LTE data speeds.  Up to 4 additional lines can be added for $25/line.
$37.50/month ($40 w/o AP) - 12GB of data at 4G LTE data speeds with all refills made by 1/31/19.  Previously included 6GB of high speed data.
$45/month ($50 w/o AP) - unlimited LTE data, video streams at 480p.  Includes 10GB of mobile hotspot data for all refills made by 12/31/18.  Plan normally does not include any hotspot data.
$57/month ($60 w/o AP) - unlimited LTE data, video streams at 480p.  Includes 10GB of mobile hotspot data.  Add up to 4 additional lines for $25/line.
All plans that include a finite amount of high speed data include the same amount of mobile hotspot data.  Prices shown do not include taxes and fees.
No provider on the market offers an unlimited high speed data plan without stipulations.  Providers either temporarily slow down your service during times of network congestion or only slow you down when the network is busy and you have consumed more than a certain amount of data in a month.  Simple Mobile does not specify which practice it employs.  Simple Mobile is owned by Tracfone.  Fellow Tracfone owned brand Straight Talk Wireless was reportedly shutting off its subscribers data if they consumed more than 60GB in a month on an unlimited plan.  So keep that in mind if you subscribe to a Simple Mobile unlimited LTE data plan, as the policy may be similar.
More About Simple Mobile
Simple Mobile is an MVNO that is powered by the T-Mobile network. The business was founded in 2009 as an independent MVNO.  In 2012 it was purchased by América Móvil, the brand behind Tracfone.  The company supports bring your own phone customers, and also has a variety of phones available for purchase.
---
---