New Simple Mobile Offers Include Unlimited Plan With 5GB Data For $30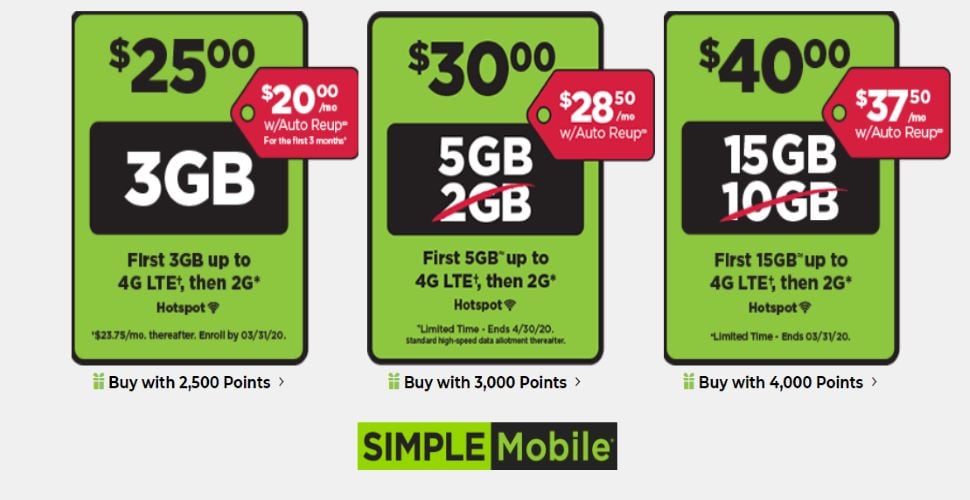 TracFone MVNO Simple Mobile has quietly released a promo for their $30 plan. The $30 plan which usually includes unlimited talk, text, and 2GB of data at 4G LTE speeds, now includes 5GB. This is a "limited time" offer. According to Simple Mobile's website, this promotion will run until 4/30/2020.  Limited time is in quotes because Simple Mobile has had similar offers running on other plans for over one year. Every time the expiration date has come, the offers have been extended it and I expect it to be no different here. Those who signup for the offer should be able to get the bonus data for as long as they remain on the plan. That's how their other promotions have worked.
Update: 01/18/20 - According to a recent report from Wave7 Research, Simple Mobile is actively supporting the new deal through radio.  A 30-second ad launched on 1/11/20 that has already aired over 1,500 times.  The company has also been airing a commercial that touts "a lighting fast 5G ready nationwide network and no contract ever."  That ad has aired over 6,000 times.
For customers who activate auto-pay, the price on this $30 plan will cost you less at $28.50, saving you $1.50. Simple Mobile also allows you to use your data balance as a hotspot.
This move is interesting because for quite a while, Simple Mobile's $25 plan was offering 3GB of data (originally as a promotion), while the $30 plan originally only offered 2GB, making it essentially pointless. Simple Mobile should have addressed this long ago. Way overdue.
Speaking of the $25 plan, customers on auto-pay can save $5 a month for their first 3 months, making this plan only $20 when they enroll before 3/31/2020. After that promotion, auto-pay customers will be charged $23.75 once the 3 months is up, should they choose to continue automatic payments.
Simple Mobile also continues to offer a $30 international credit on their $30 plan, which runs until 1/22/2020. The standard international calling credit is $10. This may be a dealer only offer, as one dealer, Let's Be Wireless, has been actively promoting it on Facebook. However, it is not shown on the front of the Simple Mobile website or on their plan pages. I was able to dig up a hidden link on Simple's website which lists the deal although it does not show the "promotional data" allotment that the plan comes with.
As reported last week, Simple Mobile extended another promotion, where you can get a 15GB plan for $40 ($37.50 with Auto-Pay).
If interested in subscribing multiple lines, you can add up to 4.  Lines 2-5 are $25 regardless of the plan you choose.
Simple Mobile Amazon Offers
Amazon Prime members who are Simple Mobile subscribers or are considering signing up may want to check out an exclusive-to-Prime offer.
Simple Mobile and Amazon have teamed up to give subscribers of Amazon Prime a 10% credit for each month they renew service on Simple's $50 Truly Unlimited plan, payable as an Amazon Gift Card credit.
Simple Mobile eBay Offers
Over at eBay's official Tracfone store, you can grab a LG Rebel 4 LTE with a $50 airtime plan included (Truly Unlimited) for a total of $39.99 + tax.  Shipping is free.
Simple Mobile Walmart & Best Buy Offers
As we reported last week, several TracFone branded devices got rollbacks at Walmart. The LG Journey is the newest rollback, going from $79.99 down to $49.99.
As of 1/12/2020, Best Buy has also joined in on the savings. Best Buy cut their price to the same LG Journey, matching Walmart's offer of $49.99 down from $79.99.
My Thoughts
I have always gotten reliable and affordable service from Simple Mobile, whenever I've been a subscriber. I hope this brand, in particular, becomes a real alternative to its sister company Family Mobile, and Metro by T-Mobile.  If you need to make international calls, use hotspot when you're on the go, Simple Mobile might be a good choice.
Bonus Offer
As a bonus offer, customers who purchase a phone and plan directly from Simple Mobile will save 15% off their order, up to $50 with the use of promo code NEWYEAR. Open-box items are excluded from the deal.
---
---