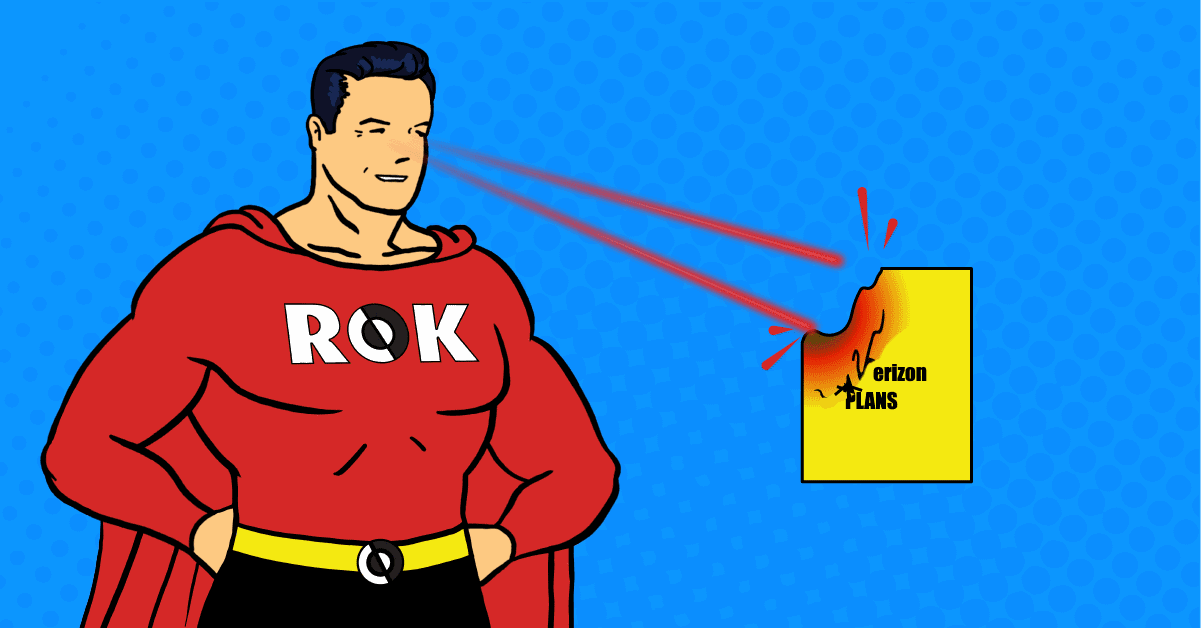 ---
ROK Mobile has had a rocky year.  The MVNO repeatedly changed its phone plan lineup around.  It had Sprint based plans that got discontinued and brought back at a later date.  The same thing happened with the company's Verizon based plans.  This in itself was pretty troubling.  Then, back in May, ROK Mobile discontinued its Verizon and Sprint based plans for good.  I had even heard from some ROK Mobile dealers like this one who seemingly got cheated out of commissions and stuck paying for SIM cards he couldn't resell.  Another former dealer, as seen in some Facebook comments previously tried to warn his customers that there may be trouble ahead for the company.
Today I have been contacted by numerous people telling me that their ROK Mobile service has been abruptly cut off and canceled.  Others have said they can receive phone calls, but can't make calls or do anything else with their phones.  A story on Prepaid Phone News says that the shutdown happened yesterday.  One dealer shown below says that Verizon canceled ROK Mobile's MVNO contract as of around noon on July 30, 2018.  The dealer also says that ROK Mobile intends to reimburse its customers for their service cancellations.
Be informed of the latest deals, plans and promotions from Verizon and every one of its MVNO's when you subscribe to the Verizon weekly newsletter. No spam and you can unsubscribe at any time!
I don't know exactly why ROK Mobile's contract was terminated and who is at fault for numerous customers abruptly losing service.  But either ROK Mobile or Verizon really stuck it to the consumer.
I've reached out to a couple of ROK Mobile representatives for more information and a couple of industry insiders for comment on the situation.  At press time I have not heard a response from any of the contacts.
What To Do Now And What If You Still Have ROK Mobile Sprint Or AT&T?
If you have a Verizon based ROK Mobile plan you do need to port out immediately.  Porting out of ROK Mobile, requires you to have your account number and PIN number in hand.  ROK Mobile account numbers are equivalent to your phone number, including area code.  PIN numbers are equal to the last 4 digits of your phone number.  Thanks to Jason Renaud on Twitter for the account and PIN number tip.
"Fortunately my dad was able to successfully port his number over to @sprint today. His @ROKMobile account # was his phone #, pin # was last 4 digits of phone #. Of course Sprint wouldn't honor their year of free unlimited service deal in the store which is another story."
If you are still interested in continuing service on the Verizon network, you should check out this list of Verizon MVNO's to help you find a plan to best suite your needs.  I've also done a review of a couple of the MVNO's.  You can find them in the reviews section.
Update: 8/1/18 - US Mobile is running a promotion offering 50% off for your first month of service for all ROK Mobile customers.  New US Mobile subscribers just need to use code ROK at checkout to get the deal.  You can check out US Mobile's plans here.  You'll need to subscribe to a Super LTE plan to stay on the Verizon network.
What To Do With Your Sprint Plan
If you have a legacy ROK Mobile Sprint plan, it should still be safe to keep at least for now.  However, I would still recommend you port out of that right away.  Service could be ended at any time as ROK Mobile no longer officially sells plans on the Sprint network.  You can have a look at this Sprint MVNOs list to help you find a new plan.  I have also done a review of Tello, which is another low cost carrier that may suite your needs.
What To Do With Your AT&T Plan
ROK Mobile is still selling AT&T based plans.  I have not heard any reports of there being any trouble with this network.  You should be able to continue to use your service as usual without any interruptions going forward.
Editor's Take
An MVNO abruptly ending service on a network and leaving a customer high and dry is a horrible thing.  Fortunately, in this case customers will still be able to keep their phone numbers and port out.  This isn't always the case though.  Given how important cell phones and even more importantly their associated phone numbers are to our daily lives, I'd like to see a governing body come up with some new regulations.  For many of us, our phone number is our identity.  Not only do our friends and family use it to contact us, but it also can be tied to our bank and credit card accounts, gas and electric bills and many other online entities.  For some it is even used for password recovery.  To abruptly lose service and even worse, lose a phone number, could have severe implications for someone.  Perhaps some regulations need to be in place that prevents a network from being shutdown abruptly to avoid the associated problems just outlined.  What do you think?
---
---