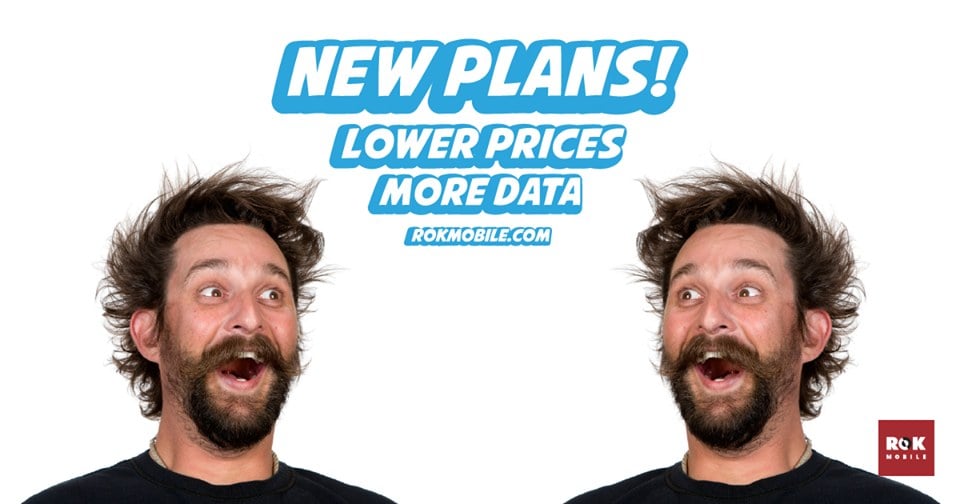 ---
ROK Mobile has updated its phone plans to include more data and lower prices.  This comes just weeks after I suggested the company could be on death watch after it dropped its Verizon and Sprint based plans and cut out its dealers.   This is at least the 9th time that ROK Mobile has altered its plans over the last year as the company seemingly struggles to establish itself in the market.
ROK Mobile's Plan Changes Summarized
Rok Mobile has lowered the price of its $40 plan to $35/month.  The plan also got a data increase to include 5GB of high speed data, up from the previous allotment of 4GB.
The MVNO's $60 plan got reduced in cost to $55/month.  The plan now includes 10GB of high speed data whereas it previously only offered 8GB.
Both plans include unlimited talk, text and data with the specified amount of data at 4G LTE data speeds before throttling.
ROK Mobile's phone plans also come with a few perks which include the following:
$5 International calling credit
Up to 500 minutes/month to call over 120 destinations
Telemedicine - access to board certified doctors 24/7/365
Pharmacy Savings - save up to 75% on prescription medications
ROK Rewards program - offers discounts at over 500,000 restaurants and retailers
Editor's Take
ROK Mobile is an MVNO that uses AT&T towers to provide cellular service to its customers. The company's newly priced $35 plan now seems to be more in line with whats offered elsewhere in the market.  Fellow AT&T based prepaid providers such as Cricket Wireless and Pure TalkUSA also offer 5GB data plans at that price point. That's about as cheap as they come for that much data unless you are willing to switch to a multi-month plan, where you can get 5GB of data for less than $20/month.
The $55 plan I still find to be too expensive, regardless of whatever perks ROK Mobile is offering with its plans.  Wireless subscribers can actually find unlimited LTE data plans for less money.  Perhaps we'll see another price change here in a few weeks.
ROK Mobile does have deep pockets, but I still have to wonder how long they'll keep trying to succeed as an MVNO in the USA before calling it a day.  With how many times we've seen the company change its plans around, they certainly seem determined to make it work.
---
---