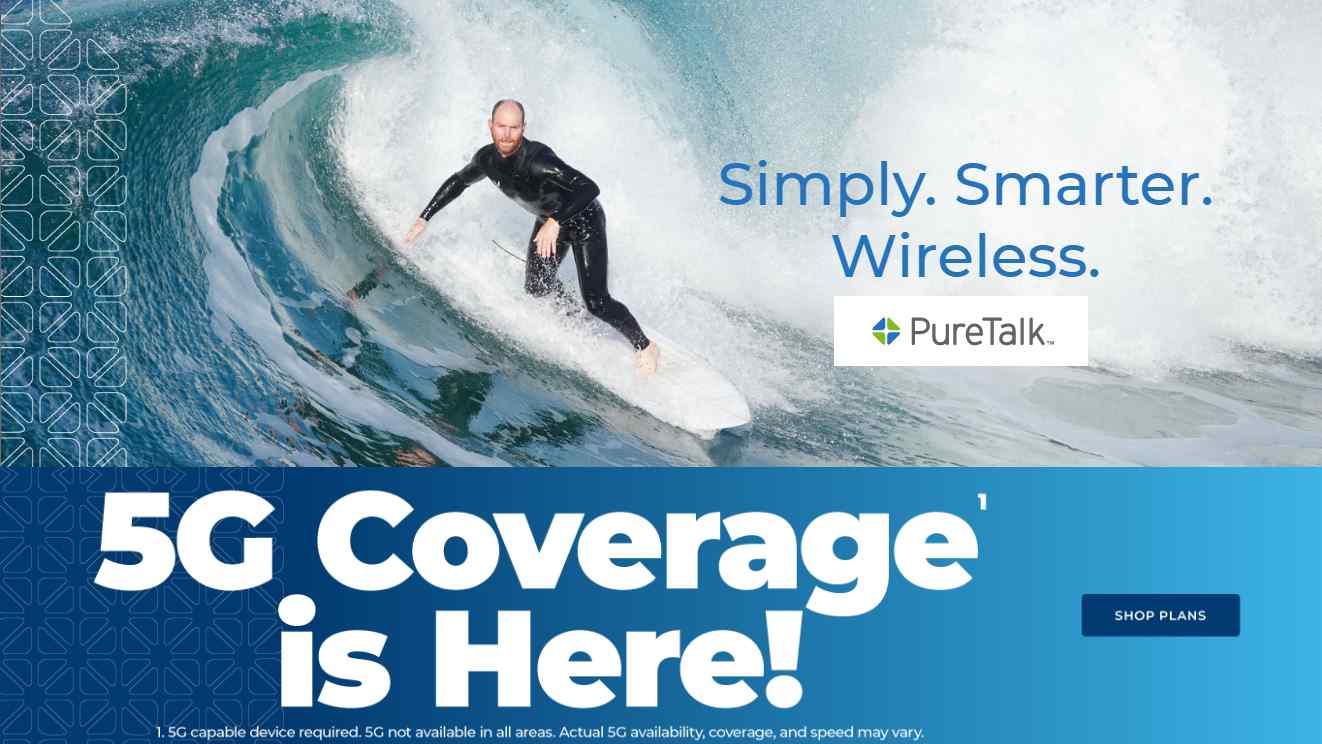 ---
Last month, H2O Wireless updated a couple of its plans with more data. H2O Wireless is owned by the same parent company as Pure Talk. So it comes as no surprise that Pure Talk is beginning to follow suit with plan updates. At the moment, Pure Talk has only updated its "unlimited plan" and it now includes 60GB of high-speed data before throttling to 128Kbps data speeds. It previously included 30GB of high-speed data before throttling. The unlimited plan costs $55/month.
Last month, H2O Wireless's flagship $60 ($54 with autopay) unlimited plan was also upgraded to 60GB of high-speed data up from 30GB before throttling. However, H2O Wireless also updated its $50 ($45 with autopay) "unlimited plan" to contain 40GB of high-speed data up from 24GB. Pure Talk has not updated its $45 plan to date, and it remains at 20GB. Both MVNOs have recently launched 5G network service and are now advertising that on their respective home pages.
With Pure Talk's updated plan change in place, the AT&T powered MVNO now has phone plans structured as follows:
$20/month - 2GB high-speed data
$25/month - 4GB high-speed data
$30/month - 6GB high-speed data
$35/month - 10GB high-speed data
$45/month- 20GB high-speed data
$55/month - 60GB high-speed data
All plans include unlimited everything with data speeds throttled to 128Kbps once the plan's high-speed data threshold has been reached. Mobile hotspot is supported and subscribers can use up all their plan's high-speed data for hotspot if they wish. Hotspot is automatically turned on for iPhone users, Android users need to dial 611 from their handsets to inquire about having it enabled for their line. Some carrier branded Android phones may have the hotspot feature blocked. WiFi calling is also supported with the plans.
Multi-line discounts are available with each plan. Customers can save 10% off their bill with two lines, 15% with 3-lines, and 20% with four or more lines.
Pure Talk is owned by the Telrite Holdings. The brand does semi-regularly air TV and radio ads typically during Fox News programming. Pure Talk is not carried in national retail stores and plans can only be purchased online through the Pure Talk website. SIMs are also available through Amazon. A $5, 7-day trial kit is available through Amazon that includes 100MB of data, 100 text messages, and 100 minutes.
---
---