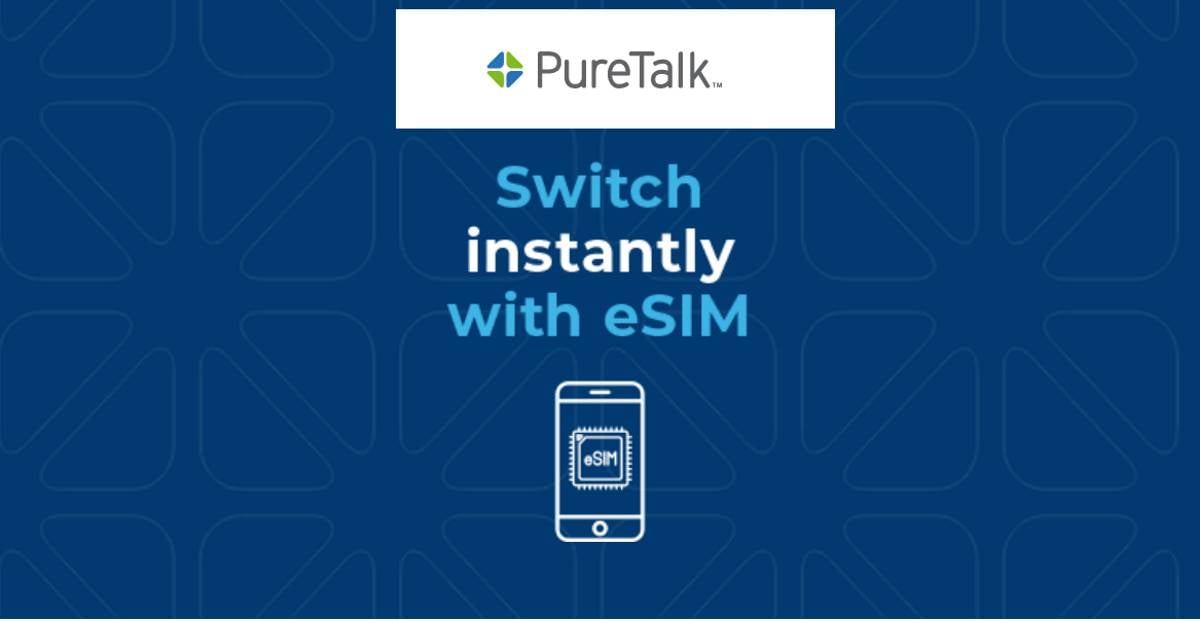 ---
All the latest wireless hype these days surrounds 5G, but perhaps 2022 will actually be the year of eSIM, at least for the US MVNO market segment. For a long time, and for whatever reason, MVNOs and prepaid brands have been unable to support eSIM. But that has slowly started to change. Both Mint Mobile and Visible began to support it early last year. And things may be beginning to pick up more steam. Just a few weeks ago, US Mobile formally announced support for it. And that has now been followed up with PureTalk becoming the latest MVNO to offer wireless service through an eSIM. Dennis Bournique of prepaidcompare.net shared with BestMVNO this new change at PureTalk.
PureTalk has yet to formally advertise the feature in any of its channels. No mention of it on its social media pages including Facebook and Twitter. PureTalk's Youtube channel is also quiet.
The Phones Can You Use eSIM With On PureTalk
Like with US Mobile's launch, PureTalk's support of eSIM is restricted at this time for use with iPhones. If you have one of the following iPhones, you can use it with eSIM:
iPhone XS series
iPhone XR
iPhone 11 series
iPhone SE 2020
iPhone 12 series
iPhone 13 series
There are only a small number of Android phones supporting eSIM including Google's Pixel devices and some Samsung Galaxy phones. No word on when PureTalk will allow activation of eSIM on any of those devices.
What Other Brands May Soon Gain eSIM Support?
PureTalk gaining support for eSIM is pretty significant. It's the first large, mainstream, and legitimate non-carrier-owned MVNO brand that I'm aware of to use AT&T's network to offer it. I expect this to open the door for more brands to follow suit starting with H2O Wireless. H2O Wireless is a sister brand to PureTalk as both brands are owned by Telrite. Red Pocket Mobile could also be next in line to support it on AT&T. Red Pocket has run a lot of promotions as of late centered on AT&T's network which might suggest they have a close relationship with the carrier. Red Pocket Mobile in fact just updated one of their help and support pages with the following statement:
"At this time, an eSIM cannot be activated on Red Pocket Mobile. However, we are enthusiastic about supporting eSIMs in the future."
So that is certainly something to keep an eye on.
PureTalk's newly added support for eSIM isn't the only thing to have recently changed from the brand. Stetson Doggett on Twitter just pointed out that PureTalk's base $20/month plan with 2GB of high-speed data has been changed to be available only to customers with two or more lines and now starts at $18/line or $36/month.
It looks like Pure Talk quietly made their 2GB $20 plan only available for two or more lines. #bppnotes pic.twitter.com/QUP7OwC3Cb

— Stetson Doggett (@stetsondoggett) January 29, 2022
This is certainly an odd change, as it makes PureTalk a bit less competitive at that price point.
---
---