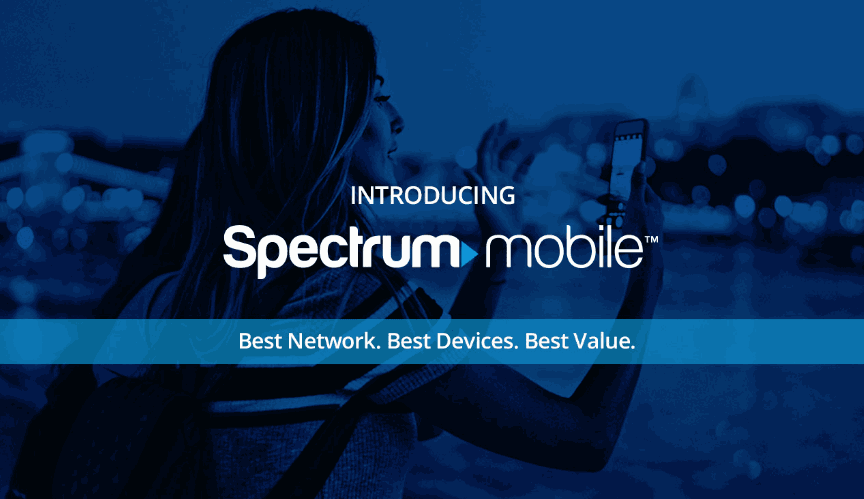 In this guide, I will explain everything you need to know about Spectrum Mobile before you subscribe. I want you to learn the ins and outs of Spectrum Mobile so that you can make an informed decision on if this is the best place for you to spend your hard earned cash.
---
Spectrum Mobile At A Glance
Logo:
Year Founded:
2018
Subscribers:
6,600,000
Networks Used:
Verizon
5G Bands Used:
n2 (1900MHz)
n5(850MHz)
n66(1700MHz/2100MHz)
n77(3.7GHz)
n261 (28GHz)
n260 (39GHz)
Support For BYOD:
Yes
Sells Phones:
Yes
All Taxes And Fees Included In Price?
Yes
Online Payment Options:
Checking Account, Credit Cards, Debit Cards, Savings Account
---
A Summary Of Spectrum Mobile Phone Plans
Last Updated: Sep 8, 2023
Single Line Postpaid Plans
---
---
advertisement
---
Things To Know About Spectrum Mobile Before You Subscribe
Spectrum Mobile launched in 2018 as a hybrid MVNO provider that uses WiFi and Verizon's Wireless network to provide service to its subscribers. When a subscriber is near a Spectrum Wireless Hotspot, their Spectrum Mobile phone will automatically connect to the hotspot for data usage. This helps subscribers to save their allotted monthly high-speed data and reduces the amount of money Spectrum Mobile has to pay to Verizon to access Verizon's network.
The service is only available to those who are also Spectrum Internet customers. Those who are Spectrum Internet customers who cancel their internet will have to pay an additional $10/month for their Spectrum Mobile unlimited wireless plan.
Spectrum Mobile will only initially allow new Spectrum Internet customers to signup a maximum of two lines under an account.  After a waiting period of 30 days, additional lines may be added. A maximum of 5 lines is allowed per account.
Data Speeds
In early March of 2020, Spectrum Mobile launched 5G wireless access. All Spectrum Mobile subscribers with a compatible phone and living in an area with 5G coverage get 5G network access at no extra charge. Spectrum's terms of service state that its subscribers can expect 5G data speeds to be in the range of 5 to 450Mbps with a latency of 30ms to 100ms. 4G LTE data speeds can be expected to reach 5-12Mbps download and 2-5Mbps upload with a latency of under 100ms.
Spectrum Mobile Phone Plan Details And Fine Print
Those wishing to subscribe to Spectrum Mobile have two different types of plan options. There's a "By-the-Gig" option where customers pay for data by the GB, and there are two unlimited data plans. Autopay billing is required for service on any plan. Subscribers can set up autopay with their credit or debit card. Subscribers are also charged $10 when they activate a line.
All Spectrum Mobile plans include mobile hotspot usage, WiFi calling and texting, unlimited international texting to over 200 countries, access to Spectrum WiFi hotspots, and 2,000 minutes a month of calling to Mexico and Canada. Taxes and fees are included in the price of every plan. Customers can also use their phones while traveling internationally but it does cost extra. International roaming rates can be found here.
"By the Gig" Plan Details
Spectrum's By the Gig plans are considered shared billing data plans. That is, all the data used collectively across each line is rounded up to the nearest GB and the primary account holder then gets billed for it. So if line 1 uses 1.3GB and line 2 uses 2.1GB that's a total of 3.4GB used across all lines. Spectrum charges By the Gig subscribers $14 per GB of data consumed. So in the scenario just described, a customer whose account uses 3.4GB of data across all lines in a month will be billed for 4GB of data or $56 total. Likewise, the same data roundup charge applies to single-line subscribers. So a single line using 1.3GB of data during a billing cycle will be charged for 2GB of data or $28.
"By the Gig" Plan Limitations
A Spectrum customer can have up to 10 lines in their account. Each By the Gig line gets unlimited talk & text but a maximum of 5GB of data is available per line at high-speeds before throttling to 256kbps. Each line automatically starts off with 1GB of data. So a customer that has 5 lines of service with By the Gig will minimally pay $70 for their plan as each line is billed $14 to start.
Video streaming is limited to DVD quality or a resolution of 480p.
Unlimited Data Plan Options
Spectrum Mobile offers 2 unlimited data plans. There is a Standard Unlimited Data plan that costs $29.99/line and an Unlimited Plus data plan billed at a rate of $39.99/line. The Unlimited Plus plan was launched in August of 2020. Both the standard and Unlimited Plus plans were improved in September 2023.
There are a few significant differences between the Standard Unlimited Data and Unlimited Plus data plans. They are highlighted in this comparison chart.
Standard Unlimited Data Plan
30GB premium data
DVD (480p) quality video streaming
Up to 5GB full speed mobile hotspot usage, then unlimited at 600Kbps
Unlimited Plus Data Plan
50GB premium data
HD (1080p) quality video streaming
Up to 10GB full speed mobile hotspot usage, then unlimited at 600Kbps
5GB of monthly full speed data roaming in Mexico and Canada, then unlimited at 256Kbps
Unlimited Data Plan Limitations
Both plans include priority data. Priority data is data that doesn't slow down relative to other customers on the network when the network is congested. However, customers who hit their plan's premium data threshold will have their data de-prioritized and speeds will also be reduced to 1Mbps download and 512Kbps upload.
Spectrum One
In October of 2022, Charter Communications launched Spectrum One. Spectrum One bundles Spectrum's 300Mbps home internet service with Spectrum Mobile's $29.99 base unlimited plan for a total bundle price of $49.99/month for 12 months.
Family Plans: Mix And Match "By The Gig" And Unlimited Data Plans
Spectrum Mobile subscribers can mix and match plans on their account. As an example, a customer with 5 lines could have 3 of them on a By the Gig plan, one on the Standard Unlimited Data plan, and the other on the Unlimited Plus plan. There are no additional discounts available for this type of setup. So in this example, the primary account holder would have to pay a minimum of $111.98/month for their plan with pricing broken down as follows:
3 lines of By the Gig * $14/line minimum charge = $42
1 line of Standard Unlimited charged $29.99
1 line of Unlimited Plus charged $39.99
A total of ten lines are allowed on an account.
---
Supported Phones And BYOD Devices
In December of 2018, Spectrum Mobile launched support for bring your own iPhone. Limited support for bring your own Android was launched in April of 2019. Bring your own device is available in stores and online. If you plan to bring your own Android phone, it must have Android 9.0 or higher installed. Spectrum Mobile does sell a limited number of phones. When Spectrum initially launched in mid-summer of 2018, most available phones were high-end premium models from Apple and Samsung. Only one device under $200 was available, the LG K30. But as of August 2023, Spectrum Mobile does offer many more affordable phones sometimes at a big discount.
---
Where To Buy Service Plans And SIM Cards
Service plans and SIM cards are available directly through the Spectrum Mobile website and in Spectrum Mobile stores. Some independent wireless dealers also sell Spectrum Mobile services.
---
Spectrum Mobile Customer Service
Customer support is available over the phone at 1-(833) 224-6603 and in person at your local Spectrum help center.
---
Phone Unlock Policy
Spectrum Mobile will unlock your phone as long as it has been paid off in full and you have used it with their service for a minimum of 60 days. The account the phone is attached to must also be in good standing and active at the time of the unlock request.
---
Spectrum Mobile Customer Reviews