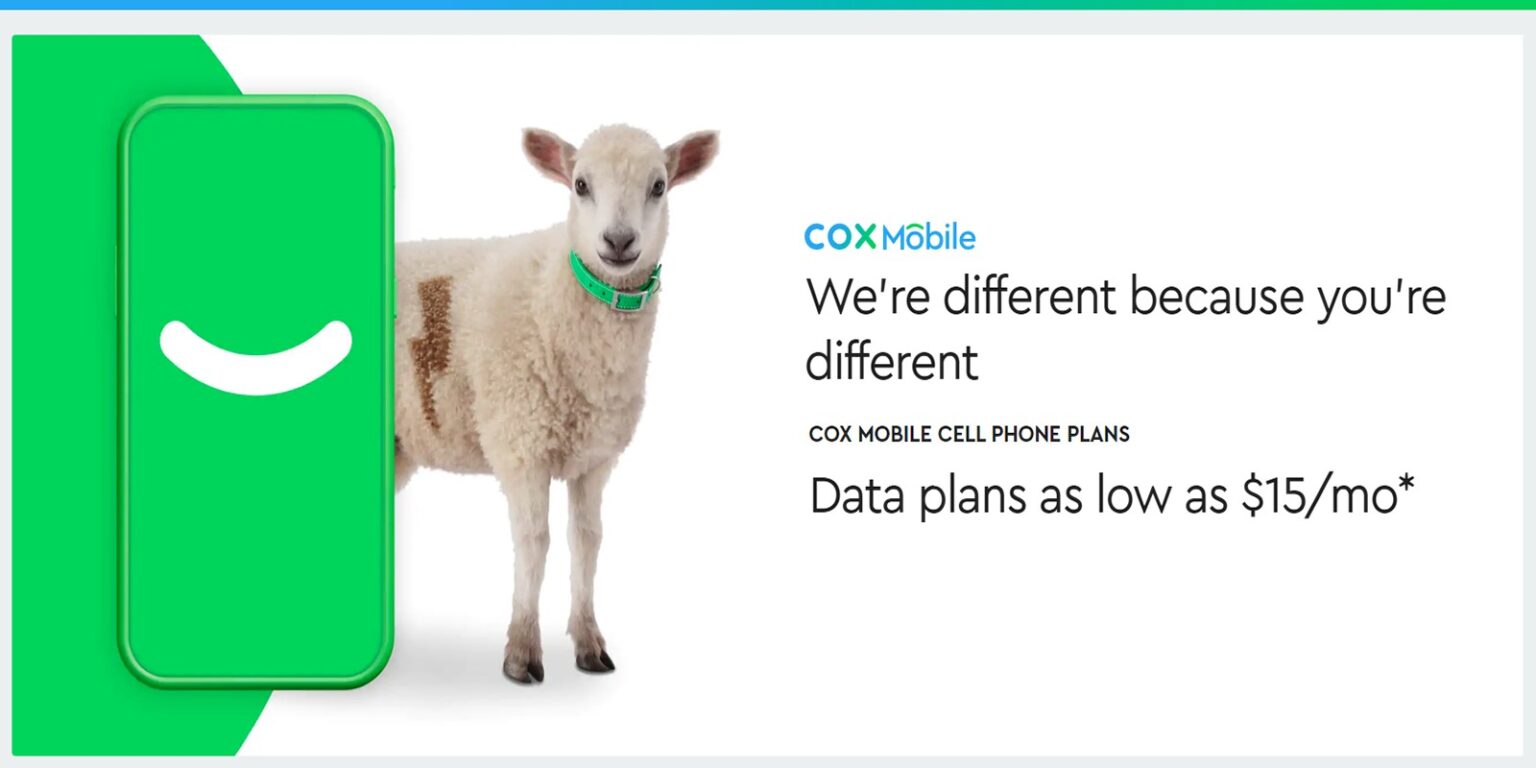 In this guide, I will explain everything you need to know about Cox Mobile before you subscribe. I want you to learn the ins and outs of Cox Mobile so that you can make an informed decision on if this is the best place for you to spend your hard earned cash.
---
Cox Mobile At A Glance
Logo:
Year Founded:
2022
Networks Used:
Verizon
5G Bands Used:
n2 (1900MHz)
n5(850MHz)
n66(1700MHz/2100MHz)
n77(3.7GHz)
n261 (28GHz)
n260 (39GHz)
Support For BYOD:
Coming soon
Sells Phones:
Yes
All Taxes And Fees Included In Price?
No
Online Payment Options:
Credit Cards
---
A Summary Of Cox Mobile Phone Plans
Last Updated: Sep 7, 2023
Single Line Postpaid Plans
1 GB
Unlimited Minutes
Unlimited Texts
20 GB
Unlimited Minutes
Unlimited Texts
Hotspot
---
Postpaid Plans With Family Discounts Applied
---
---
advertisement
---
Things To Know About Cox Mobile Before You Subscribe
Cox Mobile first launched service in August of 2022 as a pilot offering in select markets. A nationwide rollout was later announced in early January of 2023. Like fellow cable MVNOs from Spectrum and Xfinity, Cox Mobile operates as a Verizon MVNO but also augments Verizon's coverage with Cox Communications' own network of 4 million WiFi hotspots.
In order to sign up for a Cox Mobile phone plan, you will have to be a subscriber of Cox Internet. Cox Mobile also requires you to sign up for autopay billing, which they refer to as EasyPay.
Cox Mobile's plans and prices closely follow those offered by Xfinity Mobile and Spectrum Mobile. They have a "Pay as You Gig" plan at $15/GB, which is the same as Xfinity Mobile's "By the Gig" plan and $1 more than Spectrum Mobile's $14/GB pay-per-GB plan. However, Xfinity and Spectrum's pay-per-GB plans are shared and there are no additional charges per line, whereas Cox Mobile's "Pay as You Gig" subscribers are charged per line per GB.
Both Xfinity Mobile and Cox Mobile charge taxes and fees, but Spectrum Mobile does not. If Cox Mobile subscribers use more than 5GB of data in a billing cycle, their data speeds will be reduced to 1.5Mbps download and 750Kbps upload for the rest of the cycle.
Cox Mobile also offers an unlimited plan called "Gig Unlimited" at $45/month per line, with 20GB of high-speed data before data speeds are throttled to 1.5Mbps download and 750Kbps upload. This is similar to Xfinity Mobile's starter unlimited plan and more expensive than Spectrum Mobile's $29.99 starter unlimited plan, which also includes 20GB of data before throttling to 1Mbps download and 512Kbps upload.
The availability of Verizon's 5G Ultra-Wideband network and priority data is not specified by Cox Mobile. However, their coverage map indicates they have access to Verizon's 5G Nationwide and 4G LTE networks.
Cox Mobile does offer true family plans with multi-line pricing discounts. Unlimited Gig plan customers receive multi-line discounts with $5/line off of the price of two lines ($40/line), $10/line off the price of 3 lines ($35/line), and $15/line off the price of 4 lines ($30/line).
---
Supported Phones And BYOD Devices
At launch time, Cox Mobile only sold Samsung Galaxy devices including the Samsung Galaxy A53 5g, A03s, A13 5G, and S22 among just a few other Galaxy options. Bring your own phone is not supported, however, Cox Mobile plans to add it soon. When support for BYOD is added, any unlocked phone that works on the Verizon network will work with Cox Mobile.
---
Where To Buy Service Plans And SIM Cards
Cox Mobile SIMs are available online through the Cox Mobile website. They can also be found in Cox Communication stores.
---
Cox Mobile Customer Service
Customer support is available over the phone, in Cox Communication stores, online through chat, social media, and the Cox app available on Android and iOS.
Tech support hours are stated to be available 24 hours a day, 7 days a week. However, Cox Mobile also states that you can get automated help via "SmartHelp" 24/7.
---