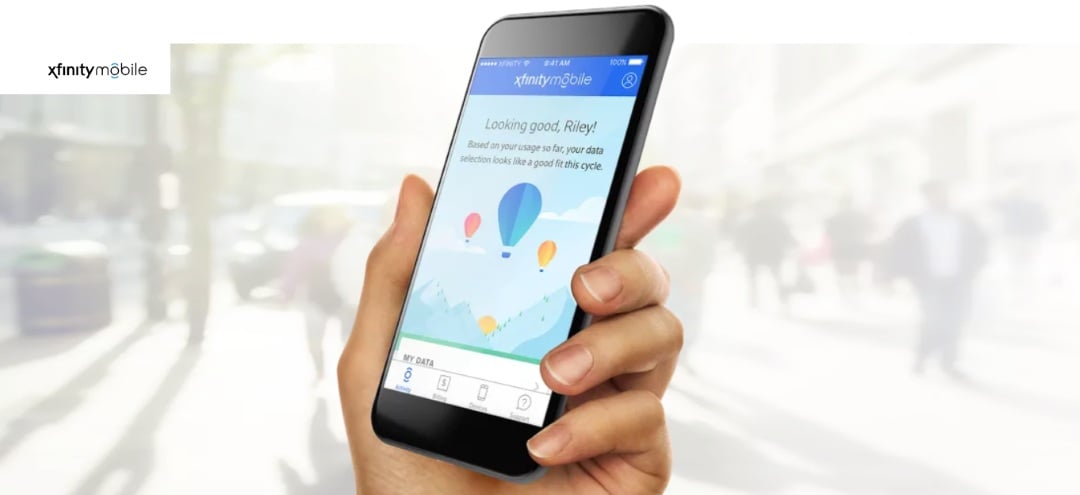 In this guide, I will explain everything you need to know about Xfinity Mobile before you subscribe. I want you to learn the ins and outs of Xfinity Mobile so that you can make an informed decision on if this is the best place for you to spend your hard earned cash.
---
Xfinity Mobile At A Glance
Logo:
Year Founded:
2017
Subscribers:
5,984,000
Networks Used:
Verizon
5G Bands Used:
n2 (1900MHz)
n5(850MHz)
n66(1700MHz/2100MHz)
n77(3.7GHz)
n261 (28GHz)
n260 (39GHz)
Support For BYOD:
Yes
Sells Phones:
Yes
All Taxes And Fees Included In Price?
No
Online Payment Options:
Credit Cards, Debit Cards
---
A Summary Of Xfinity Mobile Phone Plans
Last Updated: Aug 24, 2023
Single Line Postpaid Plans
---
Postpaid Plans With Family Discounts Applied
---
---
advertisement
---
Xfinity Mobile Deals
Bring Your Phone To Xfinity Mobile Get $100 Gift Card
Port your number and bring your phone to Xfinity Mobile and get a $100 gift card! Bonus, get internet and unlimited phone plan bundle deal for $70/month with price lock for two years. Includes internet speeds of 400Mbps.
Things To Know About Xfinity Mobile Before You Subscribe
Xfinity Mobile is an MVNO that launched in 2017 and it is owned and operated by Comcast. Service is primarily provided by using Verizon's network towers with supplemental coverage provided by Xfinity WiFi hotspots.
Phones can be configured to automatically connect to Comcast Wi-Fi hotspots to provide data to subscribers. Wi-Fi calling is supported for iPhones and select Android devices.
Xfinity Internet subscribers used to be able to get unlimited talk and text on Xfinity Mobile with 100MB of shared data free of charge. However, on August 1st, 2019, Xfinity Mobile reconfigured its wireless plans to Second Generation. Second Generation plan subscribers no longer get unlimited talk and text free of charge or the first 100MB of shared data for free. First Generation plan subscribers are grandfathered in and allowed to keep their plans if they so choose.
In May of 2020, Xfinity Mobile issued another plan update. The base By the Gig plan price was increased to $15/month. However, subscribers on the plan now get 5G data access if they have a compatible phone and live in a location serviced with 5G. Another important plan change to note with the update is that subscribers now have higher network priority access. Priority access is now more in line with those that subscribe to Verizon's postpaid network. This means that during times that the network is congested, like in a crowded stadium, By the Gig customers will receive higher data speeds compared to other providers that may be using Verizon's network for service.
In April of 2021, another plan update was issued. This update introduced multi-line discounts for Xfinity's unlimited data plan.
Xfinity Mobile Offers 2 Phone Plan Types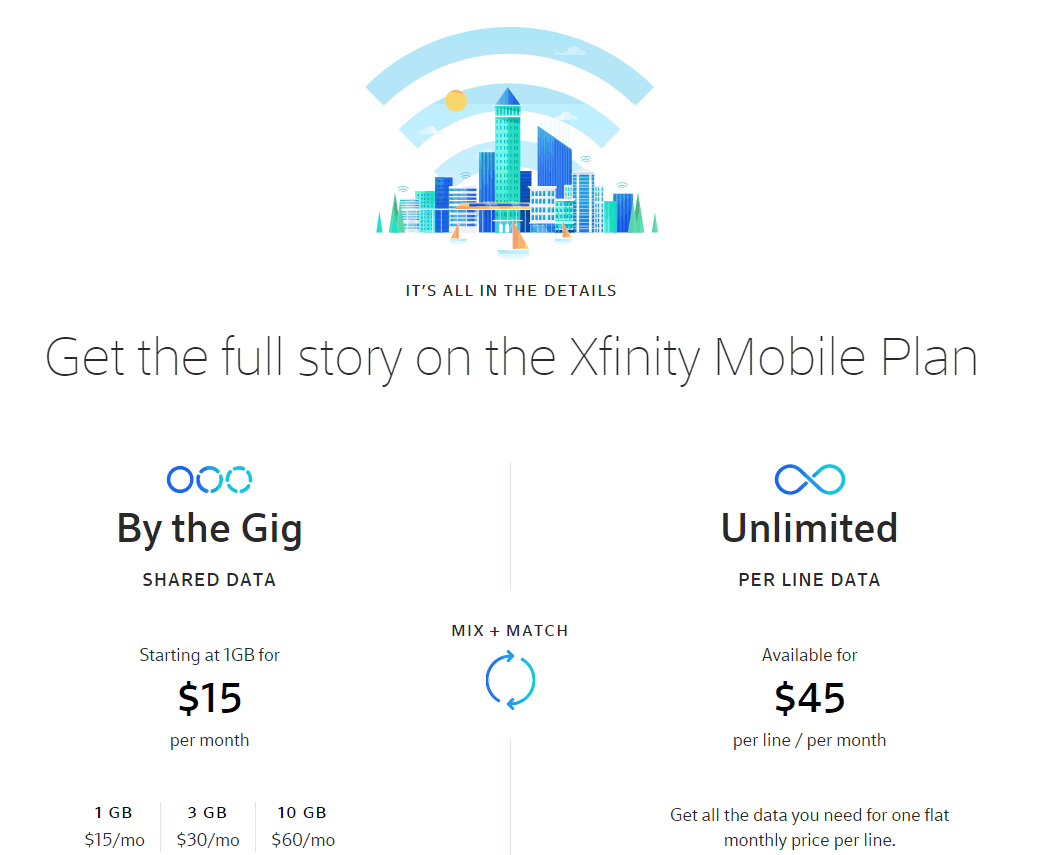 Xfinity Mobile offers a total of two phone plan types. There's a "By the Gig" shared data plan available and what the company calls "unlimited per line" data plans. The shared By the Gig data plan is available in 3 different data options with pricing as follows:
1GB – $15/month
3GB – $30/month
10GB – $60/month
A maximum of 10 lines are allowed on a By the Gig plan. Each line gets unlimited talk and text and data from the first line is shared with all other lines.
Data on each plan is billed on a per GB basis and rounded up to the next GB. If a customer goes over their By the Gig plan's data limit they'll be billed at a rate of $15 per additional GB of data consumed. For billing purposes, Xfinity Mobile rounds up data usage to the next highest GB. So if a customer is subscribed to the 1GB plan and uses 1.5GB of data during their monthly billing cycle, they'll have to pay $30 for their service that month. Likewise, if a customer is subscribed to the 10GB shared data plan and then goes on to use 12.2GB of data during a monthly billing cycle, they will be billed for 13GB of data usage. The cost of the plan will then come out to $105, $60 for the base plan plus $45 for the additional 3GB of data consumed.
Smartwatches And Tablets Are Supported
Xfinity Mobile customers can use tablets and smartwatches with their By the Gig plans. Each device will count as a line towards the plan's 10 line limit. Smartwatches and tablets draw their data from the By the Gig plans shared data allotment. Xfinity charges a $10 line access fee for tablets and smartwatches. Regular phone lines do not have to pay this fee.
Xfinity Mobile's "Unlimited Intro Data" plan option costs $45 for a single line and of course includes unlimited talk, text, and data. Only the first 20GB of data is available at high-speeds before data speeds are throttled to a maximum of 1.5Mbps download and 750Kbps.
You can upgrade to Xfinity Mobile's "Plus" unlimited plan to get 30GB of high-speed data before throttling and 5GB of mobile hotspot at full speed before throttling to 600Kbps. This plan includes premium priority data for faster data speeds when the network is busy compared to the unlimited "Intro" data plan.
Xfinity Mobile's "Premium" unlimited plan includes 50GB of premium high-speed data before throttling and 15GB of mobile hotspot at high speeds before throttling.
Taxes and fees cost extra with each plan type. Xfinity Mobile says that it charges "regulatory recovery fees, surcharges, and other applicable charges that are subject to change."
Family Plan Options
Xfinity Mobile does offer discounts to customers when they add more lines to their plans, but only for the unlimited plan. Subscribers on a shared By the Gig data plan don't get discounts for multiple lines, however, they can add up to 9 additional lines to their plan at no extra charge. Customers can also mix and match and manage By the Gig plans and unlimited plans all under one account. Customers with 2 lines on the unlimited "Intro" plan pay $60/month, 3 lines pay $90, and 4 line customers pay $120. The unlimited "Plus" plan is priced at $40/line for up to 4 lines and then $30 each additional line thereafter. The unlimited "Premium" plan is priced at $50/line for the first 5 lines and then $40 each additional line after that.
Features Included With Every Xfinity Mobile Phone Plan
4G LTE network access
5G ultra-wideband network access (availability depends on location)
Unlimited talk and text
No activation fees
No phone line access fees
Unlimited talk and text
WiFi calling
VoLTE HD Voice calling
Mobile hotspot/tethering
Access and auto-connect to millions of Xfinity WiFi hotspots
Additionally, international roaming is supported. However, it does cost extra and rates vary by country. Customers who wish to enable international roaming on their accounts must first contact customer support to request it. Subscribers must also have accounts in good standing and must have paid for at least their first billing cycle before the feature can be enabled.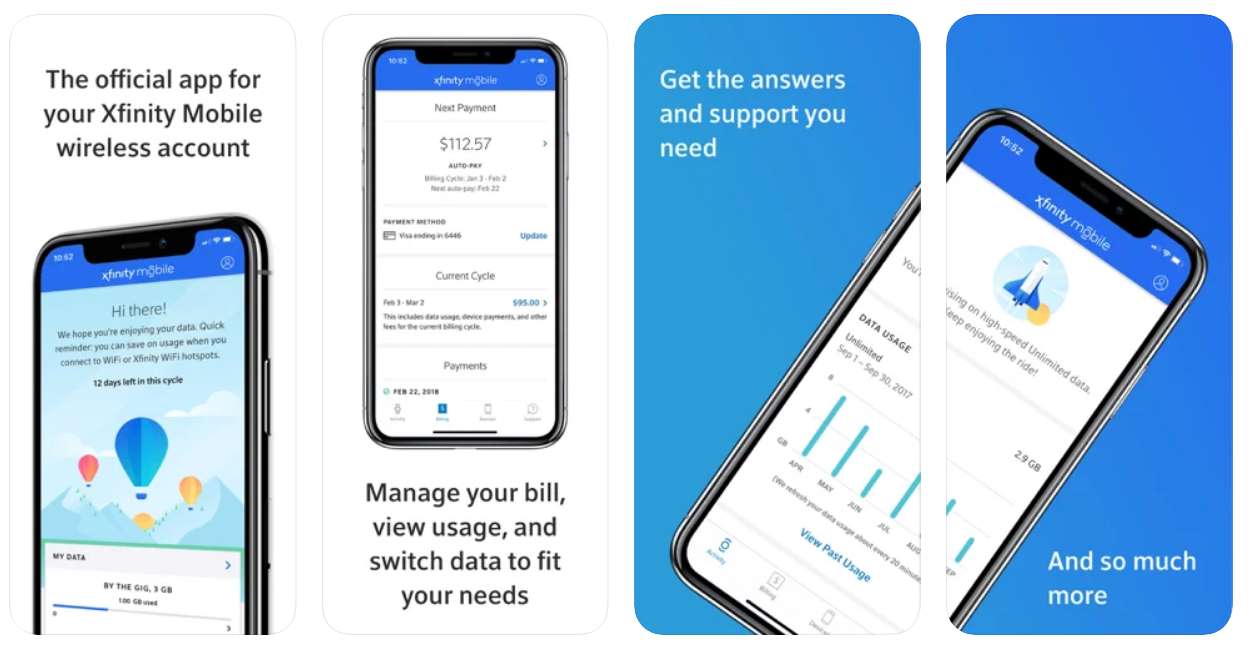 Data Speeds
According to Xfinity Mobile's terms and conditions, subscribers accessing Xfinity Mobile through a 5G network can expect to have typical download speeds of around 450Mbps and upload speeds of around 50Mbps. Network latency should be under 30ms.
If service is used over 4G LTE, typical download speeds can be expected to be in the range of 5-12Mbps. Upload speeds can be expected to be 2-Mbps. Network latency should be under 100ms.
Some customers may have much faster speeds than described and some will have lower speeds.
Plan Limitations
Xfinity Mobile plans do come with multiple limitations. Be sure to familiarize yourself with these limitations so that you do not get caught by any surprises after you signup for service.
Xfinity Mobile is only available to those who are also subscribed to either Comcast Xfinity Internet, Xfinity TV, or Xfinity's Voice post-pay service. If you subscribe to Xfinity Mobile and later cancel one of the other required services, you will be billed an additional $20 per line per month to maintain your Xfinity Mobile service, regardless of which plan you are subscribed to.
Unlimited May Not Be Unlimited
Different wireless providers and even people have different definitions as to what an unlimited plan is. Here, at BestMVNO, an unlimited plan is considered one that includes unlimited high-speed data with every billing cycle. By that definition, Xfinity Mobile does not have a truly unlimited data plan. The plans that Xfinity Mobile labels as "unlimited" have their data speeds slow down to a maximum of 1.5Mbps download and 750Kbps upload for the rest of the customer's billing cycle after their high-speed data limit has been reached.
The unlimited Intro plan does not come with high network priority access. So during times of network congestion, customers may experience temporarily slower data speeds. Customers who want higher priority and thus more consistent data speeds on the network can upgrade to the unlimited "Plus" or "Premium" plans.
There Are Video Streaming Resolution Limits
Customers on the "unlimited Intro data plan" will have streaming video at a resolution of 480p when using a 4G LTE only device. When connected to the 4G LTE network using a 5G device video streaming will be limited to 720p. When using a 5G device and connected to the 5G network, video will stream at a resolution of 4k. Customers on unlimited "Plus" or "Premium" will have video streaming at a minimum resolution of 720p and a maximum of 4K.
For By the Gig plan subscribers, videos stream at a resolution of 720p over 4G LTE for smartphones and 1080p for tablets. It does not matter if the phone is 5G capable or not, but if it is 5G capable videos will stream at a resolution of 4k when connected to the 5G network. Subscribers can turn on data saver to reduce streaming to a resolution of 480p.
Mobile Hotspot May Not Be Available At High-Speeds
Mobile hotspot tethering speeds may also be limited depending on the plan. If you subscribe to Xfinity's unlimited Intro plan, hotspot usage is unlimited but speeds are limited to a maximum of 600Kbps. The Plus plan includes 5GB and the Premium plan 15GB before throttling kicks in. By the Gig customers are limited to 4G LTE data speeds.
Downloads Over 5G But Uploads Are 4G LTE Only
Xfinity does have limitations with 5G network access. Customers that have 5G network access can only use the network for downloads. Uploads are conducted over 4G LTE.
Despite Xfinity's plan limitations, Comcast was able to grow its subscriber count rapidly after launching. Comcast acquired 380,000 Xfinity Mobile subscribers just months after launch.
---
Supported Phones And BYOD Devices
A variety of phones are available for purchase. Xfinity Mobile sells all the latest devices including Apple iPhones like the iPhone 12 and SE. Phones from LG, Samsung, and Motorola are also carried. Apple watches and iPads can also be purchased. The phones are often sold at a discount and customers that qualify can purchase a device on a financing plan with 0% APR. A device trade-in program is also available, so you can trade-in your old phone for cash and use it to purchase a new one.
Mobile Phone Insurance
Xfinity Mobile offers a device insurance plan through Assurant. To be eligible for the insurance subscribers must enroll in it within 30 days of purchasing their new device. It is best to enroll in it when you are purchasing the device. If you enroll afterward, the phone will first have to pass a visual and mechanical inspection by a technician. Refurbished phones that may be sold through Xfinity are not eligible for the program. Pricing for insurance depends on the device being insured. Prices start at $7/month and go up to 15/month. There may also be deductibles. There are no deductibles for mechanical breakdowns, but accidental damage or lost or stolen phones may have deductibles ranging between $29 up to $280. Insurance includes unlimited screen repairs for a flat rate of $29.
BYOD
Bring your own device (BYOD) is supported for iPhones and Samsung Galaxy devices including the S8, S8+,S9, S9+, Note 8 and Note 9. Your iPhone must be out of contract and compatible with Verizon's network to be able to use it. Generally, iPhone generation 6 and newer are supported. Supported Samsung Galaxy devices from any carrier should work if they have been unlocked. You can always use Xfinity Mobile's device compatibility checker to see if your device is eligible for their BYOD program.
---
Where To Buy Service Plans And SIM Cards
Since Xfinity Mobile is only available to Comcast Internet subscribers, service and SIMs can only be purchased directly from Xfinity Mobile.
---
Xfinity Mobile Customer Service
Customer support is available through Facebook Messenger, online chat, text messaging and over the phone at 1-888-936-4968.
---
Xfinity Mobile Customer Reviews