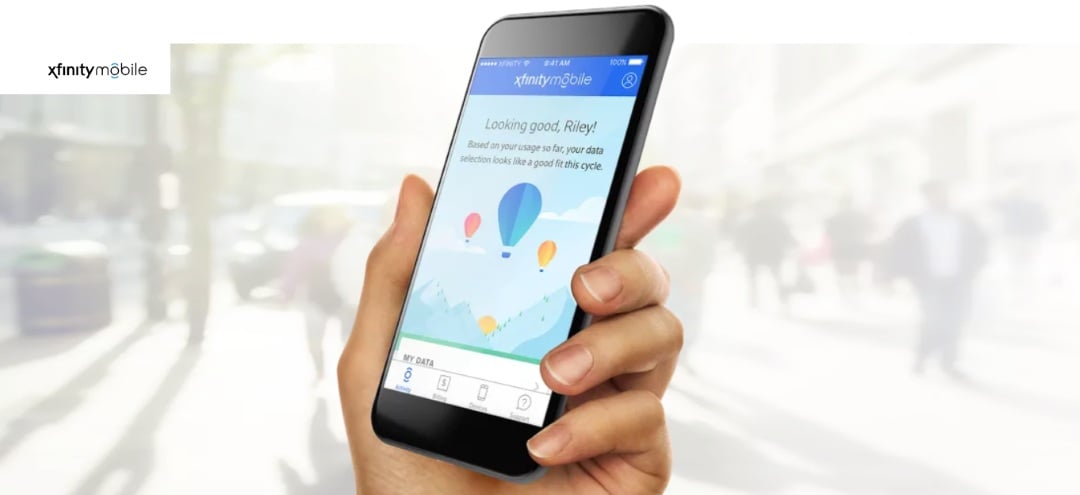 Xfinity Mobile Deals

Sorry, BestMVNO could not find any deals on a phone plan from Xfinity Mobile at this time
Here's Everything You Should Know Before Subscribing
---
Xfinity Mobile At A Glance
Logo:
Year Founded:
2017
Networks Used:
Verizon
LTE Bands Used:
2,
4,
13,
Support For BYOD:
Yes
Sells Phones:
Yes
All Taxes And Fees Included In Price?
Online Payment Options:
Credit Cards, Debit Cards
---
Overview
Xfinity Mobile is an MVNO that launched in 2017 and it is owned and operated by Comcast.  It operates on Verizon's network.  Phones can be configured to automatically connect to Comcast Wi-Fi hotspots to provide data to subscribers. Wi-Fi calling is supported for iPhones and select Android devices.
Xfinity Mobile is only available to those who are also subscribed to Comcast's Xfinity Internet.  Despite that limitation, Comcast was able to grow its subscriber count rapidly.  Comcast acquired 380,000 Xfinity Mobile subscribers just months after launch.
Xfinity Internet subscribers used to be able to get unlimited talk and text on Xfinity Mobile with 100MB of shared data free of charge.  However, on August 1st, 2019, Xfinity Mobile reconfigured its wireless plans to Second Generation.  Second Generation plan subscribers no longer get unlimited talk and text free of charge or the first 100MB of shared data for free.  First Generation plan subscribers are grandfathered in and allowed to keep their plans if they so choose.
In May of 2020, Xfinity Mobile issued another plan update. The base By the Gig plan price was increased to $15/month. However, subscribers on the plan now get 5G data access if they have a compatible phone and live in a location serviced with 5G. Another important plan change to note with the update is that subscribers now have higher network priority access. Priority access is now more in line with those that subscribe to Verizon's postpaid network.
The Xfinity Mobile's unlimited data plan priced at $45/month only contains 20GB of high speed data before data throttling to a maximum of 1.5 Mbps download and 750 Kbps upload.  Subscribers on a shared By the Gig data plan can have up to 5 total lines on their account at no extra charge. So an account with 5 lines with 1GB of shared data will be billed just $15 per month total with overages charged at a rate of $15/GB.  In contrast, unlimited plan subscribers must pay $45/month for each line that they have that is unlimited.  Customers are allowed to mix and match plans.  As an example, a customer with 5 lines may have 4 By the Gig shared data lines with 1GB of shared data for $15 total, while the 5th line would be billed at a rate of $45/month, making the account holder's total monthly bill cost $57/month.  Taxes and fees are extra.
---
A Summary Of Xfinity Mobile Phone Plans
Postpaid Plans
Postpaid Plans With Family Discounts Applied
---
advertisement
---
Supported Phones And BYOD Devices
A variety of phones are available for purchase.  Xfinity Mobile sells all the latest devices including Apple iPhones and Samsung Galaxies.  Phones from LG and Motorola are also carried.
Bring your own device is supported for iPhones and Samsung Galaxy devices including the S8, S8+,S9, S9+, Note 8 and Note 9.  Your iPhone must be out of contract and compatible with Verizon's network to be able to use it.  Supported Samsung Galaxy devices from any carrier should work if they have been unlocked.
Where To Buy Service Plans And SIM Cards
Since Xfinity Mobile is only available to Comcast Internet subscribers, service and SIMs can only be purchased directly from Xfinity Mobile.
Customer Support
Customer support is available through Facebook Messenger, online chat, text messaging and over the phone at 1-888-936-4968.
---