Xfinity Mobile's Launch Of 5G Service Includes A Higher Starting Price And Higher Network Priority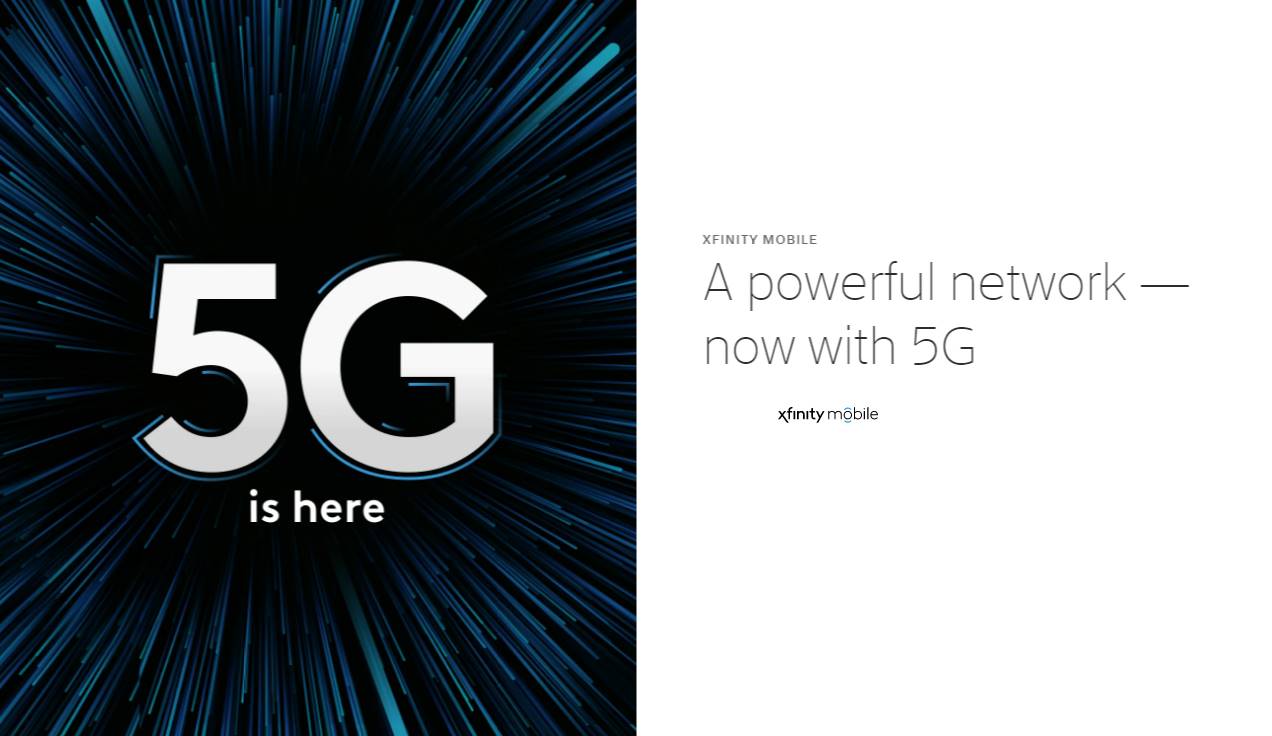 Xfinity Mobile launched 5G wireless network access today. With that launch came a new price for the Verizon based MVNO's starter plan. Customers who want Xfinity Mobile's starter "By the Gig" plan will now have to pay $15/month. The previous price was $12/month. Current customers on the $12 plan will be grandfathered into that price. There were no changes made to the pricing of any other Xfinity Mobile plan besides the starter plan.
Xfinity's By the Gig starter plan includes unlimited talk and text with 1GB of shareable high-speed data. Additional data is billed at a rate of $15/GB, and discount tiers are offered. For instance, customers can signup for 3GB of data for $30/month or 10GB for $60/month. Additional lines are free with all By the Gig plans. An Unlimited plan is available for $45/month per line. Customers with multiple lines can mix and match By the Gig plans with Unlimited plans. Smartwatches and tablets can be added to any plan for an extra $10/line per month.
The Unlimited plan includes 20GB of data at high-speed before throttling to a maximum of 1.5Mbps download and 750Kbps upload. Unlimited hotspot is included with speeds limited to a maximum of 600Kbps. Video streaming is limited to a resolution of up to 480p. Xfinity Mobile says subscribers may experience temporarily slower data speeds during times of network congestion.
Xfinity Mobile's 5G Plans Bring Higher Level Network Priority
A price change is not all that took place with the launch of Xfinity's 5G network plans. The fine and not so fine print associated with the By the Gig and Unlimited plan options reveal some very interesting details. Customers will get or have the option to get a higher level of network prioritization. That means during times of heavy network traffic, data speeds will NOT slow down. How network prioritization or a lack thereof will work will depend on the plan a customer is subscribed to.
Xfinity Mobile says that customers subscribed to a By the Gig plan will receive "higher-quality cellular service in times with high network traffic, like in a crowded stadium." Previously, subscribers on the plan were told that "in times of congestion, your data may be temporarily slower than other traffic." This change may be a sign of bigger things to come with the continued rollout of 5G networks and 5G MVNO phone plans, particularly with those providers that use Verizon's network. Last month, US Mobile also announced the upcoming availability of 5G plans using Verizon's network. US Mobile is scheduled to roll out the plans this July. The company is advertising that those on a 5G plan will enjoy the "highest priority coverage on the 5G network." A rep told me priority will be the same as Verizon postpaid customers, so this is definitely noteworthy.
The $45 Xfinity Mobile Unlimited plan by default will NOT come with a higher level of network access priority. In fact, the plan's fine print warns "you'll experience slower data in times of high network traffic, like in a crowded stadium." However, customers can upgrade to the highest level of network priority possible to avoid slowdowns in crowded places with an HD Pass available for an additional $20/month per line. The additional cost also gives subscribers 720p video streaming as opposed to 480p for phones and 1080p for tablets.
Samsung Galaxy 5G, S10, And Note 10 Devices Are Now $200 Off
To mark the 5G network launch, Xfinity Mobile is now offering $200 off all Samsung Galaxy phones excluding A-Series phones which are $100 off. To get the discount, subscribers must purchase their device of choice on a 24-month 0% APR payment plan and transfer their phone number from another carrier within 30 days of phone purchase. Device credits will then be applied to the subscriber's account for as long as their payment plan is in effect. Discount installment plan pricing is as follows:
Samsung Galaxy S20+ 5G starting at $41.66/month, down from $49.99
Samsung Galaxy S20 Ultra 5G starting at $50/month, down from $58.33
Samsung Galaxy S10 starting at $22.91/month, down from $31.24
Samsung Galaxy Note10+ starting at $37.50/month down from $45.83
Samsung Galaxy S10+ starting at $27.08/month, down from $35.41
Samsung Galaxy S10e starting at $16.66/month, down from $24.99
Samsung Galaxy Note 10 starting at $31.25/month, down from $39.58
Samsung Galaxy Note 9 starting at $25/month, down from $33.33
This promo is scheduled to last at least until 7/13/2020.
---
---