Samsung Galaxy A51 Is Now $12.50/Month At Xfinity Mobile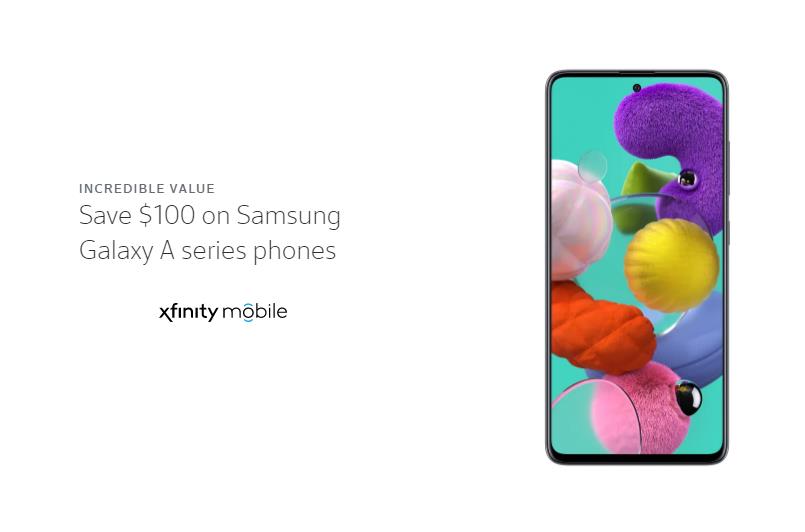 Xfinity Mobile is currently offering $100 off Samsung Galaxy A series phones. The Verizon based provider is featuring the newly launched Samsung Galaxy A51 to highlight the offer. With the discount in tow, customers can pick up that device for $12.50/month over the course of 24 months with 0% APR financing. That works out to a total price of $300.
$100 Off Samsung Galaxy A Series Phones Offer Fine Print
As you may have guessed from the promo highlights, a device payment plan is required in order to get the $100 discount. Without the device payment plan, the Samsung Galaxy A51 will run customers $399.99.
Activation of a new line of service is required as is number port-in from another carrier within 30 days of purchasing a discounted Samsung Galaxy A series phone. Device credits will be applied to the customer's monthly bill over the course of 24 months or as long as they'd like to have the device payment plan in effect. Subscribers that cancel their lines or pay more each month for the phone than is required in an attempt to pay it off early will forfeit their remaining balance of device credits. This deal cannot be combined with other offers and is scheduled to be available at least until 7/1/2020.
Xfinity Mobile does carry a few other Samsung Galaxy A devices besides the A51 that are eligible for the $100 discount under the same terms just described. The other available devices include:
Samsung Galaxy A50 - $249.99 ($10.42/month) with financing, $349.99 without financing
Samsung Galaxy A70 - $349.99 ($14.58/month) with financing, $449.99 without financing
iPhone SE 2020 $200 Off
If you don't want an Android phone, Xfinity Mobile has an ongoing offer on the newly launched iPhone SE 2020. Customers can save $200 on the phone by purchasing it on a payment plan. This offer comes with all the same fine print as the Samsung Galaxy A series promos. The only difference is the promo is scheduled to end on 5/17/2020 instead of 7/1/2020. Available iPhone SE 2020 models and their discounts include:
64GB iPhone SE 2020 - $8.33/month ($199.99 total), or $399.99 without payment plan
128GB iPhone SE 2020 - $10.41/month ($249.99 total), or $449.99 without a payment plan
256GB iPhone SE 2020 - $14.58/month ($349.99 total), or $549.99 without a payment plan
Xfinity Mobile also continues to run one other longstanding promo, customers that bring their own compatible phone to the network will receive a $50 VISA prepaid card. Xfinity Mobile phone plans start at $12/month for unlimited talk and text with 1GB of data.
---
---