Mint Mobile Now Available In Target Stores, Brand On Fire
Mint Mobile is at it again. A recent report sent out by the firm Wave7 Research detailed several new marketing and expansion efforts revolving around the brand. Front and center, Mint Mobile has launched in Target stores. The Mint Mobile brand has been sold online at Target for a couple of years, but entry into the physical storefronts is new.
Now available in Target stores are Mint Mobile SIM cards. Online checks indicate several plans may be sold in-store. Available in my local market is Mint Mobile's 3-month starter plan with 10GB of monthly data for $60 or an average cost of $20/month. It also looks like Mint's 3-month trial plans including a $15/month 4GB starter plan and a $30/month 35GB plan should also be available to purchase in some markets, although they are not available in mine.
Mint Mobile's retail footprint now encompasses two top national retailers. It's also found at Best Buy, where it launched in 2017. Several Mint Mobile deals have been featured at Best Buy over the years. Mint Mobile plans can occasionally be found for up to 50% off or as part of bundle deals with unlocked phones. Late in 2020, Mint gained additional visibility at Best Buy taking over signage and pegs that formerly belonged to AT&T Prepaid and Cricket when both brands were pulled from the store.
Mint Mobile's Direct Mail Marketing Campaign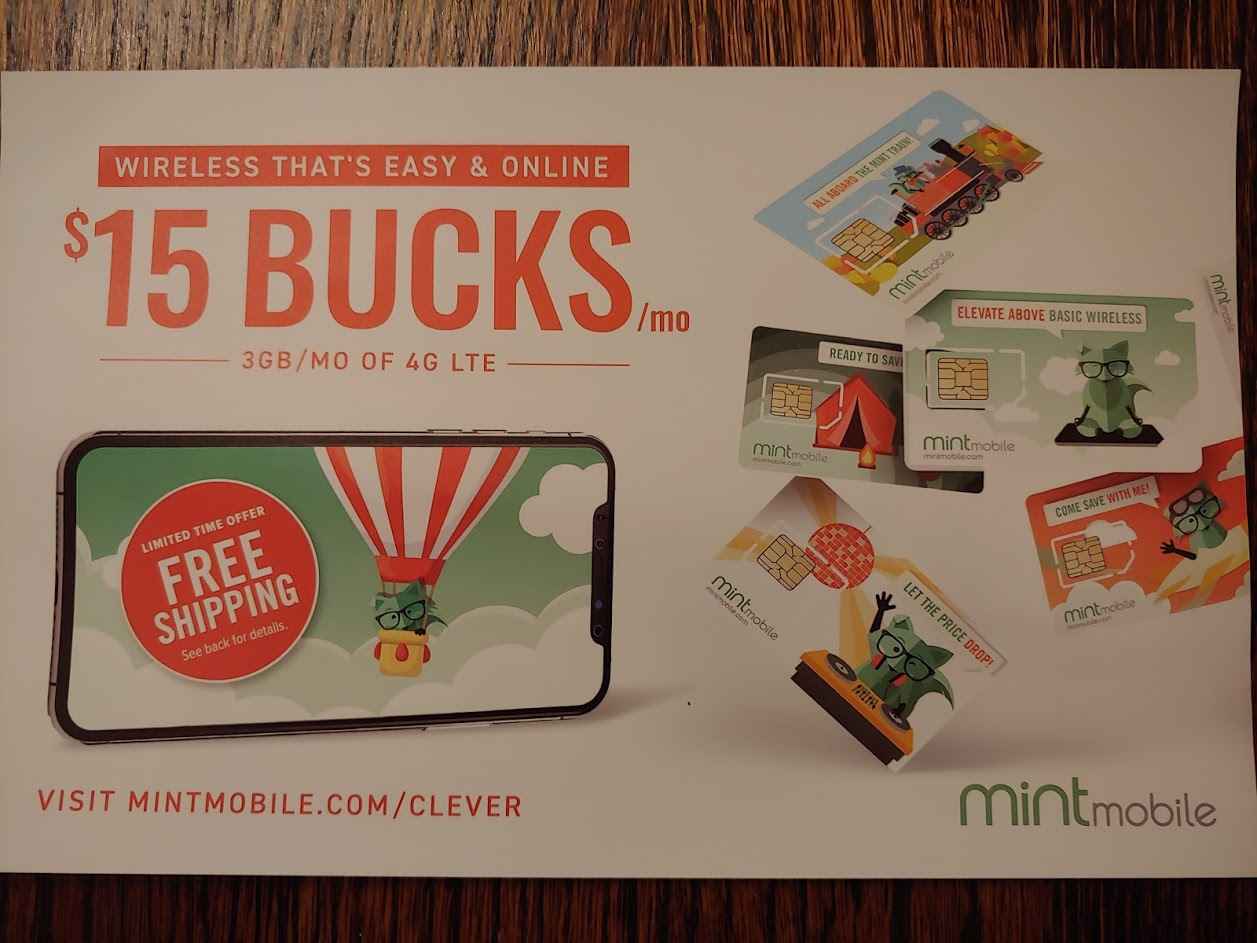 Wave7 Research also noted in its prepaid report that Mint Mobile is using direct mail marketing as an advertising strategy. A researcher at the firm actually received one of the mailings (pictured above). The mail piece was received in mid-February. It advertises Mint's 3-month starter plan costing $15/month for new customers. Interestingly it highlights the plan as having 3GB of monthly high-speed data. Mint Mobile's plans were updated in late January and the $15/month plan got increased to 4GB of high-speed data. It is unclear how long the direct mail marketing campaign has been running or how many markets are being targeted.
Mint Mobile Is Hot
On March 15th Mint Mobile announced on Twitter that it was going on a major hiring spree. An "employmint" ad was also taken out in the NY Times announcing that it is looking to fill 54 positions. If you are interested in working for Mint Mobile, you can view all their job openings here https://www.mintmobile.com/careers/.
We're hiring. A lot. https://t.co/WyrTAKE1d6 pic.twitter.com/TqY3OTGmPN

— MintMobile (@Mintmobile) March 15, 2021

A couple of weeks ago, Mint Mobile also got a casual plug on the Today Show when an anchor was spotted wearing Mint Mobile socks.
Casual Mint Fox appearance this morning on the @TODAYshow. pic.twitter.com/ASuhpEG3AA

— MintMobile (@Mintmobile) March 17, 2021

Meanwhile, Mint Mobile continues to air a commercial on TV featuring Ryan Reynolds and Waseem Iqnaibi. The commercial, launched in late January, touts Mint's base $15/month 3-month plan. Iqnaibi is said to be one of Mint's first and oldest customers.
And let's not forget that NET10 Wireless just copied a former Mint Mobile promo and plan.
Mint Mobile is on fire right now. The industry has noticed and the brand is getting hard to miss.
"Mint Mobile has found a lot of ways to draw attention and clicks and the MVNO definitely has momentum. Now that Mint Mobile SIMs are sold at Target, the MVNO can get sales more easily among brick-and-mortar shoppers." -Jeff Moore, Principal of Wave7 Research
---
---