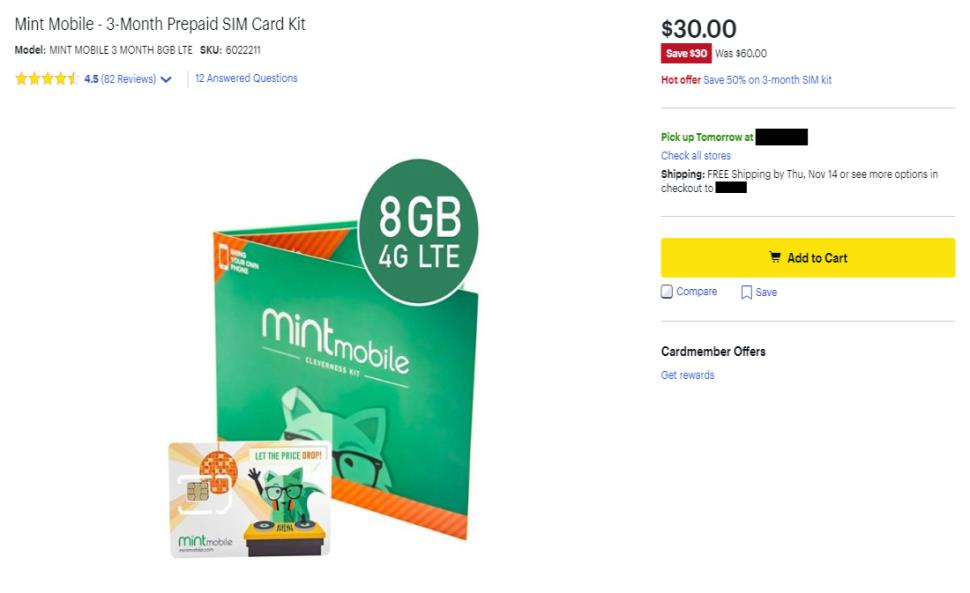 ---
---
On November 1st, Mint Mobile launched a promo giving new customers the ability to purchase any 3-month plan for just $15/month.  Customers could choose an unlimited talk, text, and data plan with either the first 3GB, 8GB, or 12GB of data each month at 4G LTE data speeds.  The promotion is still ongoing but may have just been partially bested by an offer from Best Buy.
Best Buy has launched a new offer around Mint Mobile's 3-month plan that includes unlimited everything with the first 8GB of data each month at 4G LTE data speeds.  The plan is normally available for $60 but for a limited time customers can pick it up for just $30.00.  That's a savings of $15 vs buying the plan directly from Mint Mobile with Mint Mobile's current promotion running. (Update 11/11/19 - This sale has ended).
Unfortunately, the kit sold by Best Buy is essentially for new customers only.  Current customers cannot buy the SIM card kit to renew their plans unless they jump through a few hoops and get a new phone number.
Best Buy is also advertising 50% off of Mint Mobile 3-month plans with the purchase of an unlocked phone.  However, when I investigated the advertisement and added an unlocked phone to my shopping cart, only an additional 60 cents was taken off the already discounted Mint Mobile plan.  When I tried pairing an unlocked phone with another 3-month Mint Mobile plan, Best Buy did not take anything off the cost of that Mint Mobile plan. So Best Buy appears to be advertising an offer that does not exist.  I imagine when the sale ends on the discounted Mint Mobile plan, customers will be able to get 50% off their plan when it is purchased with an unlocked phone.  However, customers interested in that bundle offer would be better served by BH Photo.  BH Photo offers the same Mint Mobile 3-month 8GB plan for free with the purchase of nearly any unlocked phone regardless of if the unlocked phone is on sale or not.
---
---
---
---