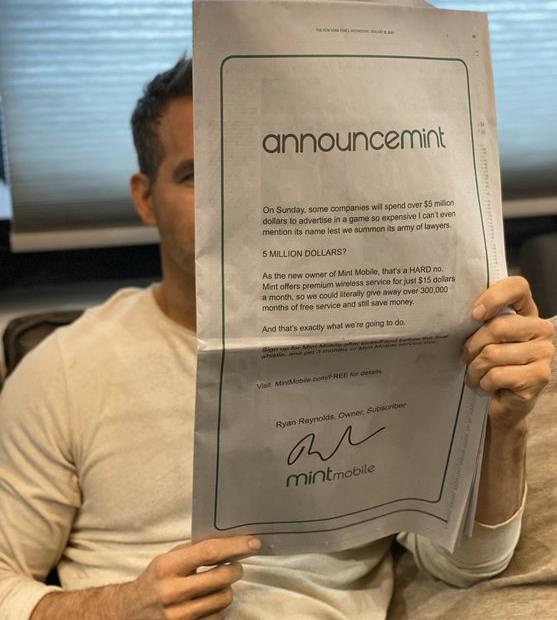 ---
Last year Mint Mobile surprised the MVNO industry by airing an ad during the Super Bowl.  This year, the company will do no such thing.  Instead, Mint Mobile will offer new customers 3-months of free service if they signup while the big game is being played.
Actor Ryan Reynolds, who recently took an ownership stake in Mint Mobile, explained the reasoning behind the new promo by issuing the following statement:
Be informed of the latest deals, plans and promotions from T-Mobile and every one of its MVNO's when you subscribe to the T-Mobile weekly newsletter. No spam and you can unsubscribe at any time!
"I love ads. Except when they cost 5 million dollars for 30 seconds of airtime. Mint Mobile is premium wireless for an almost suspiciously great price. So instead of creating a pricey ad trying to convince people to try Mint, we're going to let them try it for free."
Mint Mobile still spent some money to advertise the promotion.  The company took out an ad in the NY Times to announce it.  Reynolds said the company could literally give away over 300,000 months of free service and still save money vs buying airtime for a commercial during the big game.
How To Get 3-Months Of Free Service From Mint Mobile
To get the free 3-months of service customers must signup for Mint Mobile anytime between 3:15PM PST and approximately 7:15PM PST on 2/2/2020.  The promotion will officially end at whatever time the final whistle blows to signify the end of the Super Bowl.
What Are The Plan Details?
The plan being given away for free includes unlimited talk, text, and data with the first 3GB of data each month at 4G LTE data speeds before throttle to 2G data speeds.  It also includes mobile hotspot.  The plan is regularly priced at $15/month for new customers.  Mint Mobile considers one month to be equal to 30 days of service.
What Are The Offer Limitations?
There is a limit of one free phone plan offer allowed per household.  It is for new customers only. Customers who pick up the offer, must activate their service within 45 days of having their SIM card and plan delivered or they will forfeit the free plan offer.  Although the phone plan is 100% free, subscribers will have to make a temporary payment of 1¢ to verify that the credit card they used to signup for the offer is valid.  The payment will be refunded back to the subscriber's credit card within 5-7 days of verification.
For those interested in the offer, Mint Mobile is sending out notifications by way of email or text message to let interested parties know exactly when the promotion has started and when it has ended.  If you are interested in the offer and want to be notified when it has gone live, you can head on over to Mint Mobile and submit your info to them.
---
---